Decades after his last rodeo and months after he was laid to rest, Willie Thomas Sr. of Booth was finally inducted into the Bullriding Hall of Fame. 
"The recognition was long overdue," said niece Debra Greenwood-Sharp. "And it's a crying shame he wasn't here to be inducted in person. He waited so long — so long — for the honor."
The induction event took place at the legendary Cowtown Coliseum in the historic Fort Worth Stockyards on May 15. Thomas' extended family and friends — numbering about 50 — showed up at the recognition ceremony.
"It was a beautiful ceremony," said Greenwood-Sharp recalled. "We were grateful he finally received the recognition he was due and we were grateful to be there to witness it." 
'The Jackie Robinson of Rodeo' Thomas, who died in 2020 at the age of 90, didn't live to see the fruits of his lifelong battle against racism in the professional rodeo circuit recognized. But he knew the day would come, his family said. And he lived to see other Blacks, many of whom he mentored, succeed in professional rodeo, they added. 
Harold Cash, a protégé of Thomas, said his mentor helped pave the way for Black bullriders such as Myrtis Dightman and former world champion Charles Sampson, both of whom were inducted into the Bullriders Hall of Fame before Thomas. 
"Willie probably should have been first," Cash figures. "(But) he came along at a time when it wasn't time for Black cowboys. We have Black cowboys today who are world champions, but if it hadn't been for people like him back in the day who stayed out there and took the abuse, there may not be Black rodeo champions." 
Back during segregation, he said, Black cowboys would have to ride 15 or 20 seconds — rather than the typical eight seconds — and sometimes still not get a score.
"And if truth be told, Willie Thomas should have been a world champion a long time ago. I heard this from white cowboys who told me 40 years later that just because Willie Thomas was a Black man, he didn't win," Cash said. "He's an amazing guy who just stayed out there competing and making things better for the other Black cowboys. He was the Jackie Robinson of Rodeo." 
DECADES OF ABUSE 
Thomas was born on Jan. 30, 1930 on George Ranch, where his dad worked as a cook for the ranch hands and cowboys and which at one time was a plantation with slaves. He first started riding bulls at the age of 8 when he would simply leap off a hay wagon onto the backs of Brahmas, son Berkley said. 
At the age of five, Thomas had an accident at the George Ranch that left him with a prosthetic eye; he has also broken his leg nine times and been told twice he would never walk again. Despite these setbacks, Thomas persevered and pursued his dream to become one of the best bullriders in the history of the sport.
He dropped out of school in sixth grade and when he was 21 witnessed a bullriding competition in Hempstead. He decided right then and there to become a bullrider. It took him several rodeos to get the hang of bullriding, but it wasn't long before he started making a name for himself among the white competitors on the circuit. 
Still, he had a tough time showing off his skills. Whites simply wouldn't let Blacks compete in rodeos at that time. 
One of the first times he was allowed to ride a bull in professional rodeo competition, he had to ride after the competition was over and the judge was instructed not to keep time, said Larry Callies, a Black cowboy and founder and curator of The Black Cowboy Museum in Rosenberg. By the end of the ride, the bull — so mean no white cowboy would ride it — couldn't toss Thomas, said Callies, who was a close friend of Thomas and who has the Black bullrider's photos and memorabilia on display in the museum. 
Decades later in 2004, the judge met up with Thomas and acknowledged the feat — and his shame at not ringing the bell after eight seconds, Thomas' family said. 
Even when he did win, often times he wasn't paid his prize winnings, said Cash, who was born in 1948, the same year of Thomas' first rodeo. Thomas finally cracked the professional rodeo circuit in 1952. 
Even then, many whites didn't fully accept him. 
DEATH THREATS 
Many times Thomas was threatened with death, his family said. One time in the 1950s, Thomas pulled his cowboy hat down over his eyes, put on a pair of gloves and entered a bullriding competition in Louisiana, Cash said. 
Thomas won the competition, and when the white rodeo officials discovered he was black, they ran him out of town, Cash said. They also refused to pay him the prize money. 
"The high sheriff escorted me to the Texas line, and he told me don't come back or the Ku Klux Klan would kill me," Thomas recalled in one interview.
 Thomas shared the story with Cash. 
"Thomas told me he quit for one whole year because he had been done so bad," Cash said. "But he went back and made things better for other Black bullriders. He never got the credit for what he did. He was always forgotten about." 
Thomas said he often told whites, "You might cheat me, but you won't buck me off."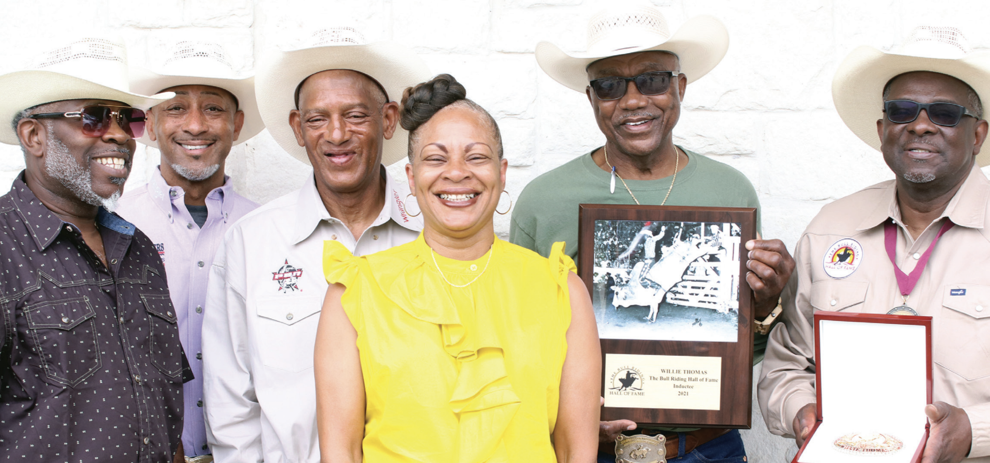 A LOVING FATHER, FRIEND AND MENTOR 
According to the Portal of Texas History, Thomas left the ranch in 1964, but not before meeting his wife, Ora Lee, who worked as a nurse's aide on the ranch before leaving to work as a private nurse. 
The couple reared a passel of children — Sandra Pipkin, Dwight Thomas, Glen Thomas, Vicki Meriwether, Berkley Thomas, Willie Thomas Jr., Myron Thomas, Rodney Thomas, Sharee Thomas, oldest sister Johnnie Mae Greenwood and baby Lottie Solomon. 
Five of the children were born on the George Ranch. His brother James, who is a year younger, was a champion bareback rider.
"He was a very loving father and the best man I've ever known," said youngest son Rodney. Son Berkley fondly remembers following his father around on the professional rodeo circuit where the elder Thomas worked feeding rodeo stock. One time, they went to a rodeo at Madison Square Garden in New York, Berkley recalled. 
Thomas' professional career lasted from 1952 to 1969.
Thomas worked for the Texas Department of Transportation for many years before retiring in August of 1991. Willie Thomas Jr., who also rode bulls, said his father shared his knowledge of bullriding with anyone who wanted to learn, including his own kids. 
Once, Willie Jr. was thrown from a bull and kicked in the face, dislocating his jaw and knocking out some teeth. His dad said, "You didn't listen to what I taught you, did you?" Willie Jr. recalled. 
ACCOLADES, FINALLY 
Thomas was inducted into the Texas Rodeo Cowboy Hall of Fame in 2004. In 2005, the Texas House of Representatives and the Texas Senate paid tribute to Thomas with resolutions honoring his "outstanding career as a professional cowboy and bullrider."
 "A pioneer for African American cowboys across the country, Mr. Thomas faced years of discrimination during the segregated 1950s with grace, humility, and strength," the resolution said in part. "His accomplishments are especially impressive considering the great obstacles placed in his way throughout his career, including racist rodeo officials who prevented him from competing because of the color of his skin." 
In 2008, Thomas was inducted into the National Multicultural Western Heritage Museum and Hall of Fame in Fort Worth and nominated for induction into the Professional Rodeo Cowboys Association and the National Cowboy and Western Heritage Museum's Rodeo Hall of Fame in Oklahoma City. 
During his 30-year career, Thomas won 25 saddles and more than 20 belt buckles, including the 1968 all-around title of the Southwestern National Cowboy Association. He also rode more than 4,000 bulls, and landed top rankings in the world. 
Last month's induction into the Bullriders Hall of Fame added yet another buckle to his collection. 
In addition, Thomas has held a Professional Rodeo Cowboys Association gold card since he started riding in professional rodeos in 1952. 
Thomas' induction into the Bullriding Hall of Fame makes him one of only three Black bullriders ever inducted into the prestigious association, Cash noted. 
"The first two were Charlie Sampson, who was a world champion, and Myrtis Dightman — and they were both protégés of Willie Thomas," Cash said. 
"To see the former champions and guys who rode with him break down in tears during his induction (into the Bullriding Hall of Fame,) means a lot to his family," said Rodney Thomas. "I'm not trying to make it a racial thing, but he was cheated and mistreated. What he had to put up with was total injustice. But he was still successful." 
GOOD FRIEND, GOOD ADVICE 
Cash won the All-American Rodeo Association bareback championship in 1979 and 1981, which he attributes to Willie Thomas' training and advice. And when Cash got angry and wanted to lash out at judges for their poor scores or at rodeo officials or white riders and fans who mistreated him, his mentor Willie Thomas encouraged him to channel his rage into his bullriding. "He would tell me, 'just keep riding. It's not worth getting into a fight and getting kicked out of the rodeo. That's what they want you to do, fight, so they have a reason to kick you out of the association. So don't do it. Just keep riding.' It was great advice." 
Want to learn more about Willie Thomas Sr.? Visit the Black Cowboy Museum, 1104 Third St., Rosenberg.