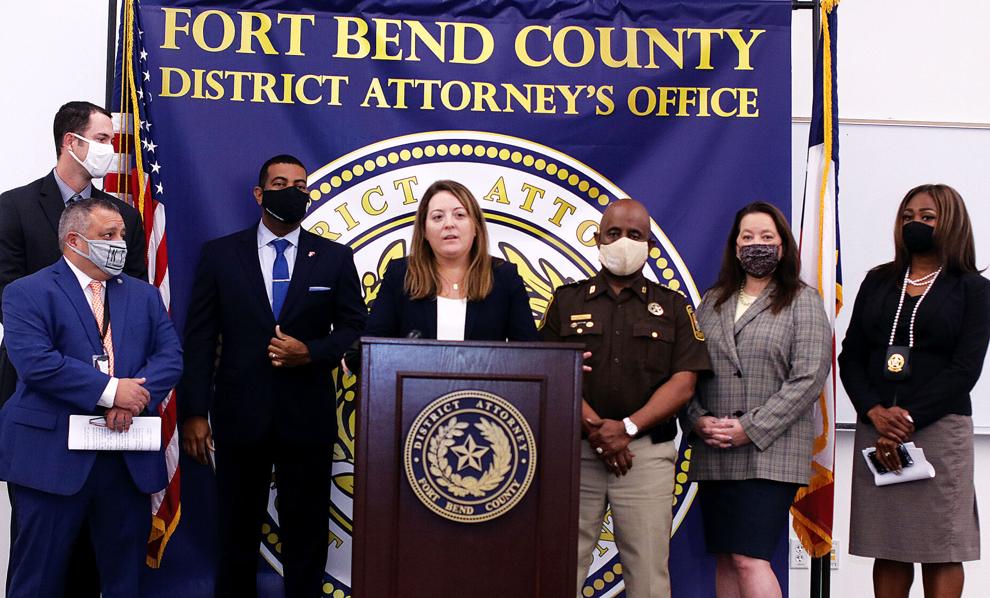 Massage businesses in Fort Bend County selling sex instead of just deep muscle rubs had better think twice from now on. The proprietors could end up in jail and their businesses shut down for good.
That's a promise from Fort Bend County District Attorney Brian Middleton.
The county's top prosecutor said his office joined other county, state, and federal law enforcement agencies recently to targeted illicit massage businesses in the area.
More than 100 peace officers took part in Operation Lavendar, which resulted in arrests. The number of people arrested and their names were not disclosed because the operation is ongoing, Middleton said.
"This is an effort to hold businesses accountable when they allow human trafficking to occur on their premises," he said.
The task force also hopes to curb demand for prostitution services in Fort Bend County.
"We want the public to know, and we want people out there who have an interest in human trafficking to know that we are watching," Middleton explained.
"We will make Fort Bend County an extremely difficult place for human traffickers to conduct business. "I've said it before and I will say it again, we will be relentless in our pursuit of human traffickers in Fort Bend County." In many cities in the county, these illicit massage businesses front as legitimate massage businesses, said Assistant District Attorney Ashley Harkness, who is one of two assistant DAs assigned to prosecute human trafficking cases.
"So, there are men and women who can go in and purchase sex (at these businesses)," she said. "We are targeting these (businesses) because we believe the owners or managers of these establishments are profiting off of the sexual exploitation of these workers. To be clear, we are not going after people who work in these establishments. We are going after the owners."
She said the task force has amassed a large amount of evidence and utilized undercover agents who were able to prove the targeted businesses were selling sex.
Some of the evidence collected will require the use of interpreters, which means the digital files and audio and video recordings are in foreign languages. Harkness declined to say where the illicit businesses were located or the nationality of the people arrested because the case is ongoing.
However, evidence collected could have a far-reaching impact, said Nicholas Porter, assistant special agent in charge of the United States Department of State's Diplomatic Security Services field office in Houston. He said passports and other documents collected will be analyzed to determine if other people can be linked to the illicit massage businesses, such as people who transported the workers to this country.
"We have a global reach," he explained.
The Fort Bend County District Attorney's Office, the Fort Bend County Sheriff's Office, the Fort Bend County Attorney's Office, the FBI, U.S. Department of State Diplomatic Security Service, Homeland Security, Texas Alcohol & Beverage Commission, Texas Department of Public Safety, the Harris County Sheriff's Office, Houston Police Department, Sugar Land Police Department, Rosenberg Police Department, Stafford Police Department, and Katy Police Department. Sgt. Tonio Gracia with the Houston Police Department's vice division and a member of the task force, said some of the workers at the illicit massage businesses had been physically and sexually abused and some had their passports and other important documents kept from them.
"We are gathered here today as members of law enforcement and as members of this community to say show this kind of behavior will not be tolerated."
Fort Bend County Sheriff Eric Fagan said the raid on illicit massage businesses helped save lives.
"We were able to help and rescue many people," Fagan said, warning businesses trading in human flesh to think twice. Fort Bend County Attorney Bridgette Smith-Lawson said her office will work to permanently shut down massage businesses that run afoul of the law through civil litigation.