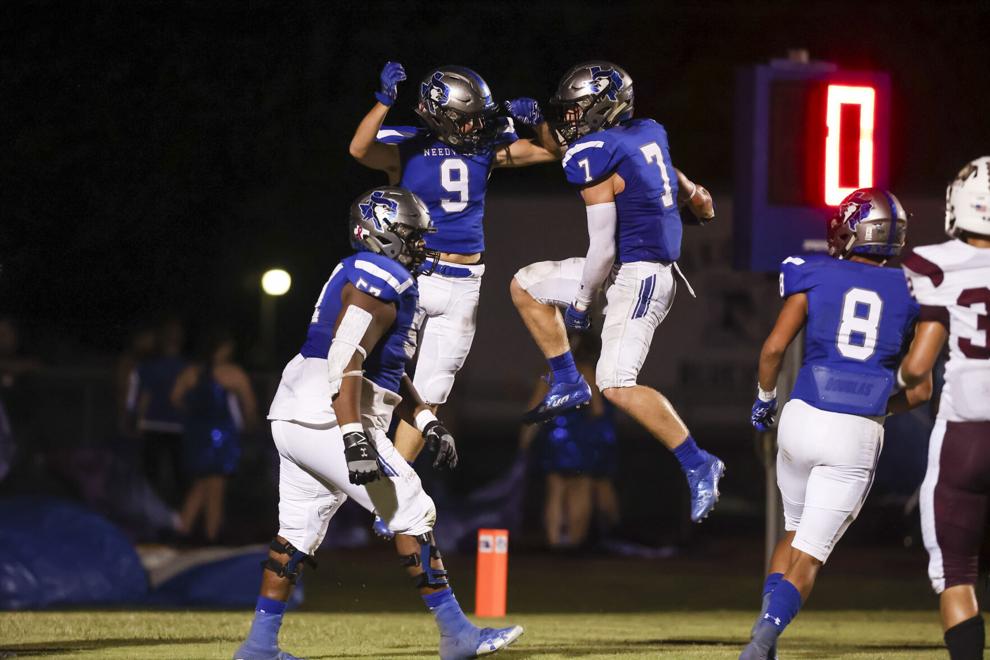 Thursday, Oct. 21
Terry Rangers (2-6, 1-5) vs. Milby Buffaloes (2-6, 1-4)
District 10-5A DI, Thursday, Oct. 21, 7 p.m., Traylor Stadium, Rosenberg, TX
The Terry Rangers are hoping to finish their season out on a high note, starting with a visit from struggling Milby.
Terry is coming off their worst performance of the season earning a total of -57 yards with six turnovers against district leader Paetow.
The Rangers will have to get a better outing from their running back Michael Odom. Odom failed to find a rhythm against the stout Panther defense but remains the Ranger's most prolific weapon on offense, averaging more than four yards a carry.
Odom is also dynamic as a kick returner with a 79-yard house call this season.
The Buffaloes come into Traylor Stadium Thursday only scoring 27 points and 152 offensive yards in their seven contests.
Milby is fresh off their first victory of the season over winless Wisdom in an 18-0 shutout after previously scoring just nine points in their other games.
The Buffaloes look to continue their momentum against District 10-5A DI's worst defense which allows 387.83 yards per game.
Terry's defense has caused a plus-three turnover margin which could doom a Buffalo offense that has stumbled throughout the season.
Although a tough season for both squads, Terry Head Coach Darnell Jackson looks to give his outgoing seniors and his returning teammates something positive to build off of next year.
"We have to come out and play those games and play hard and play tough, no matter who we are going against," Jackson said. "Our biggest thing is just trying to get healthy but it's important to finish strong to go into the offseason."
No. 10 Hightower Hurricanes (6-1, 5-0) at No. 9 Paetow Panthers (7-0, 5-0)
District 10-5A DI, Thursday, Oct. 21, 7 p.m., Rhodes Stadium, Katy, TX
Rare is the situation for a Top 10 match-up late in the season will decide a district title, but that is where Hightower and Paetow find themselves on Thursday.
The No. 9 Paetow hosts the No. 10 Hightower on Thursday at Rhodes Stadium.
For Hightower, the win would lock in a district championship with the Hurricanes already having a win over Manvel.
For Paetow, it would be just the first of two tough tests in back-to-back weeks with Manvel coming in Week 10.
The Hurricanes bring the No. 1 offense in district play headed by Kendron Penson Jr. at quarterback, averaging 435.6 yards per game. The Panthers are third averaging 397.2 yards per contest.
On defense, Paetow has allowed a staggering 28.2 yards per game compared to Hightower's 199.4 yards per game.
The difference between the two teams might be turnovers, Hightower has a turnover margin of plus-11 compared to Paetow's plus-four.
Willowridge Eagles (5-3, 5-1) vs. Sterling Raiders (4-2, 4-1)
District 11-5A DII, Thursday, Oct. 21, 7 p.m., Hall Stadium, Missouri City, TX
Willowridge has often gotten the short end of the stick when it came to Fort Bend ISD scheduling around one major stadium for the 2021 football season, but the Eagles get a home game for only the second time on Thursday against Sterling.
The contest will be important to shuffling the district standings with both teams entering the game with one loss. Sterling has the No.2 offense in the district, averaging 334.2 yards per game, while Willowridge has the fifth-best offense with 239 yards per game.
On defense, Willowridge has the No. 3 defense allowing 195.6 yards per game and Sterling has the No. 4 defense averaging 224.3 yards per game.
The evenly-matched contest will go far in setting the playoff seeding for District 11-5A DII.
Kempner Cougars (2-5, 2-3) at Manvel Mavericks (5-2, 4-1)
District 10-5A DI, Thursday, Oct. 21, 7 p.m. Freedom Stadium, Rosharon, TX
The early joys of District 10-5A DI are now over for Kempner, the Cougars face the teeth of the district schedule including Thursday's game at Freedom Field.
The Cougars hit the road to face Manvel after last week's 61-0 loss to Hightower.
Kempner will hope to get Justin Peters going after two tough games running, he has 244 yards and a touchdown on 45 carries in district play.
Javon Goss has balanced the rushing attack with his arm, completing 57% of his passes for 522 yards and seven touchdowns in district play against six interceptions.
Manvel has the No. 2 offense in district play, averaging 403.5 yards per game, while also having the No. 2 defense allowing 182.3 yards per game.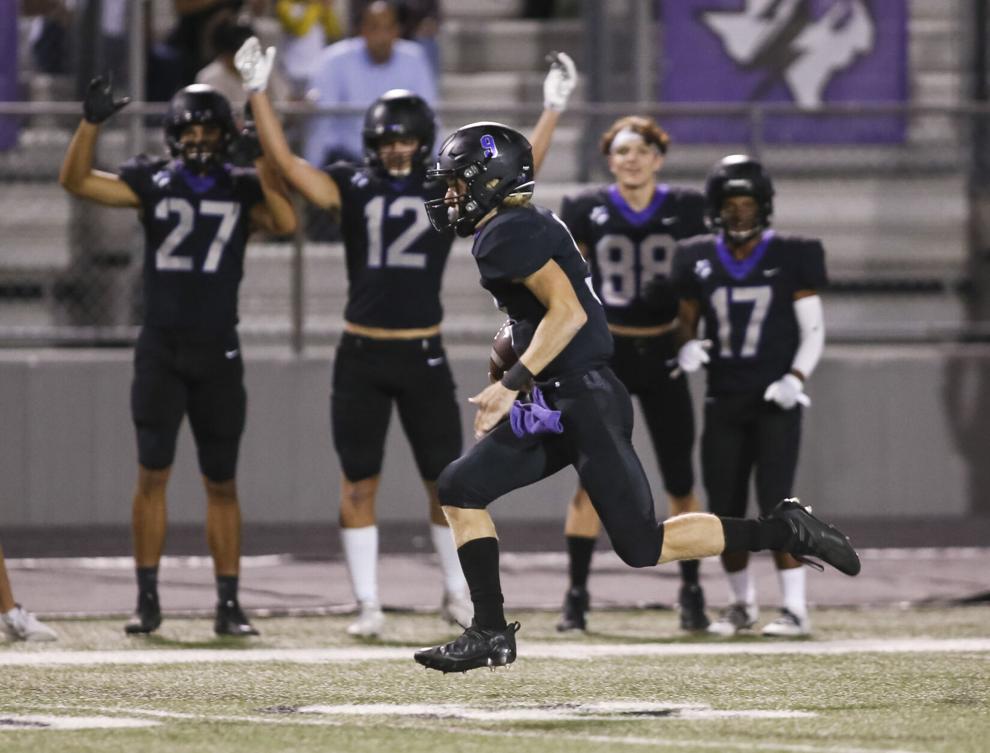 Friday, Oct. 22
Foster Falcons (4-4, 3-3) at Angleton Wildcats (5-2, 3-2)
District 10-5A DI, Friday, Oct. 22, 7 p.m., Wildcat Stadium, Angleton, TX
The Foster Falcons enter into enemy territory in Angleton for a must-win contest for both sides as the Wildcats and Falcons jock for positioning in District 10-5A DI for a potential playoff berth.
Led by the district's No. 2 passer JT Fayard, the Falcons hope Fayard will rebound following a two-game losing streak.
Foster currently sits at 3-3 in district play behind Manvel and Angleton. The Mavericks are 4-1 in third place and Angleton is 3-2.
The Falcons are coming off of back-to-back devastating losses to Hightower and Manvel where they were outscored 82-21.
Fayard is tied with Hightower's Kendron Penson Jr. for passing touchdowns at 14 but has struggled to protect the ball, throwing six interceptions.
Angleton is also coming off of two straight losses to Hightower and Manvel but had a bye last week to recollect.
The Wildcats will follow the lead from the running Deseahn Thomas who enters Friday's contest averaging more than six yards a carry with six endzone trips.
Quarterback Adrian Ewells should keep the defense guessing with his ability to throw and run. Ewells has thrown for eight touchdowns while scoring three on the ground.
Wide receiver Kariyen Boniaby-Goins will be the prime target and big-play threat down the field if Ewells has time in the pocket.
Fulshear Chargers (4-3, 1-2) at A&M Cons. Tigers (6-2, 3-1)
District 10-5A DII, Friday, Oct. 22, 7:30 p.m., Traylor Stadium, Rosenberg, TX
It has been a rough back-to-back games for Fulshear. The Chargers were blown out by Montgomery at home in Week 6 and the team lost its first road game of the 2021 season at Rudder in Week 8.
Equally rough was the Chargers' offensive output against Rudder, Fulshear had been averaging over 400 yards of offense each before posting 276 yards against the Rangers. Coach Nick Codutti's squad had collected at least 250 yards rushing in six games before only having 122 yards on the ground against Rudder.
Now the Chargers have to get right on offense to keep pace with the No. 1 offense in 10-5A DII play, A&M Consolidated is averaging 465.5 yards per game.
The Tigers' efforts are led by sophomore running back Trey Taylor, who has 663 rushing yards and seven touchdowns in district play.
Fulshear has the No. 2 offense, averaging 419.7 yards per game, and the Chargers will need Parker and Tyjae Williams to get the ball rolling again offense.
Both teams are equally similar stat-wise on defense, A&M Consolidated is allowing the second-most fewest yards per game (288.3) while Fulshear is next in line (308.3).
The defense made be the trend of turnover for Fulshear, the Chargers have a positive-six turnover margin in distinct play compared to the Tigers' positive-one.
Needville Blue Jays (2-5, 0-2) at Brazosport Exporters (2-4, 1-1)
District 12-4A DI, Friday, Oct. 22, 7 p.m., Hopper Field, Freeport, TX
Hopper Field hopes to be the perfect launching pad for the Needville Blue Jays in a critical road match-up against Brazosport.
After another disappointing loss at home against Stafford last week, the Blue Jays fly to Freeport in search of their first win amongst District 4A-
Blue Jays quarterback Bryce Nirider is coming off another strong performance passing for 245 yards and rushing for 52 in the 35-14 loss to the Spartans.
The Needville defense continued to be a question mark for head coach Mike Giles, letting up almost 300-yard rushing and five scores.
The Blue Jays have been outscored by 42 in their first two district contests.
After winning their district opener against Bay City, the Exporters failed to win at El Campo in a 69-47 shootout.
The Needville offense hopes it will have similar success after Brazosport allowed 637 yards rushing.
On the other side, the Jay defense must do a better job stopping the run but face a tough challenge in the Exporters' dual backfield of Paul Woodard and Randon Rontenette.
Despite the loss, the duo combined for 387 yards and six scores in last week's game against the Ricebirds.
Lamar Cons. Mustangs (2-5, 1-2) at No.9 Montgomery Bears (7-0, 3-0)
District 10-5A DII, Friday, Oct. 22, 7:30 p.m., Montgomery ISD Stadium, Montgomery, TX
Injuries and turnovers hampered Lamar Consolidated last week against hobbled Lake Creek, now the Mustangs get the Lions' older brother: Montgomery.
The Bears have been the standard for District 10-5A DII this season with a 3-0 record to open district play. Montgomery has leaned on the running of senior Jalen Washington to carry the load.
Washington has 650 yards and 11 touchdowns on 77 carries during district play, and as a result, Montgomery hasn't had to pass the ball often. The Bears have collected 1,151 total yards of offense in three district contests and 69% of that has come on the ground.
Lamar Consolidated will need another strong effort against the run, at the moment the Mustangs have allowed the third-fewest district rushing yards per game, 186.7.
Health has been an issue for the Mustangs on offense, three of Lamar's offensive captains exited the game against Lake Creek.
Junior MarcAnthony Daniels was solid in relief of senior Dylan Garrett at quarterback if Garrett can't suit up this week. Daniels threw for 113 yards and a touchdown.
Clements Rangers (5-2, 2-2) vs. Austin Bulldogs (0-7, 0-4)
District 20-6A, Friday, Oct. 22, 7 p.m., Hall Stadium, Hall Stadium, Missouri City, TX
Friday's contest at Hall Stadium is a crossroads game for both Clements and Austin. The Rangers need a win to keep their playoff hopes alive and Austin needs a win to avoid being winless in 2021.
Clements' chances will be defined by sophomore quarterback Gunner Chenier, who completed 43% of his passes last week against Travis. The Rangers are flying high this year with a quarterback that could orchestrate the offense, but senior Micah Darnell has a broken collar bone.
Austin will need a strong game from junior Jamal Franklin, who took the majority of the snap at quarterback last week against Bush. He has nearly 400 yards of offense in district play.
East Bernard Brahmas (6-1, 2-0) at Rice Consolidated Raiders (2-5, 0-2)
District 14-3A DII, Friday, Oct. 22, 7:30 p.m., Rice Veterans' Memorial Stadium. Altair, TX
Being one of the top programs in the state, the East Bernard Brahmas aren't challenged too often in the regular season, but the Rice Consolidated Raiders will offer them some wanted competition this Friday on the road at Veterans' Memorial Stadium.
Despite East Bernard having the last three wins over Rice Consolidated, the Brahmas have needed to work for those wins.
While Rice Consolidated only has six points total in the three meetings, they have kept the Brahmas offense in check. East Bernard is scoring just under 20 points per game in the last three wins.
"(We're) going to have to execute better across the board," East Bernard head coach Wade Bosse said. "As the season progresses you have to continue to clean up your play or you will be sitting at home come playoffs."
East Bernard's running game seemed to take a step forward last week. After averaging under 200 (174) yards a game, they ran the ball for nearly 300 yards (276) against Danbury.
Brahma senior Braydon Lemos leads the team with 340 yards on the ground. In total, East Bernard has four different players with more than 200 yards rushing.
"(It's) always good to be able to run the ball better and we are progressively getting better at doing so," Bosse said.
East Bernard senior Dallas Novicke has a team-high six touchdowns on the ground, and he's passed for 15 more. Novicke against Danbury eclipsed 1,000 yards passing on the year with three games left in the regular season.
The Brahmas defense will see a team in Rice Consolidated that is fairly balanced between the run and the pass.
Raiders junior Ralph Herrera has passed for the second-most yards in District 14 with 657 yards. However, he has been prone to throwing interceptions with seven.
The back end of the East Bernard defense has a knack for interceptions with 11 on the year. Seniors Bryan Olvera and Mason Crist lead the Brahmas with three each.
"(Our) secondary has done a good job this year and there is definitely still room for improvement," Bosse said.
East Bernard linebackers will need to keep track of Raiders senior running back James Cotton who has more than 600 yards rushing and is averaging 5.84 yards a carry.
Brazos Cougars (1-6, 0-2) at Danbury Panthers (3-4, 0-2)
District 14-3A DII, Friday, Oct. 22, 7:30 p.m., Humber Field, Danbury, TX
Friday's District 14-3A Division II contest will feature two teams seeking their first district win at Humber Field. Both Brazos and Danbury are 0-2 to start district play.
Danbury has three wins this season, but that record doesn't reflect the Panthers' success this season. Coach Rusty Sample's squad has wins over Class 2A-DII programs Louise and Hull-Daisetta along with a victory over a TAPPS Division III team Alpha Omega Academy.
The Panthers lost to Van Vleck (21-18) and East Bernard (49-13) in district play.
In the game against East Bernard, Danbury had 233 yards of offense. Quarterback Levi Flora was 7-of-14 for 128 yards and two touchdowns against three interceptions. Tanner Kohn had 16 carries for 50 yards. Maverick Vrazel had one catch for 68 yards and a touchdown, and Canyon Ettenhutn had one catch for 24 yards and a touchdown.
Brazos allowed 431 yards of offense against Tidehaven last week, but the Cougars did force three turnovers. Elijah Johnson will be key to the offense for Brazos after he collected 102 rushing yards on 20 attempts.
Stafford Spartans (3-4, 1-1) vs. Columbia Roughnecks (5-1, 2-0)
District 12-4A DI, Friday, Oct. 22, 7 p.m., Stafford MSD Stadium, Stafford, TX
Stafford's first District 12-4A DI win is out of the way, now the Spartans turn their focus to spoiling and undefeated run of Columbia. The Roughnecks enter the game with a 4-0 mark after collecting wins over Needville (56-35) and Bay City (55-27).
The Roughnecks have bent but not broken against district foes, Columbia is allowing over 400 yards of offense in district contests. But Friday's road team has balanced with over 500 yards per game on offense in district contests.
Senior running back Jordan Woodard has been the bell cow with 404 rushing yards and six touchdowns in district contests. Senior Jourdan Concepción has kept the running up with 274 yards and six touchdowns over the same stretch.
Stafford will counter with their own running threat: Jamaal Wiley. The sophomore running back is averaging 6.7 yards per carry in district contests.
Fort Bend Christian (4-3, 2-0) vs. Victoria St. Joseph Flyers (4-3, 0-2)
TAPPS District 4 DII, Friday, Oct. 22, 7 p.m., Eagle Stadium, Sugar Land, TX
District play continues for Fort Bend Christian, the Eagles are hosting St. Joseph from Victoria on Friday at Eagle Stadium.
The Flyers are coming off a 24-7 loss to Lutheran South. St. Joseph had only 166 yards of offense in the road contest.
Senior Monroe Hobbs II makes an impact on both sides of the ball, he had 12 carries for 101 yards on offense and 12 tackles on defense. He also caught two passes for 14 yards. Junior Jace Saddler led the Flyers with 14 tackles.
Senior Jackson Stefka led the way passing for St. Joseph, going 5-of-9 for 26 yards and two interceptions.
St. Joseph will have to stop quarterback Brady Dever, who threw for 320 yards and five touchdowns last week against Frassati Catholic last week.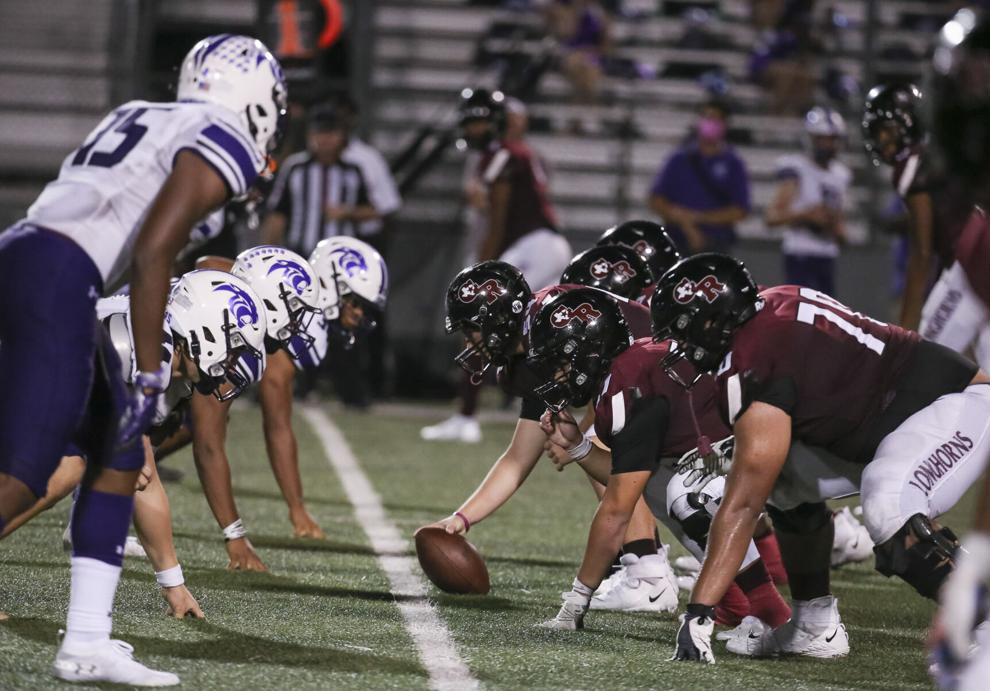 Saturday, Oct. 22
George Ranch Longhorns (4-3, 2-2) at Bush Broncos (4-3, 4-0)
District 20-6A, Saturday, Oct. 23, 1 p.m., Hall Stadium, Missouri City, TX
Bush has already passed early tests against Dulles (28-0), Elkins (10-3), Travis (24-9) and Austin (24-3). Broncos face one of its toughest tests against the high-powered offense from George Ranch on Saturday at Hall Stadium.
George Ranch enters the game with the No. 3 offense in 20-6A averaging 355.5 yards in district contests. The Longhorns are led by senior running Hymond Drinkard, who has 436 rushing yards and three touchdowns in four district games.
The combination of quarterback Cole Murphy and Joseph Wilson has created 313 of the 637 passing yards.
But the Longhorn offense will face a team that has allowed an average of 111.5 yards per district contest. The Broncos are also second in district turnover margin with plus-six.
Bush will seek success by controlling the clock with senior running back Adrian Cormier, who has 411 rushing yards in district action.
One place where George Ranch needs to improve to find success on Saturday is turnovers, the Longhorns are tied for the worst turnover margin with Austin in the district at negative-five.
No. 25 Ridge Point Panthers (6-1, 4-0) vs. Elkins Knights (1-6, 1-3)
District 20-6A, Saturday, Oct. 23, 1 p.m., Freedom Field, Rosharon, TX
The Panthers and Knights will be seeking Missouri City bragging rights Saturday at Freedom Field. The Ridge Point-Elkins game has been moved with Mercer Stadium still under repair.
The Knights are coming in on a high after a struggling 0-6 start, Elkins got win No. 1 against Dulles.
The Knights used the same formula it had all season long, physical play focused on running the ball while playing tough defense. Elkins earned a 30-0 victory behind the play of Isaiah Smith, who threw for 78 yards and ran for 93 more.
Smith will be key to tackling the No. 2 defense in district play, Ridge Point is allowing 184.7 yards per game — including the few rushing yards (284).
Elkins has the No. 3 defense in the same category, allowing 224.5 yards per game.
The Panthers enter the game averaging a district-leading 465.5 yards per game on offense, including 1,007 total passing yards through four district contests.
Bert Emanuel Jr. is leading 20-6A in passing 885 yards and 13 touchdowns against zero interceptions on 59% passing.
Travis Tigers (4-3, 3-1) at Dulles Vikings (2-5, 0-4)
District 20-6A, Saturday, Oct. 23, 6 p.m., Hall Stadium, Missouri City, TX
The Travis Tigers might be hitting their stride in District 20-6A play, coach Sissom's squad had nearly 400 yards of offense against Clements last week. Travis hopes to build on that momentum against a struggling team, Dulles.
The Vikings are tied with Austin at 0-4 in district play after losses to Clements Bush, Ridge Point and Elkins.
There is hope for Dulles, outside of the game against Ridge Point, the Vikings defense has kept district opponents around or under 300 yards of offense. In the game against Elkins last week, the Knights only had 242 yards. A mark that will need to be reached to win against Travis, but the Vikings have struggled to stop the pass — giving up the most passing yards (750) of any team through four rounds of district play. Travis has the second-most passing yards over that same stretch (756) with the No. 2 district passer in senior Anthony Njoku (736 yards and 11 touchdowns).
Dulles will have to find a way out of its offensive hole, the Vikings haven't scored a touchdown in 18 quarters. Alfred Antwi scored the last Vikings touchdown in the fourth quarter against Clements way back in Week 4.
Dulles will be helped by more strong games from senior Devin Graham, junior Cole Hodges and senior Jalen Brown, all three rushers had over 30 yards last week against Elkins.