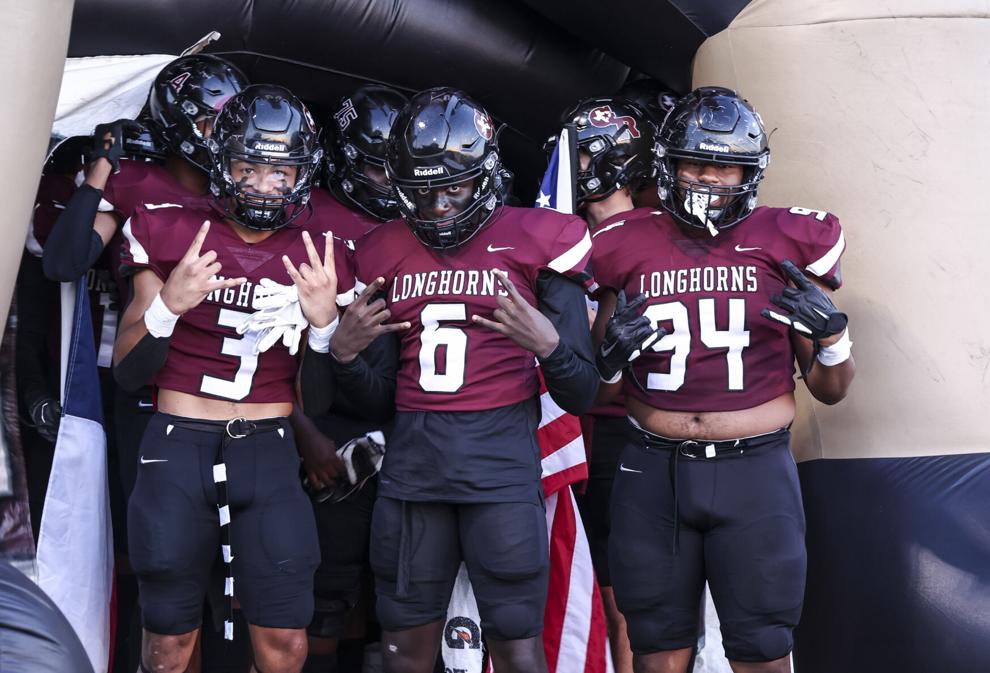 Thursday, Oct. 14
George Ranch Longhorns (4-2) vs. Ridge Point Panthers (5-1)
District 20-6A, Thursday, Oct. 14, 7 p.m., Traylor Stadium, Rosenberg, TX
George Ranch had an abbreviated run through District 20-6A last season with zone play, but the Longhorns got a taste of Ridge Point in their four district games.
The Panthers won the game 38-20.
Now George Ranch gets a rematch on a regular schedule in 2021, looking to be the first district team to take down Ridge Point.
The Panthers have the No. 1 offense in 20-6A, averaging 482.33 yards per game. Senior Bert Emanuel Jr. has completed 66% of his passes for 723 yards and 11 touchdowns with zero interceptions in three district games.
Senior Marvin Session is the top target with 15 receptions for 259 yards and two touchdowns.
The Panthers have two options, Mason Dossett and Ze'ericq Earls, to balance the offense on the ground with a combined 436 district rushing yards.
Ridge Point also has the No. 2 defense, allowing 155.3 yards per game including a little over 100 yards passing per district game.
George Ranch has been as quickly impressive with the No. 2 district offense with 380.7 yards per game.
Senior running back Hymond Drinkard leads district rushers with 296 yards and five touchdowns.
The one category where the Longhorns have struggled is turnovers.
George Ranch has a turnover margin of negative four in district games. If George Ranch can clean up the give-aways it will help Longhorns keep pace with Ridge Point.
Elkins Knights (0-6) vs. Dulles Vikings (2-4)
District 20-6A, Thursday, Oct. 14, 6 p.m., Legacy Stadium, Katy, TX
On paper, the match up between Elkins and Dulles would appear to favor the Vikings. The Knights haven't won a football game.
But, Elkins has played a tough schedule that has resulted in a winless start and a handful of tough losses.
One aspect that both teams do have is similar offenses. Dulles ranks sixth overall with 226.0 yards per game, while Elkins is eighth averaging 198.8 yards per game.
The game plan for reaching those totals is different with these two games. The 90% of Dulles' offensive yards have come on the ground. Jalen Brown, De'Adric Hubbard and Devin Graham are all over 200 yards rushing.
Elkins' offensive yards have more of an even split with junior quarterback Isaiah Smith completing 41% of district passes for 209 yards and one touchdown against three interceptions.
The difference between these teams will likely come down to the defenses. The Dulles defense has allowed 344.3 yards per game, while Elkins has allowed 258.7 yards per game in district contests.
Hightower Hurricanes (5-1) vs. Kempner Cougars (2-4)
District 10-5A DI, Thursday, Oct. 14, 6 p.m., Hall Stadium, Missouri City, TX
Hall Stadium's first of three all-Fort Bend ISD games this weekend begins with Hightower hosting Kempner. The Hurricanes come into the game with No. 1 offense in district contests, averaging 451.5 yards behind sophomores quarterback Kendron Penson, Jr. and running Jeremey Payne.
Penson is the No. 1 district passer with 891 passing yards and nine touchdowns against one interception. Payne is the No. 1 rusher with 475 yards and three touchdowns on 47 carries.
It will be a tough challenge for Kempner, but the Cougars are allowing 180 yards on defense through four district contests, third-best in 10-5A DI.
Kempner will need a strong game from senior running back Justin Peters and sophomore quarterback Javon Goss.
Peters has 226 rushing yards and a touchdown on 40 carries, while Goss has completed 61% of his passes for 468 yards and seven touchdowns in district contests.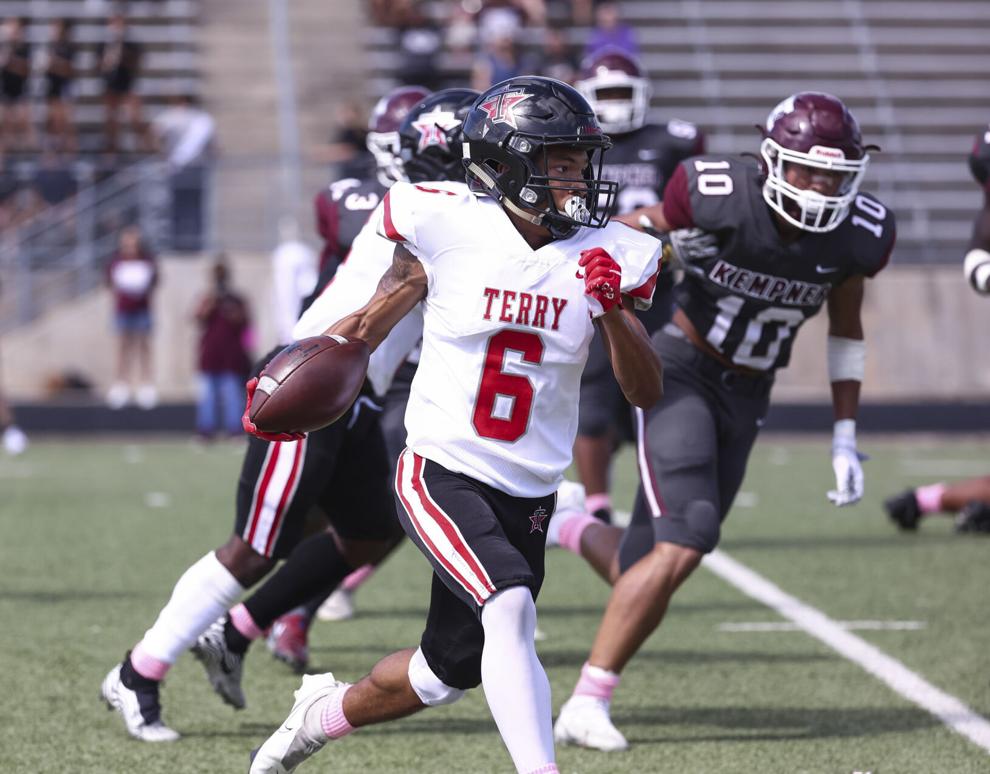 Friday, Oct. 15
Foster Falcons (4-3) at Manvel Mavericks (4-2)
District 10-5A DI, Friday, Oct. 15, 7 p.m., Freedom Field, Iowa Colony, TX
Foster's final chance to shuffle the deck in the District 10-5A DI standings will come on Friday night at Freedom Field.
The Falcons have already faced the other two district playoff teams from 2020, Paetow and Hightower. A win for the Falcons would help push Foster out of the No. 4 seed in the postseason and build a cushion between Angleton.
But the task won't be easy, Manvel is still Manvel, despite a loss to Hightower in district play.
The Mavericks have the No. 1 offense in 10-5A DI, averaging 416.8 yards per game, and Manvel is led by De'Monte Seymore.
The senior running back is the No. 1 rusher with 844 yards, averaging 9.7 yards per attempt. Seymore will face the No. 2 rush defense, the Falcons have allowed a little over 100 yards rushing per game.
On the flip side, the Foster offense features junior quarterback JT Fayard, who is the No. 2 passer in 10-5A DI, collecting 1,218 yards in seven games. The Falcons passing attack will take on the 5th-best passing defense in 10-5A DI, the Mavericks are averaging 120 passing yards allowed per contest.
Terry Rangers (2-5) vs. Paetow Panthers (6-0)
District 10-5A DI, Friday, Oct. 15, 7 p.m. Traylor Stadium, Rosenberg, TX
The Terry Rangers will have an uphill battle this Friday when the traveling Paetow Panthers come to Traylor Stadium in hopes of maintaining their perfect season.
Terry comes off their best victory of the season in a lopsided 36-7 win over Kempner Saturday. The victory also served as the Rangers' first win amongst their District 10-5A D1 opponents.
Quarterback Jason Cruz hopes to carry his momentum into this week after a two-touchdown performance at Kempner.
Wide receiver Trumaine Mitchell will likely serve as Cruz's main target hauling in four of Cruz's six touchdown passes with almost 200 yards receiving,
Terry's defense will also have to step up to wreak havoc for the Panthers. The district leader in forced fumbles also has a plus-four turnover mark heading into its toughest challenge.
Paetow looks to continue its dominance after a shutout 77-0 win against Wisdom last Friday. The Panthers have rolled over its competition averaging 52 points through its first six games and allowing eight points per contest.
The Paetow defense has also held its past three opponents scoreless and has only allowed 48 points all season.
Panthers quarterback CJ Dumas will need to continue his strong season passing for 68.52 percent with 11 touchdowns and only two picks.
Running back Jacob Brown is also a major factor averaging nearly 13 yards a carry with 12 rushing scores.
Fulshear Chargers (4-2) at Rudder Rangers (6-1)
District 10-5A DII - Friday, Oct. 15 - 7 p.m, Merrill Green Stadium, Bryan, TX
Two high-powered offenses are set to clash as Fulshear attempts to hold on to their fourth-seeding in district with a statement win over Bryan Rudder.
Following their bye week, the Fulshear Chargers will hope to get back on track after a disappointing loss to District 10-5A DII leader Montgomery.
The No. 1 team in offense yardage has a tough test ahead of them with the No. 2 scoring defense in front of them.
Fulshear quarterback Parker Williams has had a stellar junior season passing for 977 yards with eight touchdowns and just one interception.
Senior running back Tyjae Williams and Williams are both on pace for 1,000 yards seasons on the ground and combine for 14 scores.
The two Chargers rank third and fourth in rushing yards throughout the district.
However, Rudder has been disruptive to the running game allowing the fewest rushing yards in the district by far at just 551 total.
The second least is Fulshear at 799 yards.
Fulshear will have the edge in forcing turnovers. The Chargers have an impression plus-13 in turnovers this season while Rudder has struggled with a minus-2 mark.
Cade Carter leads the district with four interceptions for the Chargers.
The defense will have to stop the district-leading passer Rudder quarterback EJ Ezar with 1,553 yards and 13 touchdowns through the air. The gunslinging senior has been susceptible to turnovers with a district-leading eight interceptions.
The Rudder offense struggled to get points at Montgomery in last week's 38-13 that ended their 6-0 start.
Needville Blue Jays (2-4) vs. Stafford Spartans (2-4)
District 12-4A DI, Friday, Oct. 15, 7 p.m., Blue Jays Stadium, Needville, TX
After losing its district openers, the Needville Blue Jays and Stafford Spartans look to get back in the win column knowing the distract difference between starting 1-1 and 0-2.
Head Coach Mike Giles took the blame for last week's district opener against Columbia but vowed to his players and coaches to improve heading in Friday's home game.
"We didn't really have any penalties last time but we got behind the chains a number of times because of something we did, not because of something they did," Giles said. "That's just something we got to fix."
The Blue Jays offense will continue to revolve around quarterback Bryce Nirider who was responsible for all five scores in last Friday's 56-35 loss to the Roughnecks.
Stafford is coming off a 49-7 defeat from El Campo last week where the Ricebirds ran for 355 yards against the Spartans.
Stafford struggled throughout Friday's loss only gaining 88 yards with the ball in their possession.
The Blue Jays did not have better success stopping the run as Needville failed to keep up with the Roughnecks.
However, the Needville offense proved to be well-balanced, earning 460 yards with 271 rushing and 189 passing.
Brazos Cougars (1-5) vs. Tidehaven Tigers (3-2)
District 14-3A DII, Friday, Oct. 15, 7:30 p.m., Cougar Stadium, Wallis, TX
The Brazos Cougars haven't been able to get off the mat in 2021. Coach Ryan Roecker's squad won its first game and now the Cougars are 1-5. The road doesn't get easier on Friday with the Cougars hosting Tidehaven.
The Tigers from El Maton beat Brazos 42-6 last year before finishing 6-5 overall. In 2021, Tidehaven 3-2 overall, coming off a district win over Rice Conlsdiated last week, 38-21.
The Tigers allowed 245 yards of offense last week including 101 rushing yards from the Raiders.
Senior Elijah Johnson is hoping to surpass that mark by himself on Friday. Johnson had 102 rushing yards and a touchdown last week against East Bernard. Another strong day will be key for the Cougars to find success.
East Bernard Brahmas (5-1) vs. Danbury Panthers (3-3)
District 14-3A DII, Friday, Oct. 15, 7:30 p.m., Memorial Stadium, East Bernard, TX
The East Bernard Brahmas will look to stay hot against the Danbury Panthers at home Friday night.
The Brahmas (5-1, 1-0) are riding a five-game win streak. East Bernard's lone loss was Edna to start the season.
Danbury (3-3, 0-1) opened district play with a tight 21-18 loss to Van Vleck.
The Panthers this season have more wins than the previous two years combined.
Danbury's senior quarterback Cooper Lynch will be someone the Brahmas will need to keep an eye on. Lynch has more than 1,000 yards of offense this year split between the run and the pass.
Behind Lynch, who leads the district in scoring, Danbury averages 23.3 points per game this year, up from the 12.8 points a game last season.
Danbury junior Kamrin McKinney is the team's second-leading rusher, behind Lynch. Senior Blake Neubauer is Danbury's leading receiver with 311 yards.
Lynch has thrown six interceptions this season.
East Bernard's defense has been getting better, in their last four games, they've allowed 20 or more points once. The Brahmas this season are allowing a touch more than two touchdowns a game (14.8 points).
The Brahmas defense is coming off one of their better outings this year, allowing 105 total yards of offense to Brazos.
Danbury's defense will test themselves against an offense that is rolling. The Panthers going into the game, sport the district's best defense allowing 175 yards a game.
While they are allowing 22 points a game, they haven't seen a team as sound offensively this year, since playing East Bernard last season.
Brahma senior quarterback Dallas Novicke is three yards shy of 1,000 through the air. He's thrown for 14 touchdowns, no interceptions and has picked up another five with his legs.
The connection between Novicke and senior Caleb Magness has been special. Magness' 461 yards receiving is good enough for the fifth-most yards in 3A DII. Of the receivers in the top-10, his 20.9 yards per catch is the best.
The Brahmas are averaging 33.8 points per game.
East Bernard last season beat Danbury 56-7.
Austin Bulldogs (0-6) vs. Bush Broncos (3-3)
District 20-6A, Friday, Oct. 15, 7 p.m., Stafford MSD Stadium, Stafford, TX
The Austin Bulldogs and Bush Broncos have the unique situation of playing at Stafford MSD Stadium on Friday night.
The Bulldogs will face the No. 1defense on Friday, the Broncos are allowing 225.67, while Austin is giving up the most (352.5).
The Bulldogs will have to stop Bush's running back Adrian Cormier, who has 494 yards on 95 carries.
Marshall Buffaloes (7-0) vs. Willowridge Eagles (4-1)
District 11-5A DII, Friday, Oct. 15, 7 p.m., Hall Stadium, Missouri City, TX
The Fort Bend ISD-only match-up in District 11-5A DII will take center stage on Friday night at Hall Stadium. Marshall hosts Willowridge on the Buffaloes' Homecoming night.
The two teams are undefeated in district play with a combined record of 9-0.
The game will also feature the two best defenses in District 11-5A DII, the Buffs have allowed only 85.3 yards per game while the Eagles have allowed 168.4 yards per game.
The difference between these two teams comes on the offensive side.
Marshall is averaging 394.1 offensive yards per game, while Willowridge is averaging 212.4 yards per contest.
Which defense will budge first against weapons like junior quarterback Ja'Koby Banks and senior Chris Marshall from Marshall, or Willowridge senior running back Javion Chatman and sophomore quarterback Blaize Covington.
Fort Bend Christian Eagles (3-3) at Frassati Catholic Falcons (4-2)
TAPPS District 4-Division II, Friday, Oct. 15, 7 p.m., Northland Christian School, Houston, TX
Fort Bend Christian quarterback Brady Dever has set the bar high for TAPPS District 4-Division II, Dever threw for 515 yards and eight touchdowns last week against The Woodlands Christian in a 53-14 victory.
Now, Dever and the Eagles face a Frassati Catholic squad that gave up 64 points to Lutheran South last week.
The Falcons are led by freshman quarterback Patrick Rice, who has averaged nearly 230 yards of total offense per game this season. Rice averages a little over 200 passing yards and three touchdowns per game.
The Eagles beat Frassati Catholic 56-0 last year.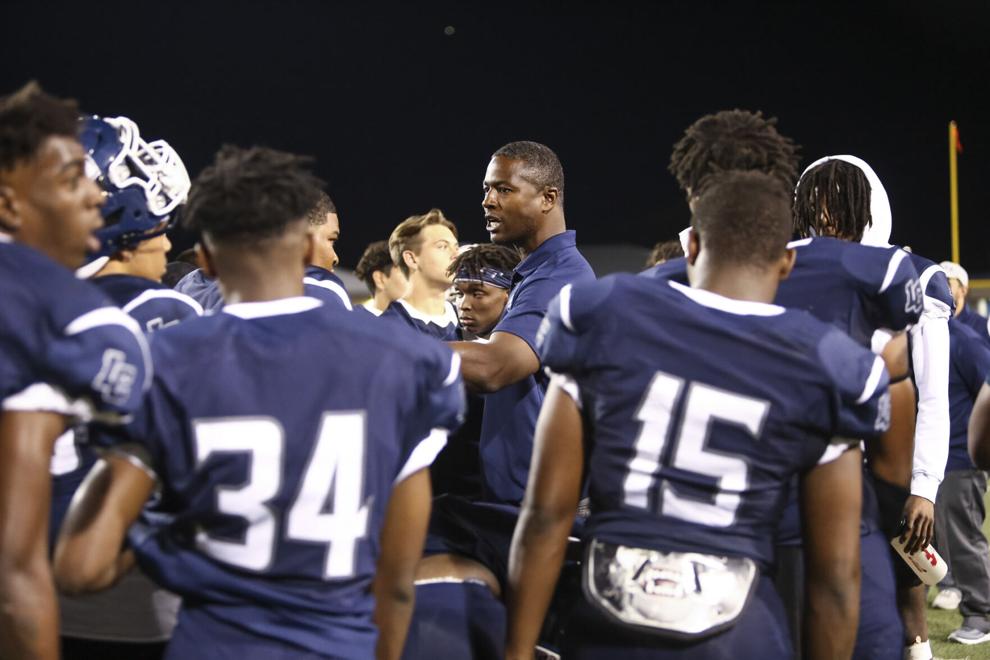 Saturday, Oct. 17
Lamar Consolidated Mustangs (2-4) vs. Lake Creek Lions (4-3)
District 10-5A DII, Saturday, Oct. 16, 2 p.m., Traylor Stadium, Rosenberg, TX
The Mustangs have an opportunity to build a winning streak in District 10-5A DII play on Saturday at Traylor Stadium with a unique 2 p.m. kick-off.
Lamar Consolidated faces a team that is struggling to start district play, Lake Creek is 0-3 after losses to Fulshear (42-15), Rudder (27-13) and A&M Consolidated (36-22).
Lake Creek comes into the game with the No. 5 offense in district, averaging 370.6 yards per game.
The Lions have gone to sophomore quarter Parker Smith during that time, he has thrown over 200 yards, two touchdowns and two interceptions in both last two games.
Smith's top target has been sophomore Sam Lee, who has 22 receptions for 308 yards and three touchdowns in district play.
Senior Justin Freeney has been a four-year starter for Lake Creek, he has 204 yards and two touchdowns rushing on 51 district attempts. Freeney is the No. 2 rusher overall in 10-5A DII with 810 yards.
Lamar's senior quarterback Dylan Garrett is coming off his lowest passing yards game (173), but the Mustangs made it work with junior running back Justin McCullough balancing the attack with 107 rushing yards and a touchdown.
Lake Creek will be a challenge for the No. 2 passer in 10-5A DII with the Lions allowing the second-fewest passing yards in district games (295).
Travis Tigers (3-3) vs. Clements Rangers (5-1)
District 20-6A, Saturday, Oct. 16, 6 p.m., Hall Stadium, Missouri City, TX
Saturday will be a change for the Clements Rangers, senior quarterback Micah Darnell will be out with a broken Collarbone. Junior Gunner Cheiner will face the Travis Tigers on Saturday at Hall Stadium.
Cheiner has served in mop-up time and finished the game against Elkins last week. The junior completed 59% of his passes for 218 yards in 20-6A contests. He is 15-of-31 overall for 238 yards and a touchdown.
The Rangers will face a Travis defense that has allowed an average of 276.83 yards per contest, fifth-best in 20-6A, and the Tigers have allowed the fourth-fewest passing yards over that same stretch (801).
The key to Travis' success will be the quarterback. Senior Anthony Njoku struggled mightily against Bush last week in a 24-9 loss. He completed 23% of his passes for 140 yards including two interceptions.
Clements will present another tough challenge on defense. Bush currently ranks No. 1 overall (225.7 yards per game) in 20-6A, and Clement is second (248.5). The Rangers have given up the fewest passing overall (438) during the 2021 season.