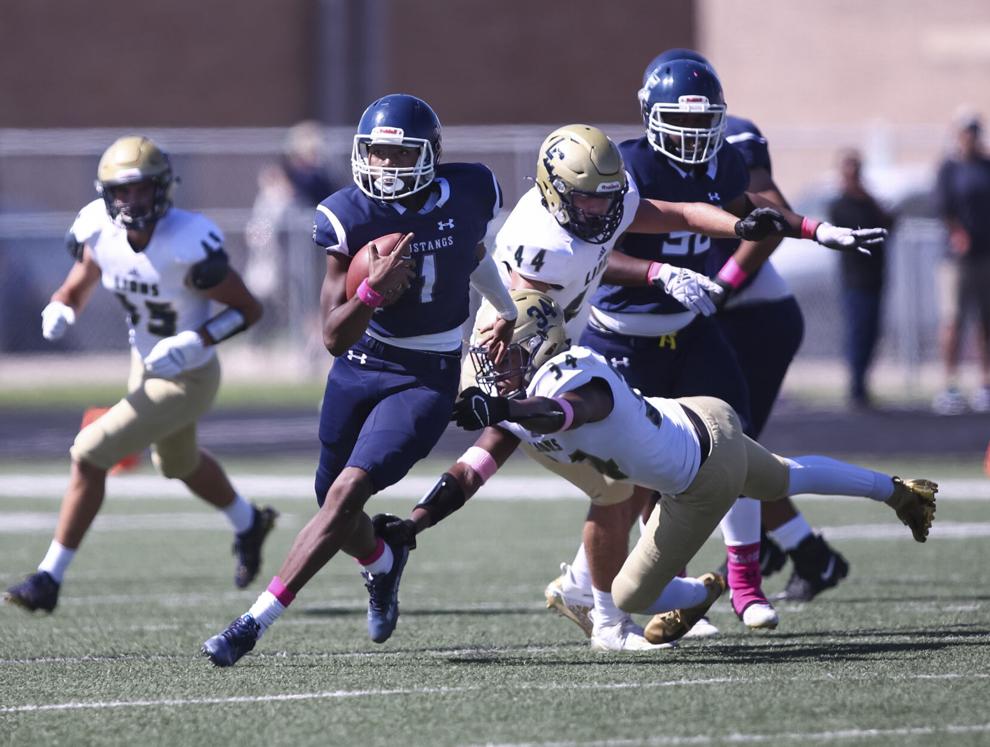 The Lamar Consolidated Mustangs sought their first winning streak since 2019 on Saturday at Traylor Stadium in a Homecoming game against Lake Creek.
But the Mustangs had too many turnovers and injures in a 61-14 loss to the Lions.
"It was turnovers and injures," Lamar head coach Kiah Johnson said. "We lost two of our team captains on offense including (Rayshawn Glover). When you struggle on special teams and have turnovers, you can't defeat a team like that with those kinds of mistakes."
Johnson's squad was able to put the first point on the boards. Justin McCullough scored on a one-yard run a little over five minutes into the first quarter.
Senior quarterback Dylan Garrett set up the score with a 35-yard run. The Lions answered less than a minute later with a 38-yard reception from Parker Smith to Sam Lee.
An interception turned into a field goal for Lake Creek, and the Lions led 10-7 with four minutes left in the first quarter.
Lake Creek recorded another field goal after another Mustangs turnover. Lake Creek led 13-7 five minutes into the second quarter.
A blocked punt quickly turned into seven more points for Lake Creek. Justin Freeney scored on a four-yard run to put the Lions up 19-7.
The two teams traded turnovers with an interception caught by the Mustangs' Simon Omoruyi, but a fumble gave the ball back to the Lions. Lake Creek built a 26-7 lead at halftime with a 13-yard touchdown run by Tyson Byars.
Sam Lee scored on the first play of the second half, returning the kick-off 65 yards for a touchdown.
Lamar was able to score on its first drive of the second half with MarcAnthony Daniels at quarterback for a hobbled Garrett on the sidelines. Daniels connected with Jameil Robinson for an 86-yard touchdown.
The Lions pulled away with four more touchdowns over the final 20 minutes of the contest including Lee's second special-teams touchdown on a 48-yard punt return.
The Mustangs had 251 yards of offense including 179 yards passing. Garrett was 8-of-6 for 63 yards and an interception. MarcAnthony Daniels was 3-of-11 for 113 yards and a touchdown.
Robinson caught four passes for 121 yards and a touchdown.
Lamar Consolidated (2-5, 1-2) will travel to Montgomery on Friday to continue District 10-5A DII.
"We just have to make sure that they understand no matter who goes down, it's the next person up," Johnson said. "Everyone has to be ready and put in the work at practice. We had a few guys step up today, which I was proud to see. We'll continue to work."