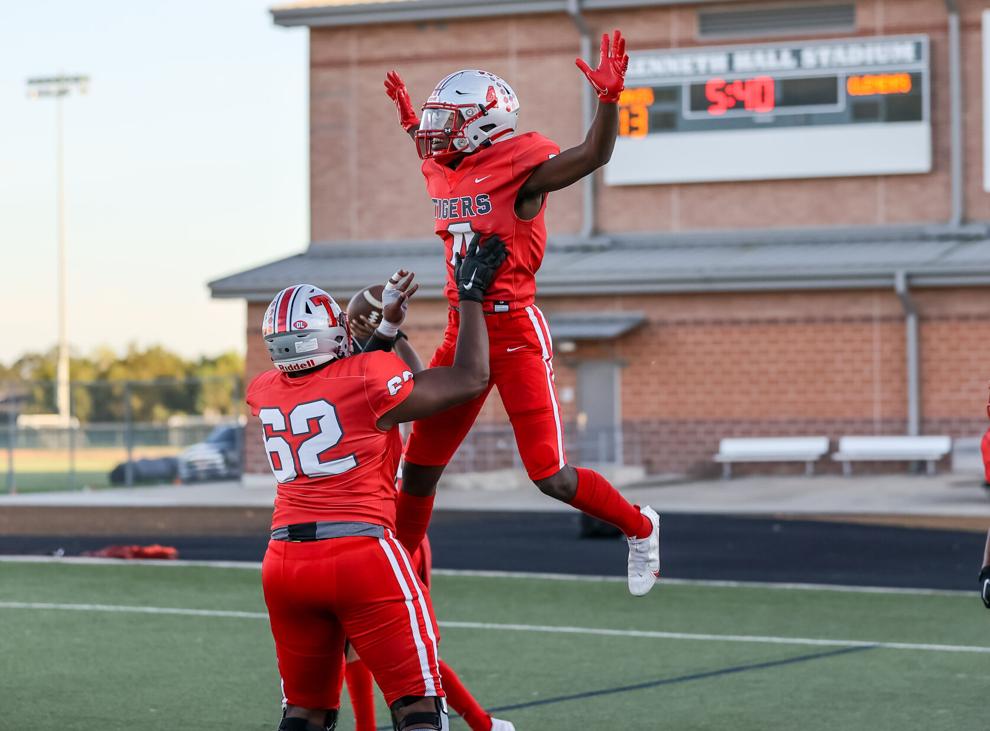 MISSOURI CITY — A week after a tough loss to Bush, Travis showed a new life on offense with a 41-0 victory over Clements.
"We had a long week of practice, trying to get that bad taste out of our mouth after the game against Bush," Travis head coach Trey Sissom said. "It was a very uncharacteristic game for us.
"We wanted to play clean tonight, and I think we did in all three phases.
"We were able to put up some points and were able top pitch a shutout on defense against a team with the talent like Patrick (Smith) and (Marcus Darnell); they are good players.
"It was a great job all the way around."
The District 20-6A contest was supposed to be a showcase for two teams with two sets of senior brothers in leading roles. Travis had Anthony and Dominic Njoku, while Clements had Micah and Marcus Darnell.
Both of the dynamic duos' have a quarterback that wears No. 2, Anthony Njoku and Micah Darnell, and a skill player out wide that wears No.1: Dominic Njoku and Marcus Darnell.
Unfortunately, the Clements quarterback was out with an injury and the Tigers got 283 total yards from Anthony Njoku. It was the difference in Saturday's game.
Clements' backup quarterback, Gunner Chenier, held his own but the sophomore didn't have the same spark as Micah Darnell.
"We got to be able to have a turnover-free game and we have to get things done," Clements head coach Bobby Darnell said. "We have to take care of the football, running and tackle and be able to have subs that can come in.
"It's football, there are going to be people that have to step and you have to be prepared to do that."
The Tigers started fast with a touchdown on the first play after blocking a punt, Njoku connected with junior Dru Sissom for a 19-yard touchdown.
Njoku put Travis up 14-0 less than five minutes later with a 28-yard touchdown pass to junior Robert Sims III.
Clements was able to get inside the Tigers' 20-yard line with a 19-yard run from junior J.R. Mirelles, but Dominic Njoku made a diving catch to intercept a pass right in front of the 10-yard line.
The Tigers marched down the field and scored after the turnover with a three-yard run by Anthony Njoku.
A trick play to freshman Carmelo Ratliff set up another Tigers touchdown to start the second half. Njoku threw the ball to defensive lineman Praise Dasaolu, who had set up as lead-blocker in a four-man backfield. The three-yard touchdown had Travis up 28-0.
Njoku-Simms connected for a second touchdown in the third quarter, a 62-yard strike made it 34-0 after a failed two-point conversion.
Njoku scored his second rushing touchdown with a five-yard run with 33.3 seconds remaining in the third quarter to set the score at 41-0.
Senior Zander Salazar recovered a fumble for Clements, but Dominic Njoku got the ball right back with a second interception.
Jamison Singleterry added 63 yards rushing for Travis on 10 attempts. Sims caught four passes for 91 yards and two touchdowns.
Chenier was 11-of-27 for 107 yards and two interceptions for Clements. Marcus Darnell had five receptions for 43 yards.
Travis (4-3, 3-1) will play Dulles next week, while Clements (5-2, 2-2) play Austin.