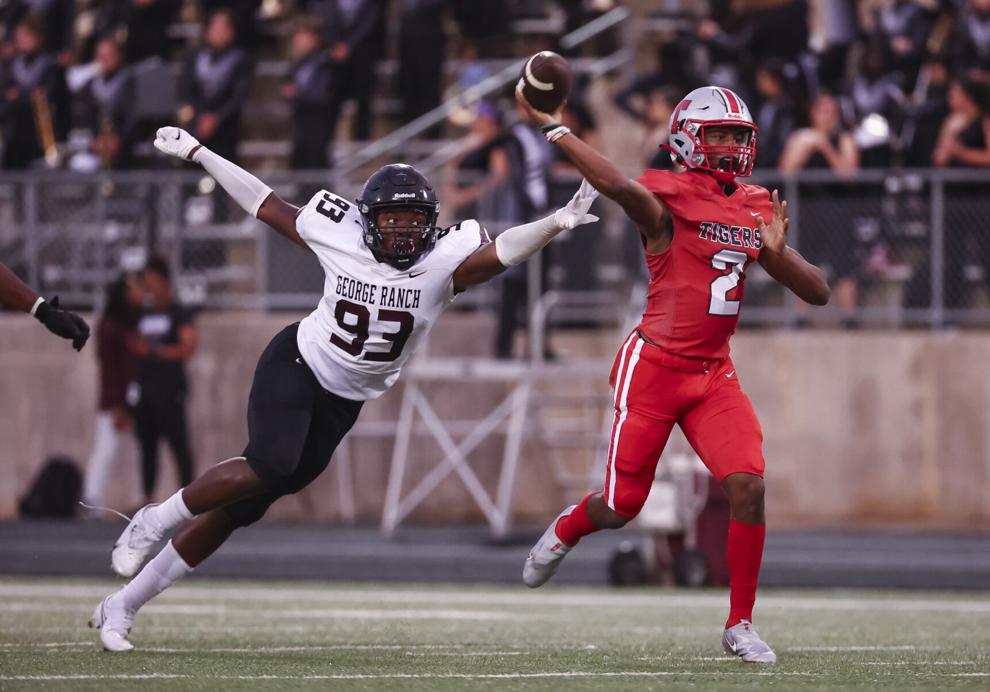 MISSOURI CITY — A game that started slow, sloppy and chippy turned into an aerial back-and-forth classic, with the Travis Tigers edging out the George Ranch Longhorns, 33-29.
Behind their senior quarterback Anthony Njoku's three touchdown passes and one rushing score, the Tigers secured a victory over the surging Longhorns at Kenneth Hall Stadium for Homecoming Friday.
Njoku' found himself as one of Friday's heroes, converting a fourth-and-nine with a 36-yard touchdown pass to junior receiver Robert Sims with 5:18 in the fourth quarter.
Travis Head Coach Trey Sissom realized the importance of Friday's crucial homecoming victory over a "talented team" like George Ranch.
"I think we were playing one heck of a team," Sissom said. "That George Ranch team has a lot of good players on it, and we were doing our best to corral them. We did for as long as they could, and they got loose, and they just ran out of time."
Defense for both squads ruled the first half of Friday's contest as both quarterbacks failed to find a consistent rhythm.
Njoku struggled to pick apart from the Longhorn defense, only completing four of his 13 passes for 43 yards.
However, Njoku made plays when it mattered most with a 27-yard strike to senior receiver Gabriel Van Wyk for his second score of the season.
The Tigers' defense wreaked havoc for Longhorns quarterback Cole Murphy as he began Friday's game throwing two interceptions in his first five passes.
Defensive back Aaron Mendiola and linebacker Tomisin Olorunfemi collected interceptions for Travis.
Early woes continued for George Ranch as a high snap to punter Edwin Avalos led to Travis' best starting position of the game.
The Longhorn defense held to limit the damage, forcing a three-and-out that resulted in a 32-yard field goal by Antonio Rubio to extend the lead, 10-0.
Murphy rebounded, completing seven of his subsequent 10 passes, including a 38-yard passing score to Kyle Kiser with 7:40 left in the second quarter.
The Longhorns forced Njoku and the offense to stall on their next trio of drives before Murphy led his offense on a 13-play drive down to the Tigers' four-yard line.
With third-and-inches, George Ranch would endure back-to-back pre-snap penalties to force a 31-yard field goal that was wide of the mark to take us to halftime.
Both teams came out of the locker room in the second half with a fiery offense.
Njoku returned more consistently as he kept the Longhorns off balance with his legs and arm throughout the second half.
A 41-yard catch-and-run to Carmelo Ratliff put the Tigers in prime position for Njoku to close the drive with a two-yard scamper into the endzone to go back up double digits.
Not to be outdone, Murphy launched a touchdown throw of 52-yards to Joseph Wilson to inch closer, 17-14.
A costly fumble recovery by Longhorns defensive lineman David Walker allowed running back Hymond Drinkard to get rolling on the ground.
Following a catch of 22 yards, Drinkard closed the quick drive with a seven-yard gallop to give the Longhorns their first lead of the game.
Njoku was not flustered as he quickly recovered, earning runs of 16- and 24-yards and his second touchdown throw to Van Wyk to retake the lead.
The joy was short-lived as Murphy threw his third touchdown pass of the game to Kaleb Kiser for another 25-yards. A two-point conversion later, and the Longhorns go up, 29-23.
Njoku's fourth-down conversion was followed by linebackers Parker Reed and Isreal Akinlabi intercepting Murphy on the final two drives of the game to seal the win.
Sissom credited his team's stellar and gritty performance on both sides of the ball when it mattered most.
"Our quarterback is our guy," Sissom said. "It's awesome to keep him fresh and healthy for us. I'm very proud of our defense, but George Ranch made some good adjustments in the second half, and they got the stop at the end of the game."
A disappointed George Ranch Head Coach Nick Cavallo felt his guys played their hearts out, but Friday was just not Longhorns' night.
"They made plays, and we made plays, but we have to be able to finish in the end," Cavallo said. "We have to do a better job of putting our kids in better positions to be able to finish. We get a chance to look at the film, and we see what we need to correct."
Travis moves to 2-1 in district play and 3-2 overall, with a looming 6 p.m. Saturday road trip. Meanwhile, George Ranch falls to 1-1, 3-2, hoping to bounce back at home at 7 p.m. Thursday against Fort Bend Austin.