TYLER — The Needville Major All-Stars were 11-0 entering Wednesday's final series for the Texas East State Championship against Pearland East.
The boys in blue made sure they wouldn't collect their first loss with an eight-run lead through two innings.
Lucas Robbins and Trenton Ross also made sure that Pearland East's rallying efforts came up short in an 8-4 victory to win Needville Little League's first major division state championship.
"This is the dream," Coleman Todd said. "We knew this group was special from when they were little, and we've built from there.
"The parents have been fantastic, and the kids have gotten better each and every year. We felt strong if we played as well as we could play that we could do this.
"The crazy thing is we feel like we haven't played our best game yet, and we still think we still have a lot left on the table."
Needville advanced to play in the Southwest Regional in Waco against teams from New Mexico to Louisiana. The tournament begins on Thursday, Aug. 5.
The home team was first on the board Wednesday at Faulkner Park in Tyler. Kate Vacek reached on an error and was erased on a fielder's choice that put Angelo Aprea on first base.
Jaydon Ortiz and Robbins collected back-to-back singles, allowing Aprea to score.
Ross grounded out to shortstop, but Ortiz scored to make it 2-0 Needville.
Robbins worked around three singles in the first two innings from Pearland East, and the Needville responded with a two-out rally on offense. Cade Park reached first on a single before two teammates were retired.
Needville got the next six batters to reach base safely, including hits from Vacek, Angelo Aprea, Ortiz and Robbins. Ortiz and Robbins' knocks went for doubles.
Two errors by Pearland East helped the future Blue Jays, and when the dust settled, it was 8-0 Needville.
It wouldn't be easy to put Pearland East away. The future Oilers loaded the bases with no outs in the third inning. Robbins got down two outs, but Pearland was able to score two runs.
A single and an error at first base allowed two more runs to score.
But Robbins calmly walked off the mound after striking out a batter on a 3-2 count.
Robbins exited the game after getting the second out in the fourth inning, and the ball went to Trenton Ross.
"This has been amazing," Robbins said. "This is once in a lifetime."
Future Blue Jays celebrate a win over Pearland East
Ross got a ground ball to send the game to the bottom of the fourth inning.
Aprea and Ortiz continued to power the offense with a walk and a single to put a runner in scoring position. Pearland East held the line and prevented Needville from adding an insurance run.
Ross would allow one runner to reach in each of the final two innings, but neither reached second base.
The game ended with Ortiz camped up a fly ball to shortstop, he squeezed and the party started for Needville.
"This was crazy," Ortiz said. "Once in a lifetime, for sure."
"I knew Jaydon had it," Ross said. "I'm so happy now."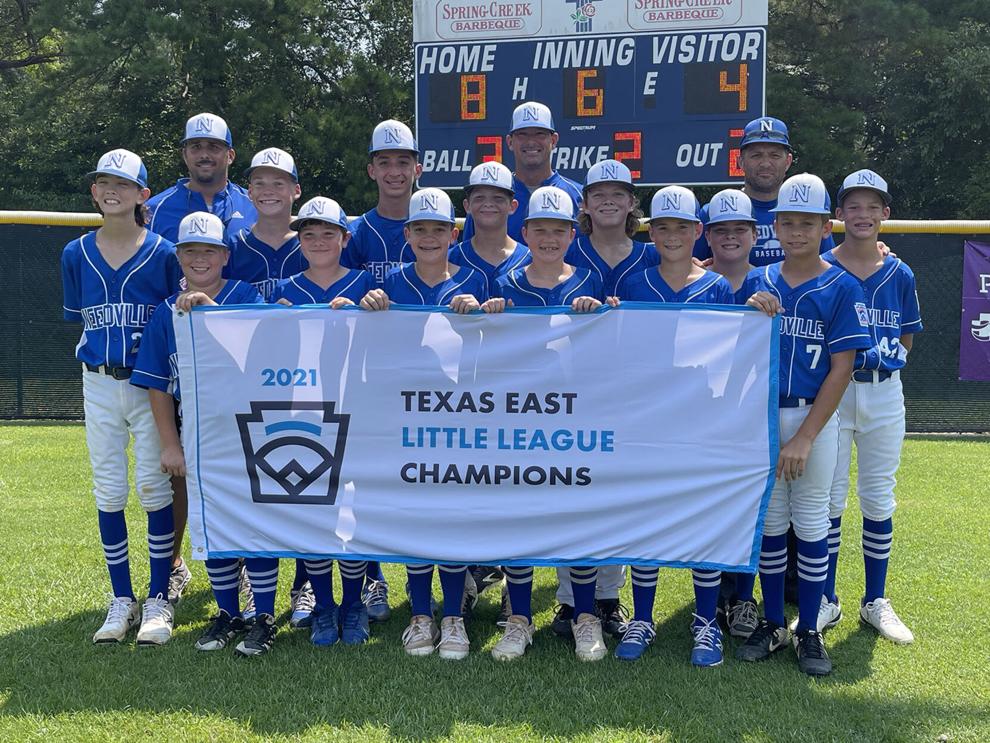 The future Blue Jays received their Texas East State banner on the pitching mound, but the group quickly raced to the scoreboard for the team photo.
The festivities ended with the team taking a photo with all of their banners: District 36, Texas East Section 4 and Texas East State Championship.
The future Blue Jays will now set their sights on a Southwest Regional banner and a Little League World Series ticket.