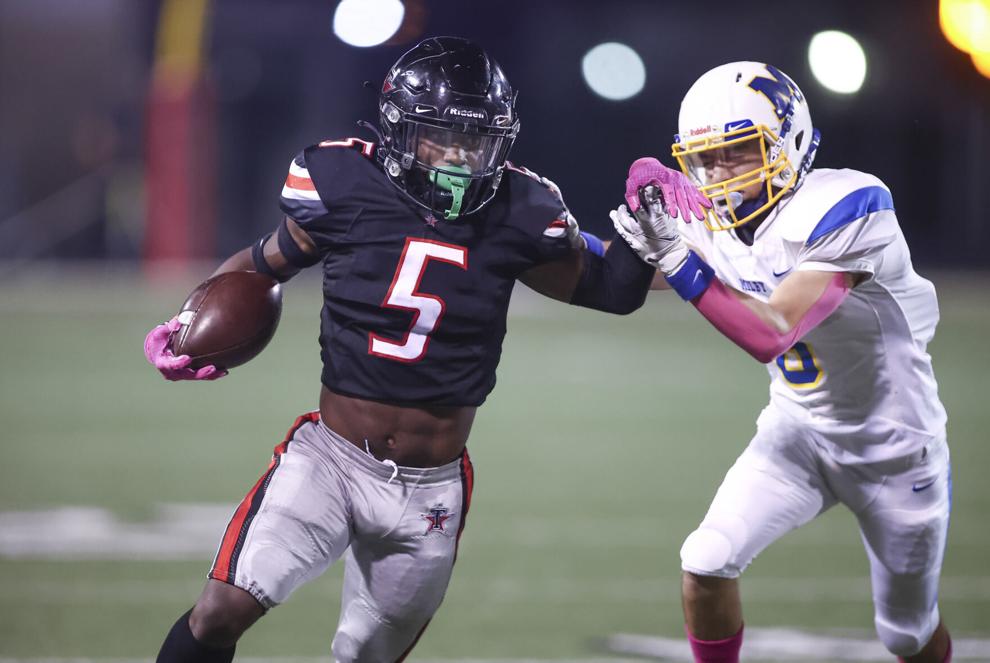 It has been a long 2021 football season for Terry, but the Rangers were able to have some fun Thursday night for Homecoming night in a 57-0 win over Houston Milby. 
The Rangers were even having extra fun before the game started: Head coach Darnell Jackson was showing off a photo to a handful of players in the Homecoming court from his senior Homecoming game from 2005 when Jackson won the honor of Homecoming king. 
"Tonight felt good," Jackson said. "We were able to get our first 'home' win of the season.  
"We played Lamar here, but we were the visitors. It felt good to get that win at home, it was good for the seniors and good for the fans."
Terry takes down Milby on Homecoming night
The fun didn't stop when play started, Trumaine Mitchell scored on the first play the Rangers had possession of the football. 
Mitchell returned a punt 67 yards for a touchdown. 
Michael Odom quickly made it 21-0 with four- and 67-yard touchdown runs in the first quarter. 
Mitchell scored his second touchdown 30 seconds of the second quarter, catching a 40-yard pass from Jason Cruz. 
The two teams traded fumbles, including a fumble recovery by Terry's Ja'Bryaylon Norris, before the Rangers scored again. 
Mitchell easily out-sprinted the Milby defense on a go-route for a 58-yard touchdown. 
Misael Mercado got the ball back for Terry with a fumble recovery, and the Rangers quickly scored again. 
Odom scored his third rushing touchdown with a nine-yard run. 
Terry led 43-0 after Mitchell scored on a two-point conversion with 2:45 left in the second quarter. 
The Rangers' Nathan Martinez earned Terry's third fumble recovery on defense before halftime. 
Terry needed less than two minutes to score in the second half. Devin Wilkerson scored on a 27-yard run. 
Wilkerson added the home team's final touchdown with a 33-yard with four minutes left in the third quarter. 
Terry out-gained Milby, 430 yards to 76 yards. The Rangers had 267 rushing yards. 
Odom (120) and Wilkerson (117) both had over 100 yards rushing on six carries each. 
Mitchell had two catches for 98 yards and two touchdowns. Cruz was 9-of-11 for 163 yards and two touchdowns. 
Terry (3-6, 2-5) is scheduled to play Houston Wisdom next week, but the Generals have folded the remainder of their season. 
The 57-0 win over Milby will likely be the Rangers' final game of the 2021 season. 
"It's sad. The seniors were looking forward to playing another game," Jackson said. "That fact tugs on my heartstrings a bit because this game could possibly be their last one. 
"We'll try to find another game if we can."