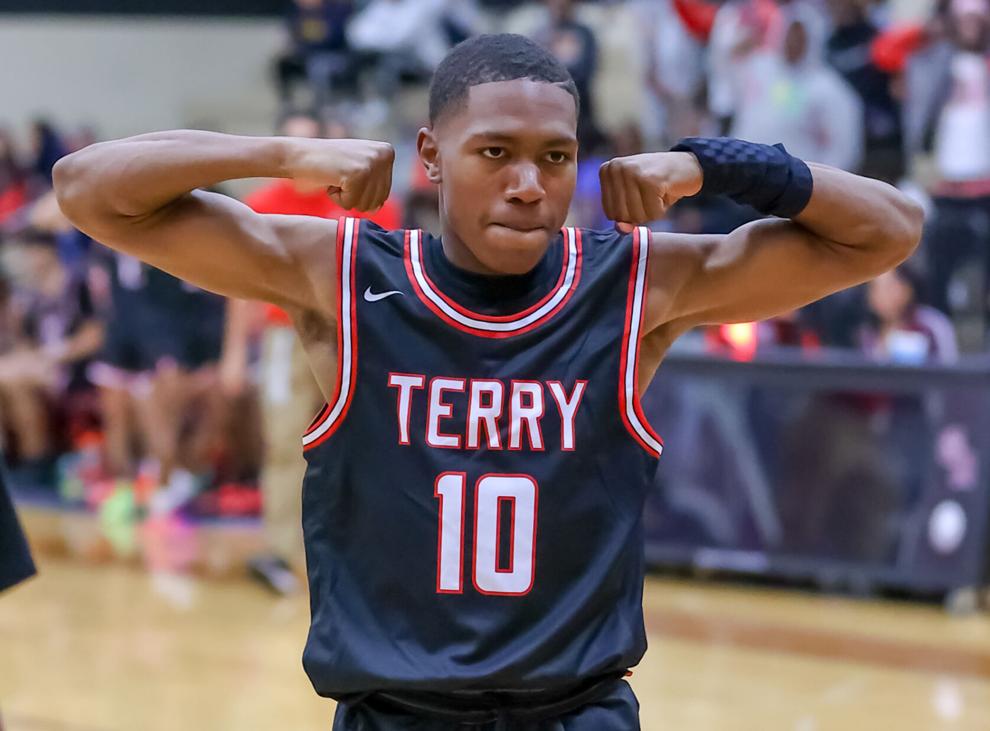 There is no requirement for Lamar Consolidated ISD programs in different classifications to play one another, and many schools elect to go a different direction when building a schedule.
The George Ranch-Terry boys basketball game has been an exception, and the annual rivalry had another chapter on Monday night.
Terry rallied after George Ranch pulled out to an early lead to secure the Rangers' first win of the season, 56-44.
"It's just good to a get a win first and foremost, these guys have been fighting hard," Terry head coach Cristian Driver said. "We've been in battles that we could have won, and we dropped down the stretch.
"Tonight, in a hostile environment, we had a pretty commanding lead at one point that was jeopardized. We were able to settle in and do the things we've been talking about, and secure a win.
Rangers win LCISD Battle against George Ranch
George Ranch controlled the action early, building a 7-0 lead to start the contest. Terry would score 11 of the next 13 points in the first quarter to take an 11-7 lead into the second frame.
The Longhorns' Evan Howard led the early scoring with five points, while the Rangers countered with three three-pointers from Gerry Ray and Michael Odom.
"We have to work on our composure and gain experience," Henry said. "We started out with a 7-0 run, and we lost our composure from there.
"Turnovers really shot us in the foot. We need to be more patient; they speed us up."
Terry built a 30-20 lead at halftime with nearly the entire roster scoring a basket in the second quarter. Seven different Rangers put the ball in the hoop, including seven points from Trumaine Mitchell.
George Ranch remained in striking distance with another trey from Howard and four points from Joshua Nwakaego.
The Longhorns were able to break the Terry pressure in the third quarter, outsourcing Terry 13-8. Sophomore Chidiebube Chiakwelu finished at the rim on the press-break and won battles in the paint for eight points in the third quarter.
The fourth quarter was all Terry. Jalen Chapman and Ray led the way on defense, which sparked the offense. The defense forced turnovers and created opportunities at the free-throw line.
Chapman and Ray combined for 12 points in the fourth quarter, including 4-of-7 from the charity stripe.
Ray led all Rangers' scorers with 13 points, while Mitchell added 10 points and Chapman had nine points for Terry. George Ranch's Howard had 17 points, including six made baskets from the field, while Chiakwelu added 11 and Nwakaego had 10 points.
Terry (1-2) will finish the Thanksgiving holiday with a game at Crosby Tuesday and a home contest against Dobie on Friday.
Coach Driver hopes to use the games for final preparation for District 24-5A play that begins on Tuesday against Fort Bend Marshall.
"We got two more games this week, and we want to take them one game at a time," Driver said. "We to build some momentum, we had all 13 guys get into the game today and play big minutes. That is something that we want to do, with the way that we play, especially on defense.
"We want to look at the film and see what things we did well and we didn't do well, focusing on the type of pressure that we put on the basketball to create some easy offense that way."
George Ranch (1-7) will host Lamar Conlsidated on Saturday.
Coach Henry and the Longhorns will get back to the grindstone with District 20-6A play beginning in December.
"We have a long season ahead, we still need to come to practice and break down film; see the things we need to work and go forward," George Ranch head coach Brian Henry said. "We're not at district yet, but we still have to get better at all areas of the game."