Randle High School athletics held its first summer strength and conditioning workouts at George Ranch High School last month. It marked the first athletic event in the Lions' history and the first opportunity to lay the groundwork for Randle's culture.
The man in charge of setting that tone is former Mayde Creek and Alief Taylor head coach Brian Randle.
The first day was a long time coming for Randle, who was named the Lions' coach back in February.
"I got to see kids," Randle said with a smile on his face. "I've been stuck in a cubicle since February, working 12- hour days. I thought it would be a blast, but it's a grind (to open a new school). It's just a grind without the kids. I'm in the business of being around kids.
"Today was refreshing. This wasn't work; this is fun. What we do in the classroom is work; this is music to my soul."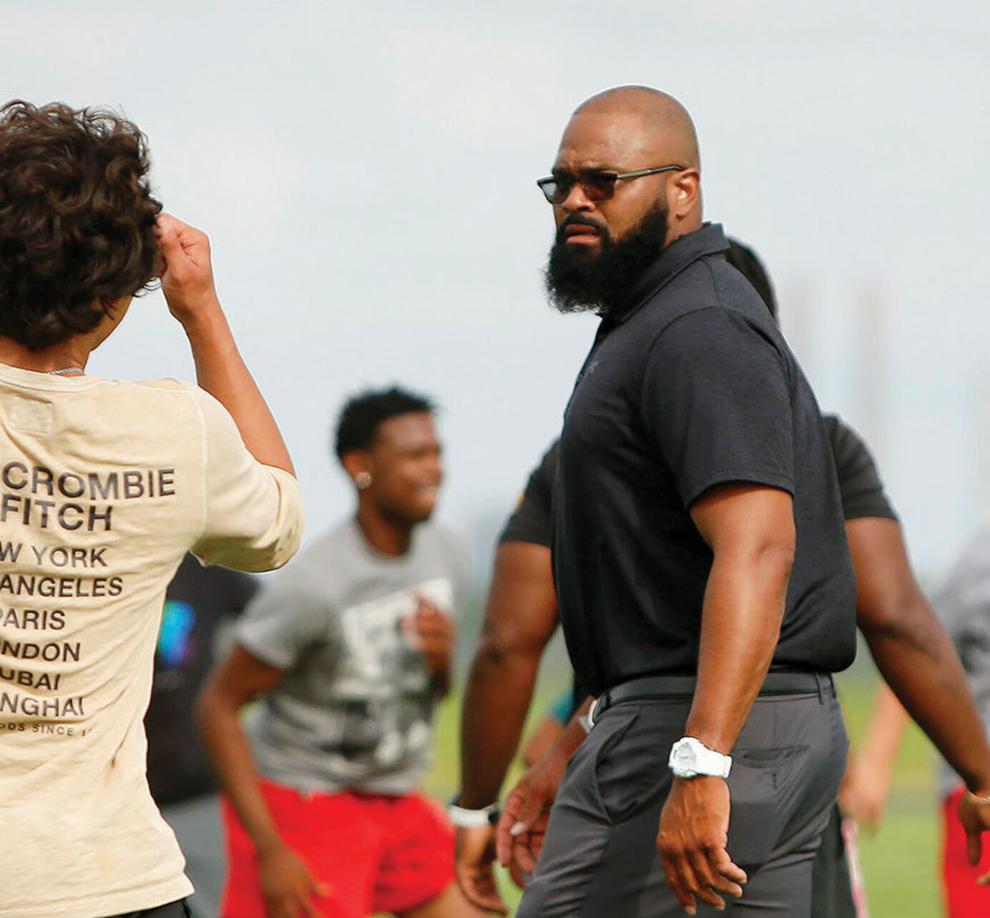 Randle dressed for the part for the Lions' first workout with a black polo embroidered with the Lions' newly created logo. Every detail matters for Randle and his staff. No detail was missed, including the introduction of "eyes." When a coach says "eyes" in the huddle, all players' eyes should be on the coach without a word said.
"There is no culture; we have to build the culture," Randle said. "The biggest thing, my whole thing and everything we've done in coaching, is to empower the youth. We want to empower people to where they make good decisions. It's more than just X's and O's when it comes to Randle High School. We truly believe in positive affirmation; there is a meditation that we'll do before every game. It works."
"The biggest thing for me is empowering those kids to where they know that they have options in life."
A question is one of the pillars of the positive affirmation: What is the one thing you have complete and total control over?
"You heard me say, 'What is the one thing you have complete and total control over?' And the answer is yourself," Randle said. "Because it is, that is the only thing they have control over.
"When they get in trouble in the principal's office, I'll come in there and tell them 'What is the one thing you have complete and total control over?' and they will repeat it. Then reality sets in: 'Right, I made a mistake.'
That one question will be a building block for Randle's program.
"That is something we talk about every day, every single day," Randle said. "I've got kids that are 26 years old, and they will tell me, 'Coach, what is the one thing you have complete and total control over?' It sinks in. If we can get it in there at Wright (Junior High School), then they are going to do the right things."
While campus coordinator and head football coach are Randle's titles with the Lions, he is equally focused on shaping the young men and women at Randle High School into better adults. That work started with a strength and condition camp.
"You have to take care of yourself; no one is going to give you anything; I pride myself on that," Randle said. "I have never been given anything in my life, honest to God, and I need these kids to know that are no free handouts. Everything is always earned.
"If we can get our youth to understand that now, heck, we'll have a better country, in my opinion.
"It's deeper than athletics; it's just empowering young people and getting them to do good things."
Randle High School will open on Aug. 23 for the Lions' first school day.
The newest high school in Lamar Consolidated ISD will only have freshmen and sophomore students for the first school year. Randle and the Lions broke their final team huddle with one word, "Family."
The Lions will not compete in varsity team sports for the first year, focusing on creating connections.
"We want to see relationship building," Randle said. "I want my coaches to build relationships. We hired good people; they are genuinely good people. I truly believe you get good people around good kids; then it trickles down."
Randle and the staff have been working on the move-in to Randle High School over the past month. But the Lions are prepared for anything with everything being new.
"We're working on every little bit," Randle said. "Throw us a curveball, and we're going to make it work." The Lions are now practicing at their new campus, with the field open in the middle of June. The weight room is still being assembled, but it is close to completion.
The next significant date for Randle and the Lions will be Aug. 2, when teams can issue equipment for football and volleyball.