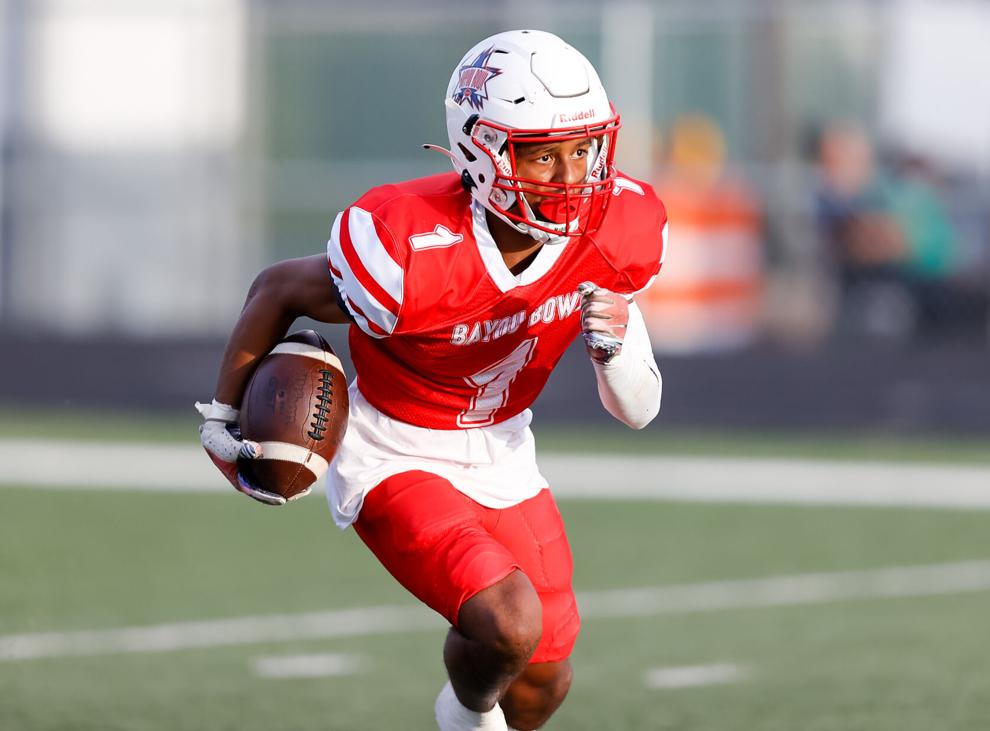 Local athletes were treated to the times of their young lives being a part of the 2022 Bayou Bowl.
The senior football stars represented their high school teams one last time at Traylor Stadium Saturday night.
But beforehand, the young men had a mini vacation filled with trips to Water Park Typhoon Texas, Main Event and Minute Maid Park.
Lamar Consolidated's Rayshawn Glover was starstruck by the pomp and circumstance of having Hall of Fame coaches on the sidelines and seeing media from all across the state.
"The four days here was the best experience I've had playing football," Glover said. "I got to meet so many new people and learn from new coaches. It was the best weekend a football player can ask for. It means everything to learn something new from people who have done everything."
George Ranch wide receiver Joseph Wilson was excited to give one lasting inspiration at his home stadium before leaving for college.
"We lost to Dulles the last time we (George Ranch) were here at Traylor so playing at the stadium I've called home for the past three years one last time was amazing," Wilson said.
Travis quarterback Anthony Njoku loved competing against the best in Houston but will remember the fun times he and some of his West teammates had in the Rosenberg La Quinta Inn.
"I loved playing football but joking off in the hotel was probably the best," Njoku said. "We got to bowl and play laser tag at Main Event and go to an Astros game which was all great. I've never had an experience like that before and to do it with some old teammates was great."
Foster cornerback Courage Ugo plans to take the lessons he learned from veteran head coach Jackie Sherrill into the next phase of his career in college.
"It was an honor to be selected," Ugo said. "He (Sherrill) is a really bright guy and knows what he is talking about. To hear someone that knows so much about not only the game of football but about life too was a really cool experience. This whole team was like a brotherhood and was a great thing to be a part of."
Marshall offensive lineman Demetrius Charles felt like a king and enjoyed the cuisine offered to the players.
Whether it was chicken sandwiches, fajitas, donuts or tacos, the big man loved the free, delicious meals while making some new friends along the way.
"I bonded with a whole bunch of new people and felt I made some lifelong friends," Charles said. "The coaches were amazing and cared about you like you were their own. They fed us really good. Best memories was us bonding at the hotel. We could've just stayed all week and had a blast because we were all quick to bond with each other."
Other local athletes involved included Foster offensive lineman Austin Yeager, Travis running back Michael Odom, Travis defensive back Dominic Njoku, Terry defensive back Anthony Axel, Dulles defensive end Dominic Williams, Fulshear linebacker Luke Guzzetta, Ridge Point running backs Ryan Phillips and Z'Ericq Earls, George Ranch linebacker Matt Lambert, Ridge Point offensive lineman Ronald Morrison, Dulles offensive lineman Jaden Flowers, Marshall defensive lineman Laurence Tillman and Clements linebacker Matt McGinnis.
They were all a part of the West Team that was defeated 24-20 Saturday night.