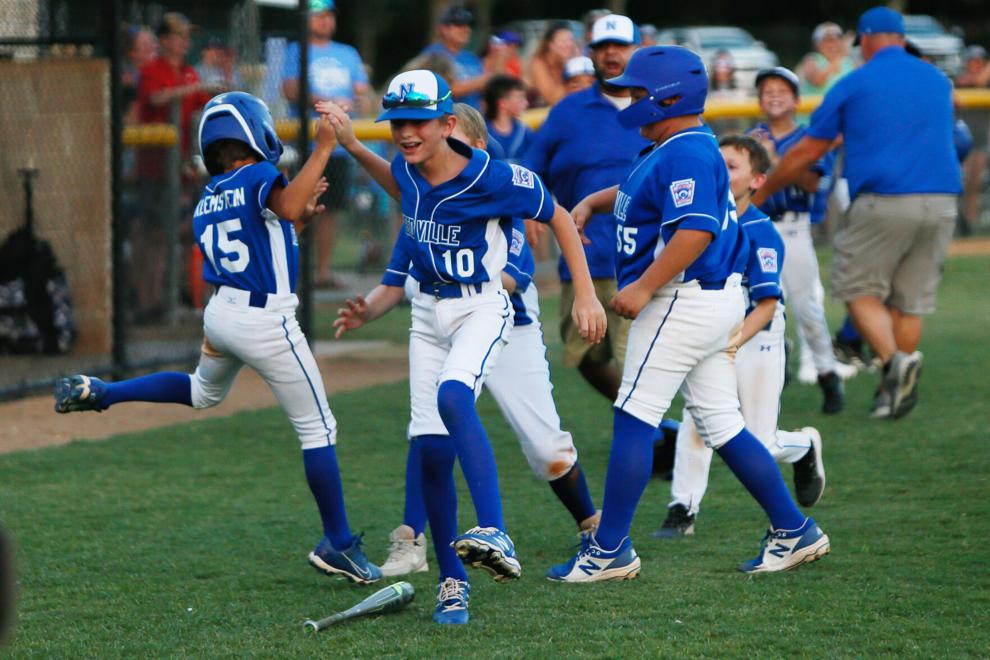 RICHMOND — The opening night of Texas East District 36 Little League play saw three baseball tournaments beginning.
10U Baseball
Lamar Little League at George Park hosts the District 36 10-and-under baseball tournament.
In Area 1, Angleton earned the first with a 23-1 win over Brazoria, while Danbury beat Sugar Land 6-1.
Angleton advances to play Lamar Red at 8 p.m. on Saturday at George Park. Danbury will play the winner of the Lamar Red-Angleton game on Sunday at 8 p.m.
Brazoria and Sugar Land will play in the loser's bracket to keep their tournament hopes alive on Saturday at 6 p.m. to play the Lamar Red-Angleton loser on Sunday.
In Area 2, Needville walked off with a 6-5 win over Brazoswood and Rosenberg held off a late charge by Alvin for 10-6.
Rosenberg will play Lamar Blue on Saturday at 8 p.m. at George Park. The winner of the game will play Needville on Sunday, while Alvin and Brazoria will play in the loser's bracket on Saturday at 6 p.m.
Needville walks off with a win over Brazoswood
Needville 6, Brazoswood 5
The Needville 10U All-Stars needed five runs over the final three innings to grab a 6-5 win to open the Texas East District 36 area tournament. Back-to-back doubles by Colt Klemstein and Dylan McCauley sent the Needville fans home happy with a walk-off win in the bottom of the sixth inning.
The happy ending for the boys in blue came after a tough call at the plate squandered a bases-loaded situation for Needville in the fifth inning. Needville cut the Brazoswood lead to two runs after three singles by McCauley, Cash Roberson and Landon Walleck. A bases-loaded walk to Jaxson Gibbs made it 5-4 Brazoswood.
Needville scored their second run of the game in the fourth inning after a leadoff walk to Charlie Griffith, who stole second before scoring on back-to-back ground outs.
Needville's opening score came in the first inning after the first three batters reached safely. Klemstein singled. McCauley reached on a fielder's choice and Roberson brought home a run with a double.
Cooper Gifford (1 IP), Gibbs (3.1 IP), Charlie Griffith (1.1 IP) and Klemstein (0.1 IP) combined to pitch six innings in the win.
Klemstein, McCauley. and Roberson each had two hits, including a double for Needville.
Rosenberg 10, Alvin 6
The Rosenberg National 10U All-Star opened the Texas East District 36 area tournament with a solid start with a 1-2-3 bottom of the first. Starting pitcher Kade Graeber racked up seven strikeouts in 4 2/3 innings on the mound.
Colton Garcia opened the third inning with a liner that got past the Alvin third baseman. Three more runs scored in the third inning to extend Rosenberg's lead to 4-1.
Rosenberg had heads-up base running in the fourth inning to go up 9-1. RNLL held on for the win despite a few big hits by Alvin in the sixth inning.
Colton Garcia collected three hits for Rosenberg, while Brendan Fisher and Colby Gomez collected two RBIs.
11U Baseball
The District 36 11-and-under tournament saw plenty of runs in its opening round at Alvin Little League. Lamar beat Brazoswood 17-16, and Needville shutout Angleton 15-0.
Lamar will play the host Alvin on Saturday at 8 p.m., while Angleton plays Brazoswood at 6 p.m. in the loser's bracket.
The Lamar-Alvin win will play against Needville on Sunday at 8 p.m.
Lamar 18, Brazoswood 16
Lamar 11U All-Stars collected 11 hits and 12 walks in an 18-16 win over Brazoswood Friday in the Texas East District 36 tournament in Alvin. Lamar needed 10 runs in the bottom of the sixth inning to pull out the win after giving up 10 runs in the fifth inning.
Will Dawson was 3-for-4 with three doubles and five RBIs. William Owens was 2-for-5 with two doubles, two runs scored and three RBIs. Case Dahlman and Nash Houston each collected two hits.
Luke Godwin pitched 4 1/3 innings, allowing seven earned runs on seven hits. Dawson (0 IP), Dahlman (0 IP), Shane Grawe (0.2 IP) and Braylon Dimas (1 IP) completed the win out of the bullpen.
Majors Baseball
The District 36 Majors baseball tournament featured Lamar earning a 4-1 win over Alvin and Angleton, taking down 20-6 Brazoria.
The hosting Rosenberg National All-Stars will play Angleton on Saturday at 7 p.m., while Danbury and Brazoswood will also play on Saturday.
Lamar will play the Danbury-Brazoswood winner on Sunday before playing the Rosenberg-Angleton winner on Tuesday.
Senior Baseball
In the District 36 Senior baseball tournament, Angleton took the first game of the three-game series from Brazoria 10-9 at Rosenberg National Little League. The second game will take place at 5 p.m. on Saturday; a third game will be played 30 minutes after game two if necessary.