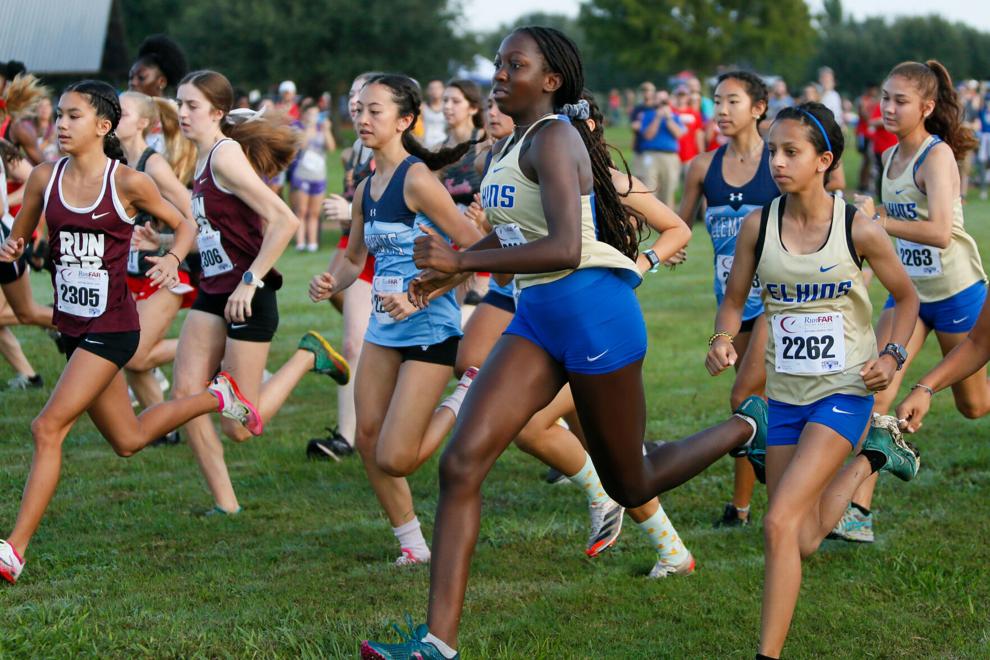 SUGAR LAND — The weather prevented the start of the District 20-6A cross country championship on Thursday, but Mother Nature wouldn't stop the Longhorns from securing their 11 consecutive district champion on Friday at Sugar Land Memorial Park.
Head coach Alicia Dutch's squad led throughout the 5,000-meter competition, and even with a runner going down at the end of the race, George Ranch took the top four spots.
The Longhorn also earned the top two spots in the boys' race, but Ridge Point won the team title ahead of Elkins. The top three teams and the additional 10 runners not on the qualifying teams will compete in the Region III-6A meet at Kate Barr Ross Memorial Park in Huntsville next week.
District 20-6A cross country teams run at Sugar Land Memorial Park
For the girls, George Ranch junior Madison Haldiman won the girls' varsity event with a time of 19 minutes and 28.6 seconds. Freshman Sophia Nguyen (19:55.0) was second, while junior Ava Curtis (20:10.9) and freshman Kadyn Boettcher (20:42.7) were close behind.
Junior Kianna Stamps also finished in the Top 10 with a time of 21:03.3 for seventh place, and junior Isabelle Ashley Pierson was 13th (21:59.3).
The win marks the 11th consecutive district title in cross country for George Ranch between the Longhorns' time in 5A and 6A, most recently in 23-6A and 20-6A. It is also the ninth overall title for coach Dutch.
Clements was second in the girls' race with a score of 58, led by top 10 finishes from junior Isabella Martinez (6th, 20:59.2) and freshman (8th, 21:11.9). The other Lady Rangers' finishers were freshman Isabelle Lust (11th, 21:39.6), junior Lexi Huang (15th, 22:11.5), freshman Fabiana Ponce De Leon (18th, 22:49.1), junior Hermela Leul (25th, 24:28.5) and senior Kaitlyn Campbell (29th, 25:31.8).
Elkins was third with freshman Zainab Anwar (10th, 21:24.9) and sophomore Perle Tamimya (12th, 21:53.0) were in the Top 15. The Lady Knights runners included sophomore Sara Djibatche (17th, 22:41.5), sophomore Patricia Soriano (20th, 23:18.4), senior Madison Leroux (22nd, 23:38.8), sophomore Rachel Lindemann (26th, 24:32.9) and junior Amelie Cherry (30th, 25:34.4).
Ridge Point was fourth with sophomore Marya Mbaraka was ninth overall (21:20.0). The Lady Panthers runners included junior Annette Smith (14th, 21:59.5), senior Juliana Jaasma (21st, 23:25.4), sophomore Sadie Bird (23rd, 23:41.4), junior Ava Hatch (31st, 25:35.0) and sophomore Brinley Emshoff (34th, 26:02.7).
Austin finished fourth in the girls' race including a fifth-place finish for junior Magdalena Lowry (20:52.5). The Lady Bulldogs' runners included junior Kylee McQuilkin (28th, 25:05.4), sophomore Aaliya Virani (32rd, 25:38.3), freshman Emma Martin (35th, 26:05.1), junior Kelechi Dike (36th, 26:21.7), senior Gabriela Chapa (26:42.1) and senior Kiara Souza (43rd, 28:19.6).
Travis was sixth in the girls race with two runners in the Top 20: senior K'Lynn Carrington (16th, 22:37.7) and junior McKenna Duty (19th, 22:55.0).
The Lady Tigers' runners included: senior Amber Kowalewski (27th, 24:56.5), junior Fatima Chaudhry (40th, 27:35.3), sophomore Nidhi Patel (41st, 27:50.4), sophomore Callie Williams (45th, 29:49.6) and sophomore Makayla Montecinos (10th, 30:18.8).
Bush finished seventh overall including a 24th-place finish from sophomore Arian Infante (23:46.1). The remaining runners included senior Chelsea Osamor (33rd, 25:49.0), junior Joyce Valdez (44th, 28:45.4), senior Lauryn Patterson (47th, 32:19.4) and senior Haydin King (48th, 35:24.3).
Dulles had three runners finish: senior Jasmin Hernandez (38th, 26:57.0), senior Aledia Ramos (39th, 27:27.5) and freshman Anyxa Franklin (42nd, 27:52.2).
For the boys, George Ranch sophomore Travis Morrey won the boys' varsity 5,000-meter run with a time of 16:50.1 and senior teammate John Moore was second at 17:01.6.
The Longhorns were third in the team standings with junior Ethan MacDonell (22nd, 18:46.4), freshman Adam Habib (24th, 18:56.1), sophomore James Keenan (26th, 19:02.8), junior Oliver Jansen (33rd, 19:23.2) and sophomore William Neel (39th, 19:48.0).
Ridge Point was first overall in the team standings with four runners in the Top 10: senior Andrew Blake was fifth (17:39.1), sophomore Charles Blake was sixth (17:41.5), senior Jesus Rojas was eighth (17:51.5) and senior Sergio Rojas was 10th (18:01.4).
The other Panther runners were Conner Kubycheck (15th, 18:26.2), freshman Lukah Shan (23rd, 18:46.5) and sophomore Christian Devenish (27th, 19:04.9).
Elkins was second in the team standings with freshman Zachariah Morin cracking the Top 10 (9th, 17:57.4), and he was followed by teammates: senior Mohammad Anwar (11th, 18:05.1), sophomore Carson Padilla (14th, 18:23.2), junior Judah Servance (16th, 18:28.1), sophomore Justin Soto (21st, 18:43.1) and junior Gautam Iyer (36th, 19:37.2).
The Clements boys were fourth overall with runs from sophomore Joshua Wan (4th, 17:16.6), senior Aidan Pulmano (18th, 18:39.7), sophomore Mikael Leul (19th, 18:39.7), sophomore Andrew Johnson (25th, 18:59.6), senior Beyer Ethan (28th, 19:11.3), junior Adit Dayal (31st, 19:17.1) and sophomore Rhys Vennema (32nd, 19:22.4).
Austin checked in at No. 5 in the boys' standings with the help of a third-place finish by senior Nishil Shahn (17:07.5). The Bulldogs' finisher included senior Alfio Parisi (12th, 18:09.1), sophomore Jonah Rebueno (29th, 19:13.2), junior Drew Peries (45th, 20:55.8), junior Michael Banes (46th, 21:16.8), senior Alforja Caro (47th, 21:22.6) and senior Ryan Riepel (50th, 21:50.8).
Dulles was sixth overall including a seventh-place finish by senior Isaiah Arriaga (17:48.6). The Vikings runners included senior Noah Sanchez (20th, 18:40.6), senior John Curry (35th, 19:29.6), junior Jonas Um (38th, 19:47.8), sophomore Daniel Mendez Torres (41st, 20:01.4), sophomore Brandt Lee (44th, 20:44.4) and junior Alan Salazar (53rd, 23:17.3).
Bush's top runner senior Pablo Garcia was 17th overall to help the Broncos earn seventh in the team standings. The other Broncos included senior Michael Tobar (34th, 19:25.2), senior Kevin Navarro (37th, 19:46.5), senior Menjivar Anthony (40th, 19:49.7) and senior Anthony Sanchez (43rd, 20:29.1).
Travis was eighth but senior Ethan Wasserman earned a Top 15 finish with a time of 18:13.7. Sophomore Bryce Jonas was 30th (19:13.4) for Travis, followed by junior Young Sean (42nd, 20:28.2), senior Mason Sollenberger (48th, 21:25.5), senior Teel Applegate (49th, 21:37.3), senior Brett Arnold (51st, 22:02.1) and senior Logan Perez (52nd, 22:26.4).