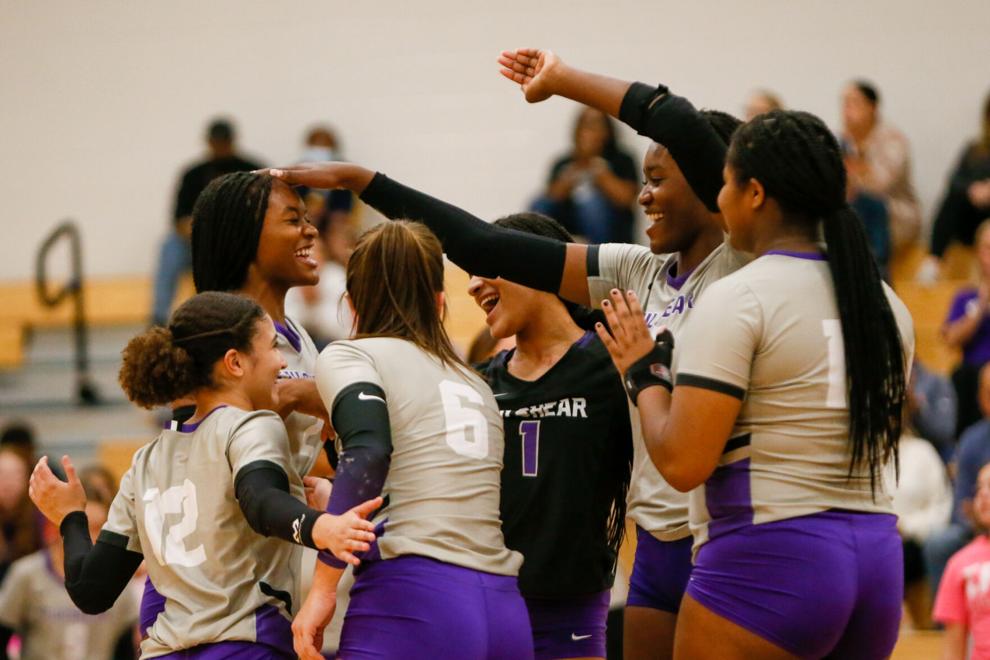 FULSHEAR — The two previous matches between co-District 24-5A champions Fulshear and Foster both went to five sets.
The third match would only need three, Fulshear secured the No. 1 seed with a sweep of Foster, 25-15, 25-23, 26-24.
Fulshear will host the No. 4 seed from District 23-5A, Houston Northside, while Foster will have the No. 3 seed, Houston Waltrip. Both teams will host their bi-district match at home on Monday.
Fulshear wins District 24-5A tie-breaker
After feeling each other out in the opening set, Fulshear grabbed its first substantial lead with kills from junior Olivia Drayden and senior Ava Underwood to help the Chargers go up 9-5.
Foster quickly cut into the lead with scores from freshman Brooke Barnes and senior Ariana De Leon, but an ace from Drayden had the Chargers in front 11-7.
The Lady Falcons took their second timeout of the first set after a kill from senior Brielle Warren put Fulshear up 15-10.
Fulshear outscored Foster 10-5 after the timeout. Aces from freshmen Bailey Warren and Sydney Black helped while Brielle Warren keep the pressure on with kills.
Foster led early in the second set with a tip from senior Kamryn Williams putting the Lady Falcons up 7-5. The Warren sisters erased the lead with three straight kills to make it 8 all.
Four Foster errors helped give Fulshear a 12-10 lead and a kill from Bailey Warren forced a timeout from Foster. The Lady Falcons wouldn't back down in the final two sets. Foster senior Elizabeth Waldrop earned a block to make it 18-17 Fulshear. The Lady Falcons rallied down 23-19 to make it a one-point game with key tips from junior Koryn Johnson and junior Chloe Howard while Williams added a kill.
But a kill from junior Victoria Powell closed the door on set No. 2 and Fulshear led 2-0.
Fulshear committed multiple errors that put the Chargers in a 9-6 hole in set No.3. The two teams traded timeouts before Bailey Warren made it a one-point set. A kill and ace from Warren set the score at 12-11 still in favor of Foster.
Williams helped Foster stay in front with a pair of kills to set the score at 16-13.
The Warren sisters traded kills with sophomore Jacki Onyechi and Barnes. A block from Johnson and Waldrop put Foster in front 21-10. Waldrop scored to make it 22-21.
But Foster scored five of the next seven points from kills by Underwood and Brielle Warren to make a 26-24 win to end the match.
Williams led Foster in kills with six and Johnson added five. Waldrop had four blocks. Senior Kalani Vasquez had 12 digs. Howard added 13 assists.