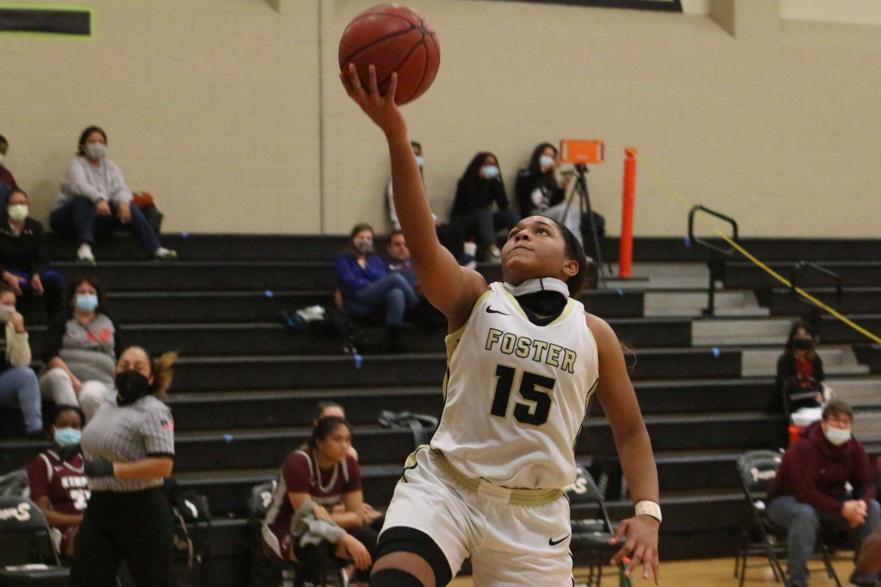 The Foster girls' basketball team continues to climb the rankings as the Lady Falcons continue to dominate on the floor.
After big wins over District 24-5A rivals Hightower, Kempner and Angleton over the holidays, Foster has moved to No. 12 in the latest 5A poll from the Texas Association of Basketball Coaches.
Foster, now 12-2 on the season and 7-0 in district play, averaged 89 points in its three wins over the break, including scoring 104 points in its win over Kempner.
Cedar Park is the top-ranked team in 5A, followed by Amarillo, College Station, Kingwood Park and Wichita Falls Rider.
However, Foster still remains outside of the top 10 despite its only two losses of the season came to Cypress Creek, the No. 1 team in 6A.
"To me, it's going to be the last team standing in 5A, and everyday that we come out, we feel we're going to be the last team standing," Foster head coach Satriva Williams-Smith said.
Next up for Foster is a game at Lamar Consolidated on Tuesday.
Meanwhile, two Fort Bend County teams are ranked in the 6A poll. Dulles (14-0) is ranked 15th, while Katy Tompkins (9-3) moves into the rankings at No. 22.
Cy Creek, Converse Judson, Desoto, Duncanville and Arlington Martin make up the top five in 6A.
In the boys' rankings, three county teams stayed in the top five in their respective polls.
Elkins stayed at No. 4 in the 6A poll after playing no games over the holiday period. The 7-0 Knights resumed play on Monday against Clements, and will face Dulles on Tuesday.
Duncanville remains No. 1 in 6A, followed by Atascocita and Waxahachie.
Hightower remains third in the 5A poll after the Hurricanes picked up wins over Foster and Kempner last week to move to 7-2 and 6-0 in District 24-5A play. Hightower will face Willowridge on Tuesday. Only top-ranked Lancaster and Beaumont United are ahead of the 'Canes in the rankings.
Stafford moved up a spot to No. 4 in the 4A poll despite not playing any games over the break. The Spartans will get back to action on Tuesday by hosting Bay City.
Faith Family stays at the top spot in 4A, followed by Houston Yates and Argyle.
---
Texas Association of Basketball Coaches Poll - Jan. 4, 2020
UIL BOYS
6. South Grand Prairie (9-0)
7. Austin Westlake (11-1)
8. Alvin Shadow Creek (8-2)
9. Killeen Ellison (15-0)
11. Humble Summer Creek (7-4)
14. Converse Judson (12-2)
25. Pearland Dawson (11-4)
2. Beaumont United (13-0)
6. Frisco Wakeland (12-1)
15. Dallas South Oak Cliff (9-2)
16. Dallas Highland Park (4-4)
18. Prosper Rock Hill (8-2)
20. Boerne Champion (15-1)
10. Fredericksburg (11-1)
14. Hardin Jefferson (9-5)
21. Tyler Chapel Hill (9-2)
UIL Girls
2. Converse Judson (11-0)
5. Arlington Martin (11-2)
6. South Grand Prairie (11-2)
9. San Antonio Clark (7-0)
12. San Antonio Reagan (9-2)
15. Ft Bend Dulles (14-0)
16 Houston Heights (11-4)
19. Lewisville Hebron (9-3)
21 Tomball Memorial (14-2)
3. College Station (11-2)
5. Wichita Falls Rider (12-2)
7. CC Veterans Memorial (15-2)
8. Mansfield Legacy (14-1)
10. Beaumont United (7-0)
11. Pflugerville Hendrickson (12-2)
12. Richmond Foster (12-2)
13. McKinney North (12-3)
15. Boerne Champion (11-2)
22. Brownsville Veterans (11-2)
25. Sharyland Pioneer (9-2)
1. Hardin-Jefferson (13-0)
10. Dallas Pinkston (14-3)
22. Midlothian Heritage (12-4)