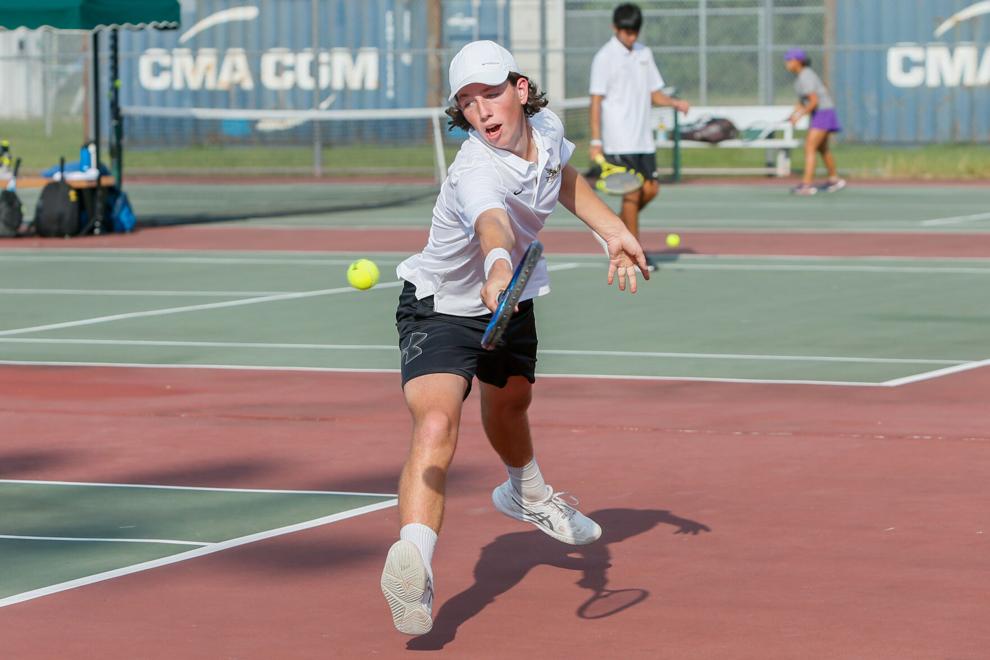 Region III-6A
No. 8 Clements remains alive in the Region III-6A playoffs with a 10-1 victory over Stratford on Friday. The Rangers will get a rematch on multiple fronts in the regional quarterfinals, facing Katy Tompkins.
"I think we came into the match really focused," Clements head coach Brett Bernstein said. "Stratford had competed really close with a lot of very good teams this year, so we knew we had to play well.
"Every match was going to be tough and I just told them to hang in their matches when it got close and continue to be aggressive in our play given the chance."
Tompkins beat Cypress-Fairbanks 10-1 in the area round. Clements previously played Tompkins during the regular season and lost to the Falcons in the 2020 team tennis playoffs.
"Tompkins is always tough," Bernstein said. "They did beat us in a close match in the quarterfinals in the 2020 regionals and the team remembers that bus ride home.
"We have gotten to see them earlier this year and came away with a win, but we have not taken that lightly we are going to have to go out there again and prove it on the court again.
"It's going to be a very competitive match all around."
Clements will host the match with Tompkins on Tuesday, the start will be at 2 p.m.
Region III-5A
District 24-5A champion Foster opened the playoffs after a bi-district bye with a 10-2 victory over Nederland. 
"The kids have really pulled together," Foster head coach Arron Ario said. "I feel like we can compete with anyone out there.
"It has truly been a team effort. Our seniors have provided some solid leadership, our No.1s have played exceptionally well all year and the rest of the lineup has been steady through the season. The Falcons advance to play Baytown Sterling, which beat another 24-5A team in the area round, Angleton, 19-0.
Foster will play Sterling on Tuesday at Pearland High School at 2:30 p.m. in round of the Region III-5A playoffs. 
"Sterling will be a very tough match," Ario said. "They are steady on the girl's side, and really strong on the boys.
"I think both teams are built almost identical, so it should be a hard-fought match."
Fulshear lost to Friendswood in the area playoff 13-1, while Kempner dropped its match against Barbers Hill 10-7.
The teams that remain in the Region III-5A playoffs include Lake Creek, Katy Jordan, A&M Consolidated, Liberal Arts and Science Academy, Friendswood and Barbers Hill.
The Needville team tennis season came to an end over the weekend with a 10-0 loss to Wimberley.
The Blue Jays advance to the area playoffs after Corpus Christi Mill, 14-5. Wimberley advances to play Fredericksburg. The Billies beat Rockport-Fulton 10-0. The other teams remaining in Region IV-4A playoffs include Boerne, Navarro, Hondo, Zapata, Tuloso-Midway and Uvalde.