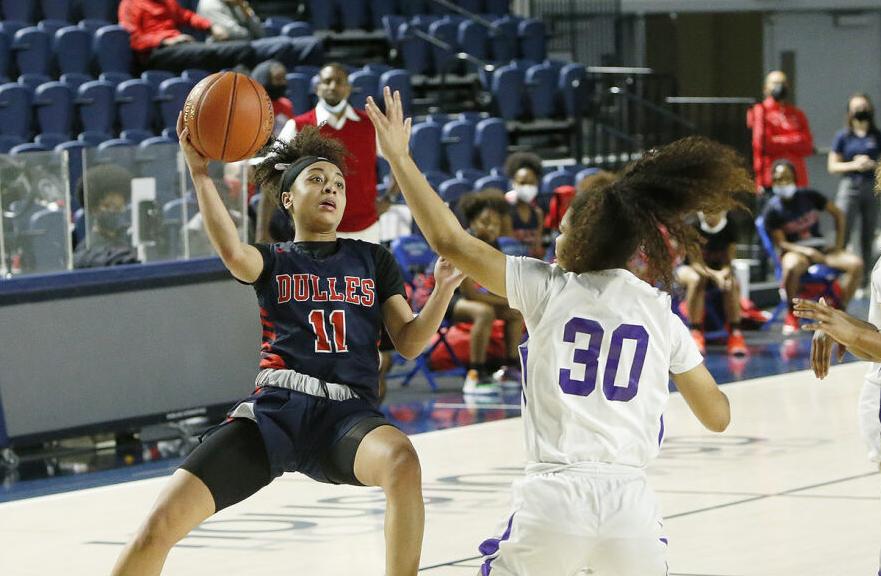 Girls regional quarterfinal playoffs
Dulles-Katy Tompkins 
The Lady Vikings made history by reaching the regional quarterfinals for the first time since 2009 with Saturday's 75-68 win over No. 8 Jersey Village. 
Now No. 10 Dulles must defeat another Katy ISD team Wednesday at the Merrell Center to advance to Round 4. 
The Lady Vikings will tip off against No. 18 Katy Tompkins at  7 p.m. 
The Lady Falcons beat Houston Memorial 57-42 on Saturday at Merrell Center. 
The two teams' one common opponent  is Fort Bend Travis; Tompkins beat the Lady Tigers 68-37 in the bi-district round while Dulles won both district games against Travis by 20-plus points. 
---
UPDATE: The Foster-Friendswood game will not be played due to COVID-19 cases among the Lady Mustangs' program.   
Foster-Friendswood 
The Lady Falcons had a preview of facing Friendswood in the area playoffs against Barbers Hill. 
No. 11 Foster will face a Lady Mustangs team that is sound in execution and tough on defense. 
Friendswood defeated Angleton in the area round 47-43, a member of District 24-5A with Foster. 
The Lady Wildcats are the only common opponent to Foster and Friendswood. Foster defeated twice by a combined score of 160-60. 
The Region III-5A quarterfinals contest will take place on Wednesday, Feb. 24 at Shadow Creek High School at 6 p.m.
---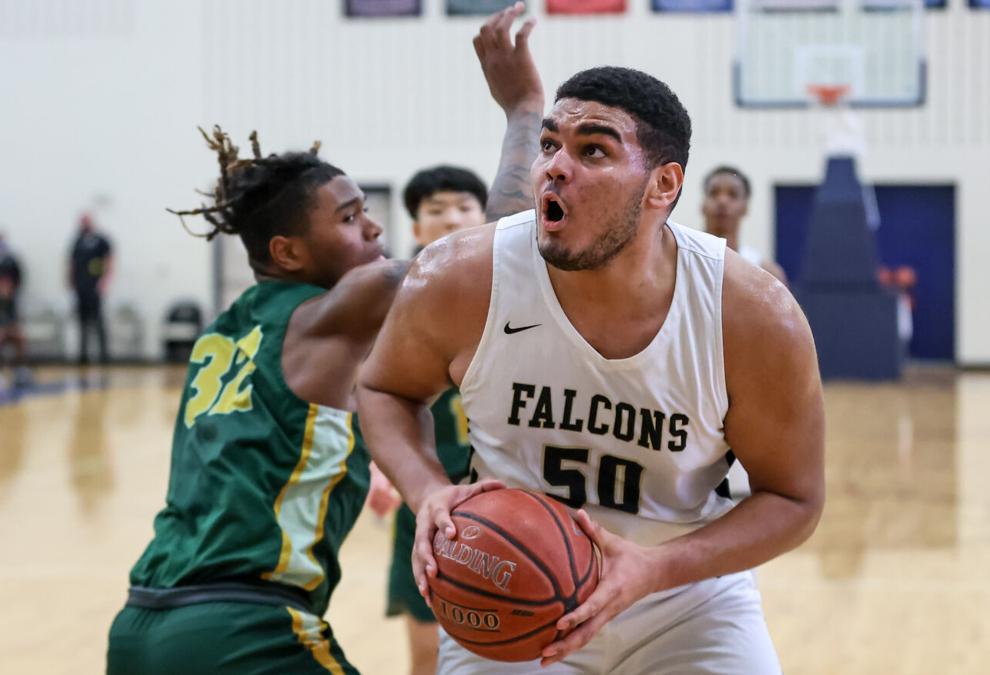 Boys area playoffs
Travis-Cypress Creek
The Tigers get another crack at No. 24 Cypress Creek on Wednesday at the Merrell Center in Katy.
The Region III-6A area contest will tip off at 5 p.m.
Travis lost to Cy-Creek in November, 66-63, in Tiger Gym. The Tigers outscored Cy-Creek, 37-25, in the second half but the Cougars' 11-point lead after the first quarter was too much of a cushion.
Cy-Creek beat Houston Lamar 67-63 in double-overtime to reach the area round.
The history for these two teams says that Wednesday's game will be another close one.
Cy-Creek has lost to Elkins and Bush during the regular season while Travis finished as co-District 20-6A champions with two wins over Bush and a one-point loss to Elkins in the team's only match-up.
---
Foster-Beaumont United
The Falcons made history on Saturday with a win over Houston Sharpstown to reach the area round for only the second time since Foster opened.
Now No. 15 Foster seeks the third round against No. 2 Beaumont United.
The Region III-5A area contest will take place on Wednesday at 6:30 p.m. The stage will be CE King High School's old gym.
The Timberwolves come into the game undefeated behind junior Terrance Arceneaux along with sophomores Trealyn Porchia and Wesley Yates III.
The trio has combined to average 50 points per game with Arceneaux, checking in with 21.1 per contest.
Terrance also leads the team in rebounding with 7.5 per game and blocks at 4.0 per contest.
Arceneaux, the 6-foot-7 forward, has offers from eight major Division-I basketball programs — including a offer from Texas A&M University that could make him teammates with Foster's Reuben Fatheree II.
Before a potential meet-up in Aggieland, Fatheree hopes to use his presence to disrupt Arceneaux's access at the rim with his 6-foot-8 frame.
Arceneaux's speed might require a better defensive fit from Foster's 6-foot-6 guard Chancellor White on the perimeter.
No matter the defensive assignments, Wednesday's game will be the only contest between two teams in ranked in the top 15 and one of only two ranked games in the area among 5A Texas teams.
---
Elkins-Houston Memorial
The No. 7 Knights turn their focus to Houston Memorial Wednesday at the Don Coleman Coliseum in Houston in the Region III-6A area playoffs.
The tip off will be at 5 p.m.
Memorial beat Houston Westbury 62-51 in the bi-district playoffs.
The Mustangs were the runner-up in District 17-6A behind Cypress Creek.
Elkins and Memorial has both played Cy-Creek, Cy-Ridge and Fort Bend Austin. The Knights are 4-0 including a 62-58 win over Cy-Creek. Memorial is 3-2 with two losses to Cy-Creek.
---
Ridge Point-Bellaire
The Ridge Point girls lost to a Houston ISD team at Delmar Fieldhouse in the area playoffs on Saturday.
The Panthers' boys team hopes to not repeat that outcome on Wednesday against Houston Bellaire in the area playoffs at Delmar Fieldhouse. The tip off is set for 5 p.m.
Ridge Point will be facing a short-handed Cardinals team.
The No. 11 team in 6A basketball was without Jacolb Cole and Jordan Burroughs in Bellaire's 53-46 over Stratford.
The Panthers already made history by making the second round of the playoffs for the first time since 2014. Now Ridge Point seeks the program's firs ever ticket to the regional quarterfinals.
---
Bush-Houston Heights
The Broncos have been in playoff mode since early February to earn the final playoff spot out of District 20-6A.
Bush's intensity propelled the Broncos District 19-6A champion Katy Taylor on Saturday.
Now Bush hopes to keep their playing level high Tuesday against Houston Heights at Hopson Field House at 7 p.m.
The Heights took care of Cypress Fairbanks Saturday at Delmar Fieldhouse, 64-54.
Seniors Sir Roberts and Jaiden Briscoe have led the way for the Bulldogs, the pair is each averaging over 10 points per game.
Roberts is also near the top in team stats in rebounds and with senior Kolby Williams with each averaging around seven per game.
---
Hightower-Crosby
The winter storm changed the schedule for many playoffs teams, for example, most were able to get bi-district games in on Saturday.
For example, Hightower does not know who their second round matchup is.
Crosby and Texas City played Monday at 7 p.m. at Shadow Creek High School in Texas. The Cougars won 61-45. 
Crosby is the District 21-5A runner up while Texas City finished third in District 22-5A.
Crosby has played against a team from District 24-5A, Terry, beating the Rangers 81-67 in late November.
Hightower and Crosby will play Wednesday at Houston ISD's Bulter Fieldhouse at 7:30 p.m. 
---
Stafford-Cuero 
The Spartans after surviving a battle with Port Lavaca Sandcrabs, Stafford will be on a turkey hunt in Round 2 of the Region IV-4A area playoffs.
Stafford (17-4) will play against Cuero (10-4) this Wednesday at 7 p.m. at Gobbler Gymnasium in Cuero. 
The Gobblers earned their first playoff victory since 2007 with a 68-63 win over Wimberley on Saturday.
The challenge gets a stiffer with the No. 9 Spartans. Stafford is seeking its second straight trip to the regional quarterfinals after making the state tournament last year.
Both teams had an abbreviated season due to COVID-19 protocols, but the team did play Wharton to use as a comparison heading into the area playoff game. Cuero lost 57-45 in late December to the Tigers while Stafford beat Wharton 53-50 to start December.