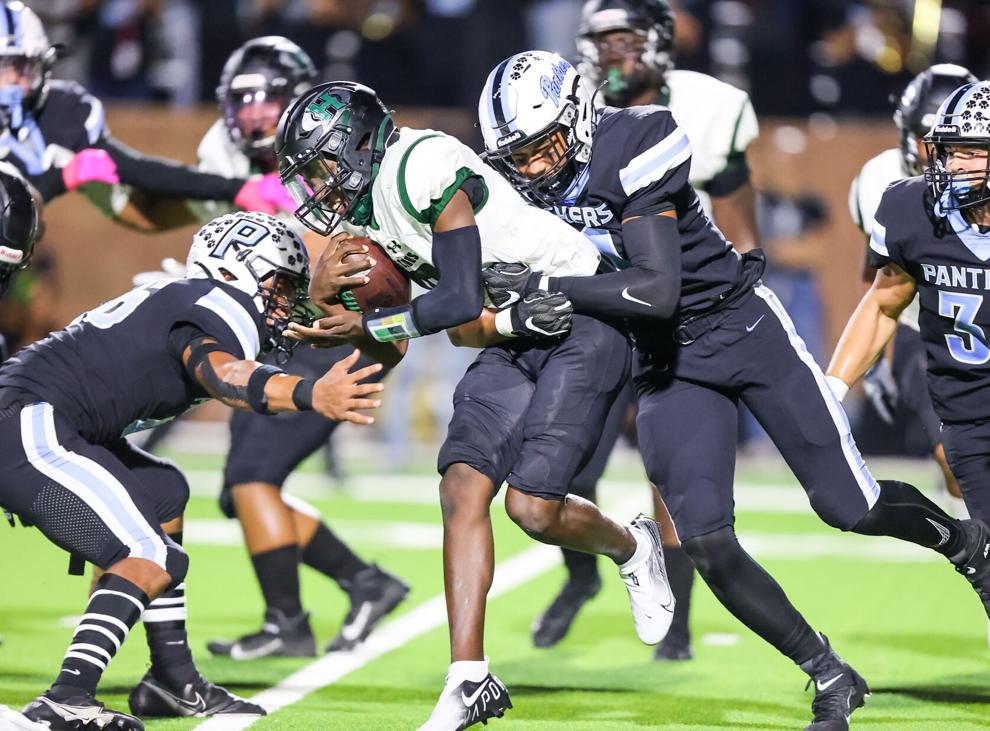 Paetow 55, Hightower 7
On Thursday, the Hightower Hurricanes' historic start hit its first significant road bump in a Top-10 matchup in Class 5A-DI at Rhodes Stadium in Katy. The Paetow defense kept Hightower in check all night en route to a 55-7 victory.
The Hurricanes had a little over 200 yards of offense while giving up over 500 yards to Paetow.
Kendron Penson had the Hurricanes' only touchdown with a 44-yard pass to Kaleb Johnson nine minutes into the third quarter.
Penson was 16-of-25 for 231 yards and one touchdown against one interception. Johnson had four catches for 91 yards and a touchdown, while Caleb Douglas had 66 yards on six catches.
Paetow's offense was powered by Panthers' quarterback CJ Dumas, who was 11-of-17 for 229 yards and four touchdowns against one interception.
Damyrion Phillips had 153 yards and three touchdowns on the ground on 18 carries. Josh Prieto had four catches for 68 yards and two touchdowns, while Kole Wilson had two catches for 85 yards and one touchdown.
Hightower (6-2, 5-1) will close their regular season against Milby next week.
Hurricanes can't weather Paetow
Sterling 42, Willowridge 31
On Thursday, the Willowridge Eagles dropped its second-straight district game at Hall Stadium with a 42-31 loss to Houston Sterling.
Thursday's contest was a game of runs. The Eagles scored the first 14 points before Sterling scored the next 21 points.
Willowridge put up 14 points in the final three minutes of the second half, but Sterling scored three of the four touchdowns in the second half.
Javion Chatman had 87 yards rushing and two touchdowns on 14 carries. He also caught three passes for 38 yards. Tulio Nunez had eight carries for negative two yards, but he did have a three-yard touchdown run.
Marxquise Hayes had two catches for 63 yards and a touchdown. Stephon Murray caught two passes for 46 yards.
Quarterback Blaize Covington was 9-of-26 for 163 yards and a touchdown, but he threw three interceptions, including a pick-six in the game's final minutes.
Willowridge (4-3, 4-2) will travel to Houston on Saturday to play Madison.
Manvel 70, Kempner 14
The Manvel Mavericks ran through the Kempner Cougars to set up another prime-time matchup in District 10-5A DI next week against Paetow.
But the Cougars were able to show their skills with two touchdowns in the second quarter. Quarterback Javon Goss and Jeff Hollins connected for two touchdowns for seven- and nine-yard touchdowns.
Goss was 7-of-15 for 118 yards and two touchdowns against one interception. Hollins had five receptions for 70 yards and two touchdowns.
Abayomi Wiggins had seven carries for 39 yards. Abdule Durasomi had one catch for 41 yards, and Fortune Iwuh had a catch for 32 yards.
Kempner (2-6, 2-4) will travel to Angleton next Friday.