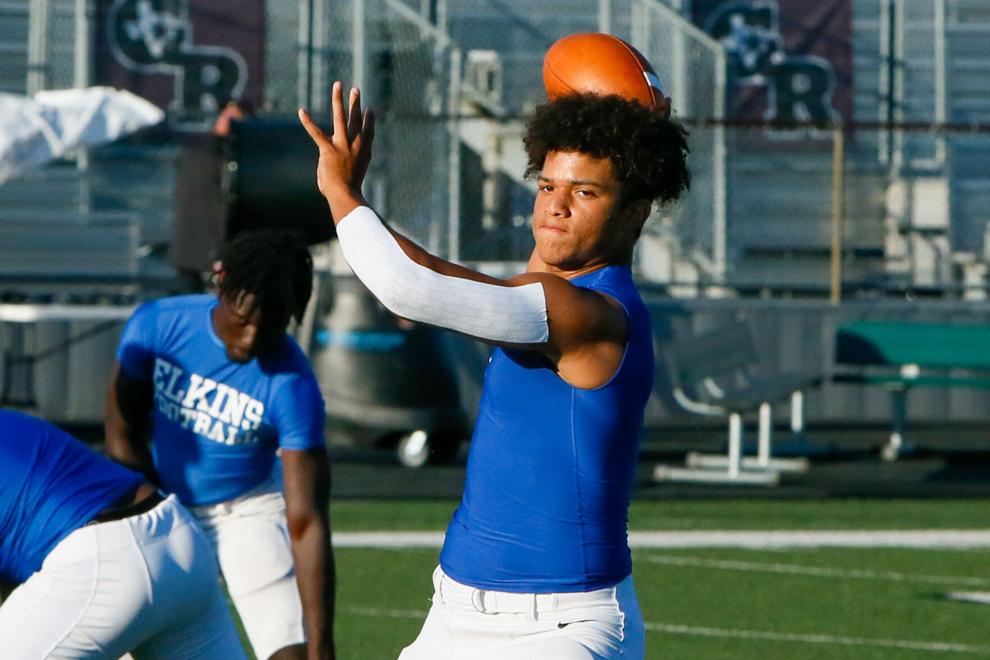 Elkins 30, Dulles 0
The Knights and Vikings had to travel to Legacy Stadium in Katy on Thursday, with the work on Mercer Stadium still ongoing. But the trip was worth it, with Elkins earning its first win of the 2021 season, defeating Dulles 30-0.
The Knights held Dulles to 144 yards while forcing two turnovers.
Isaiah Smith got the scoring started for Elkins with an 83-yard touchdown run in the first quarter, and the Knights added a 30-yard field goal from Oswaldo Renfigo to lead 9-0 at halftime.
Smith scored his second touchdown with an eight-yard run in the third quarter.
Elkins added two more scores in the fourth quarter. A wide-receiver pass from Jackson Hart to Andre Pittman put the Knights up 23-0 after Lucrae Thomas with a two-point run.
Hart was the receiving end of a touchdown pass from Smith seven minutes later. The 23-yard touchdown helped Elkins go up 30-0.
Smith combined for 171 total yards, including 93 yards rushing. Hart caught five passes for 46 yards and a touchdown. Demarion Ward collected the Knights' interception.
De'Adric Hubbard and Jalen Brown each had 32 rushing yards for Dulles.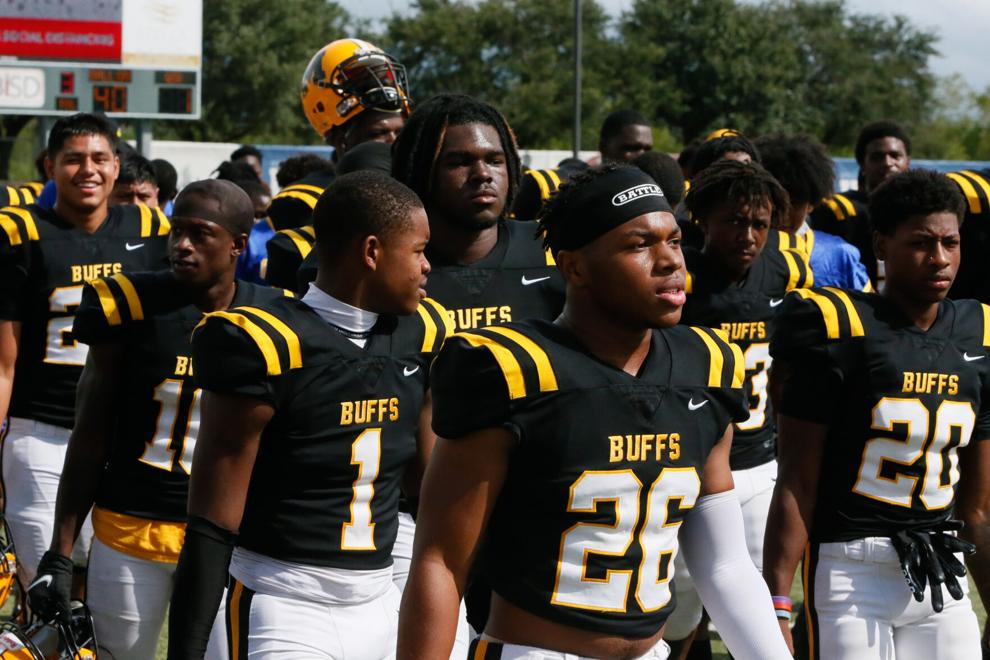 Marshall 56, Willowridge 7
The Buffalos put on all-yellow uniforms Friday for the Homecoming game against Willowridge and Marshall ran away with the victory, 56-7, to cement control of District 11-5A DII.
The Eagles were able to keep pace in the first quarter. Marshall scored the first two touchdowns, Runderick Dudley scored on a three-yard run and caught a 21-yard touchdown pass, before Willowridge scored on a 16-yard pass from Blaize Covington to Nickolas Shock.
But it was all Marshall from there.
Aaron McGowen (58-yard) and Ja'Koby Banks (4-yard) scored in the second quarter.
Chris Marshall added two touchdown receptions from 20 yards and 70 yards to ice the game in the second half.
Adrai Haulcy collected three of Marshall's fourth interceptions on Friday night, and he returned two of them for touchdowns (23- and 67-yard pick-sixes).
McGowen had eight carries for 128 yards and a touchdown for Marshall. Javion Chatman had 104 rushing yards on 20 attempts for Willowridge.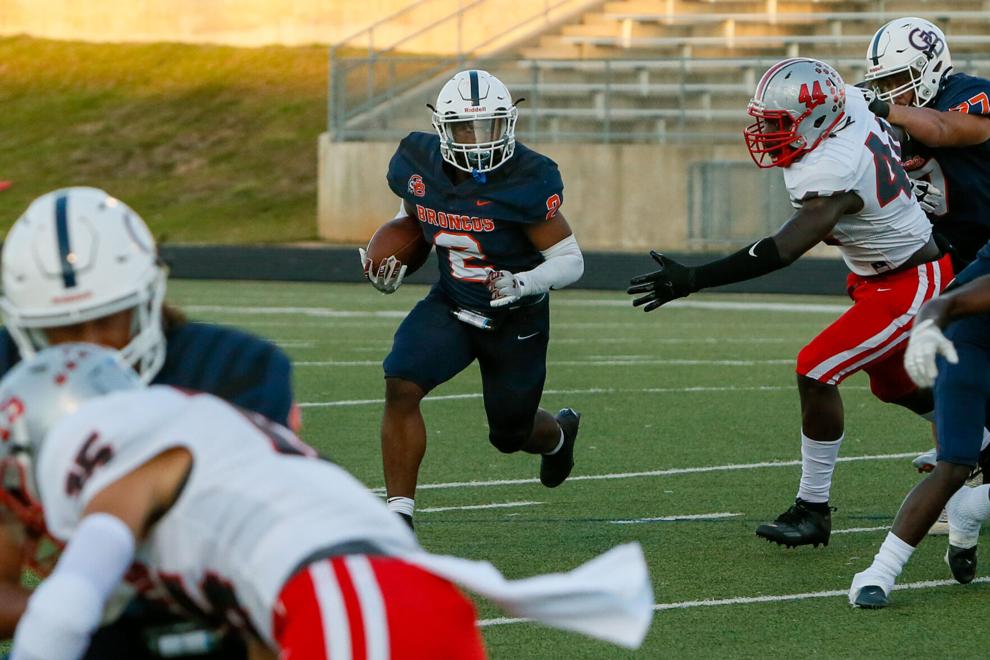 Bush 24, Austin 3
The Broncos improved to 4-0 in District 20-6A play with a win over Austin on Friday in a unique setting, Stafford MSD Stadium. The city of Stafford broke away from Fort Bend ISD to create the only municipal school district in Texas in 1977, was hosting two FBISD teams in 2021.
The Broncos' formula for success, defense and running the ball continued to work on Friday. Senior Adrian Cormier had 23 carries for 144 yards and two touchdowns. Bush kept Austin under 80 yards of offense.
Bush senior quarterback Tyler Hilder was 11-of-18 for 80 yards in the victory, while junior Jamon Cooley caught five passes for 48 yards. Junior Dantonio Hackworth collected his fourth interception on defense.
Junior Jamal Franklin had 55 yards rushing on eight attempts.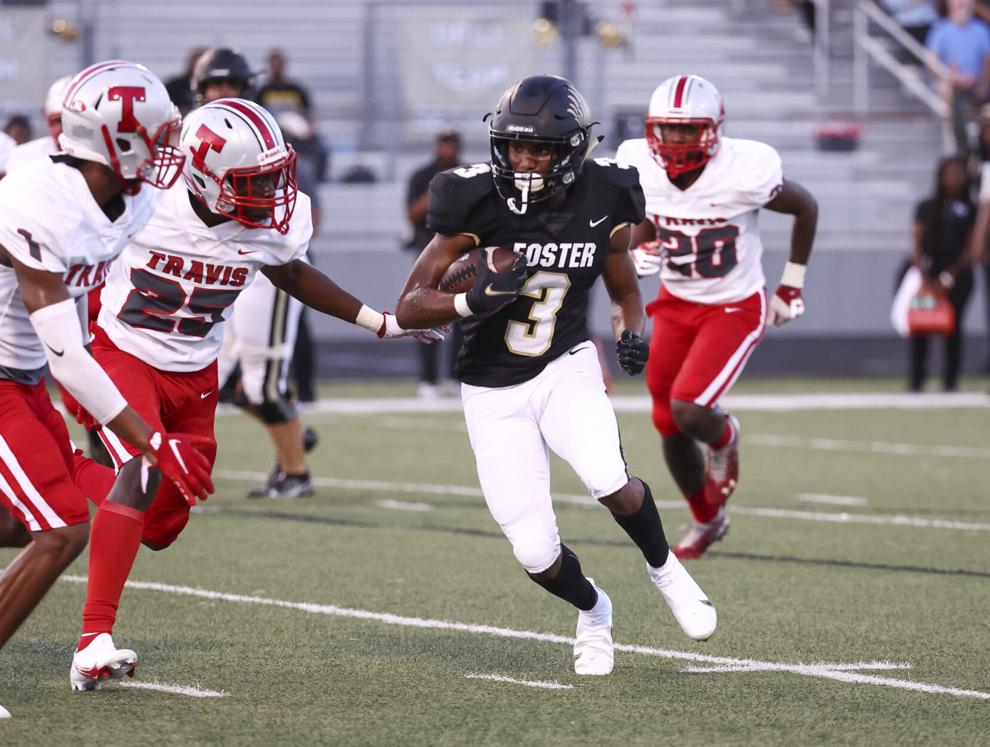 Manvel 48, Foster 14
The Foster Falcons' place in District 10-5A DI for the 2021 season was confirmed Friday night at Freedom Field, losing 48-14 to Manvel.
The Mavericks jumped out to a 21-0 lead a little over seven minutes into the contest. Senior De'Monte Seymore broke off a 75-yard run, and senior Collin Wright returned a punt 89 yards for a touchdown.
Foster answered with two long touchdowns to cut the lead to 21-14 by the end of the first quarter. Manvel scored the next four touchdowns to blow out Foster and lead 35-14 at halftime.
Seymore had 173 rushing yards and four touchdowns on 12 carries.
Junior quarterback JT Fayard was 8-of-20 for 216 yards and two touchdowns against an interception. Junior Kendal Stewart had two catches for 102 yards, including a 95-yard touchdown reception. Junior Braden Smith recorded one reception for a 78-yard touchdown.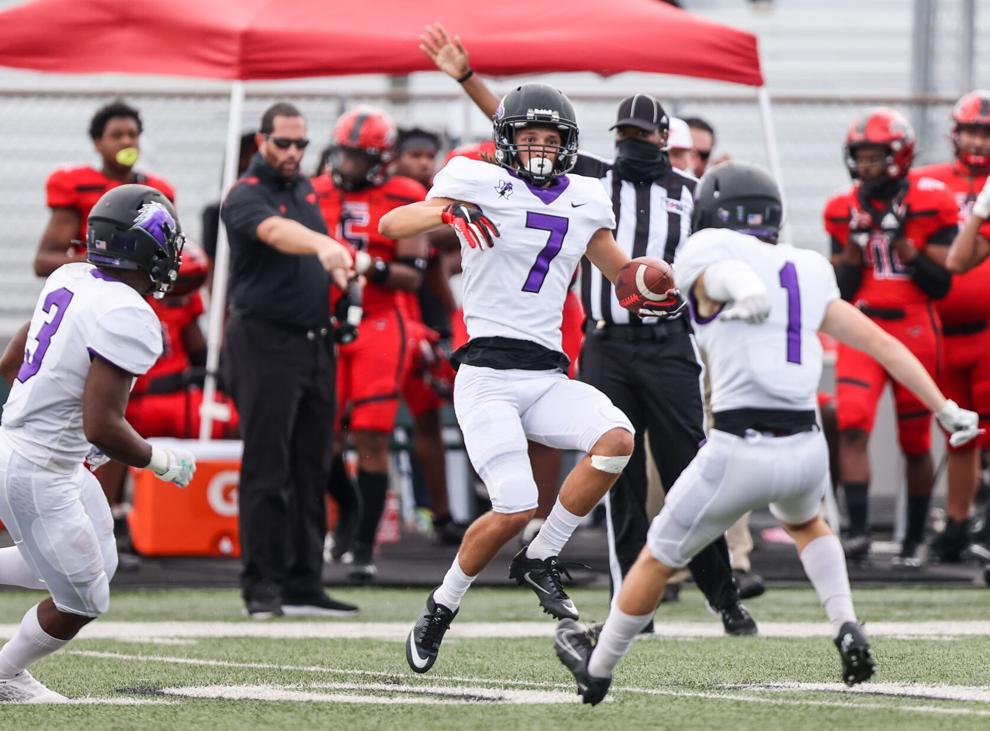 Rudder 17, Fulshear 12
The Chargers were able to make it 4-for-4 on opponents Homecoming nights on Friday at Green Stadium in Bryan; Rudder held off Fulshear 17-12 for a key District 10-5A DII victory.
Fulshear was able to keep Rudder out of the end zone with two red-zone turnovers.
But Rudder led 9-0 after three quarters and 17-0 early in the fourth quarter. The Chargers scored twice in the fourth quarter, but the comeback effort fell short.
Junior quarterback Parker Williams was 10-of-17 for 154 yards and two touchdowns against two interceptions. Senior Tyjae Williams had 74 yards rushing on 21 attempts. Sophomore Tate Struble and junior Gavin Waits each caught a 30-yard touchdown pass. Junior Maverick Schomburg collected both of the Chargers' interceptions.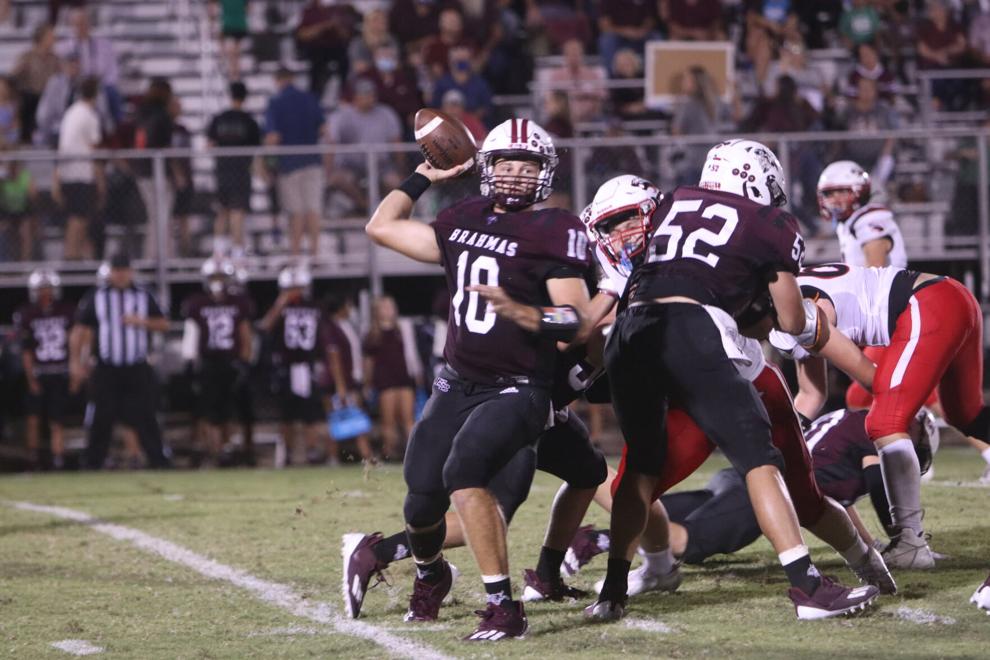 East Bernard 49, Danbury 13
The Brahmas jumped out to a 35-0 lead Friday at Memorial Stadium en route to a 49-13 victory over Danbury.
East Bernard opened the contest with two rushing touchdowns from Braydon Lemos with 2-yard and 5-yard scores in the first quarter.
Joseph Cooper scored the first touchdown with a six-yard run to open the second quarter. Quarterback Dallas Novicke added the following two scores with a 31-yard pass to Mason Christ and a 15-yard run.
Chas Anderson added a one-yard touchdown in the third quarter and Joshua Montalvo scored a 10-yard rushing touchdown.
Danbury had 233 total yards of offense, while East Bernard collected 465 yards. Novcike was 11-of-17 passing for 189 yards and a touchdown, and he also ran for 68 yards and touchdown on 10 attempts. Lemos carried the ball eight times for 72 yards and two touchdowns. Christ caught two passes for 54 yards and Lemos caught two passes for 49 yards.
Reid Morton, Christ and Ty Domel each collected an interception, while Bryan Olvera and Kayden Wade recovered fumbles.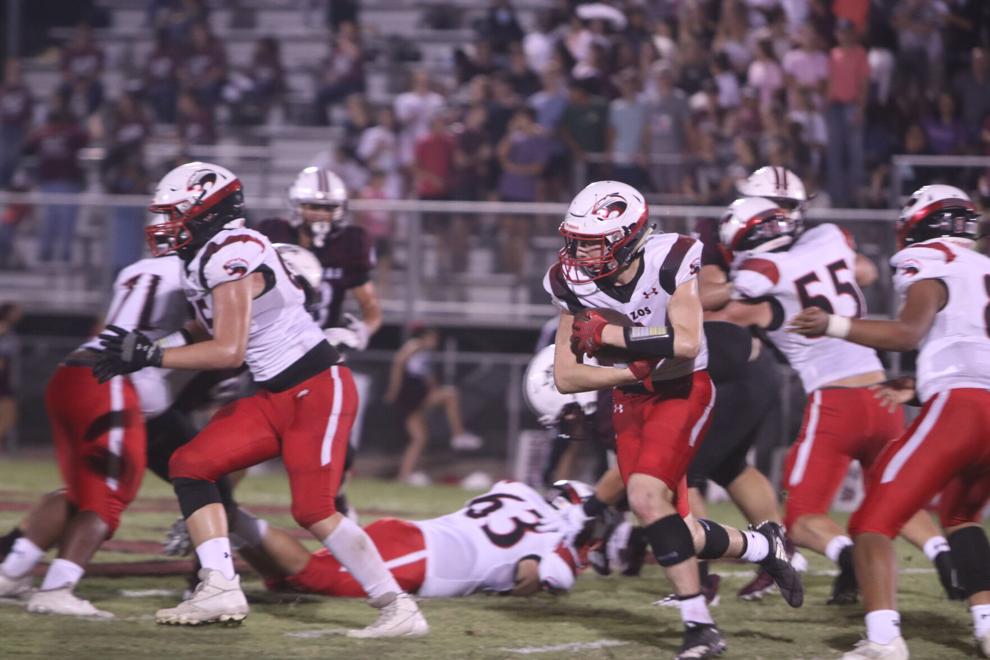 Tidehaven 70, Brazos 13
The Tigers overpowered Brazos in Wallis, 70-13, but the Cougars did have some bright spots. Brazos' first touchdown came from senior Noah Gregory.
The linebacker raced to the Tidehaven quarterback on a blitz, and he raised his hands to attempt to block a pass. Instead, Gregory caught the pass attempt and returned for the ball 63 yards for a touchdown.
Gregory found the end zone again; this time on offense, he broke free for a 62-yard touchdown run. Cougars quarterback Javien Dickerson was 8-fo-25 passing for 60 yards while throwing three interceptions. Senior running back Elijah Johnson carried the ball 20 times for 102 yards.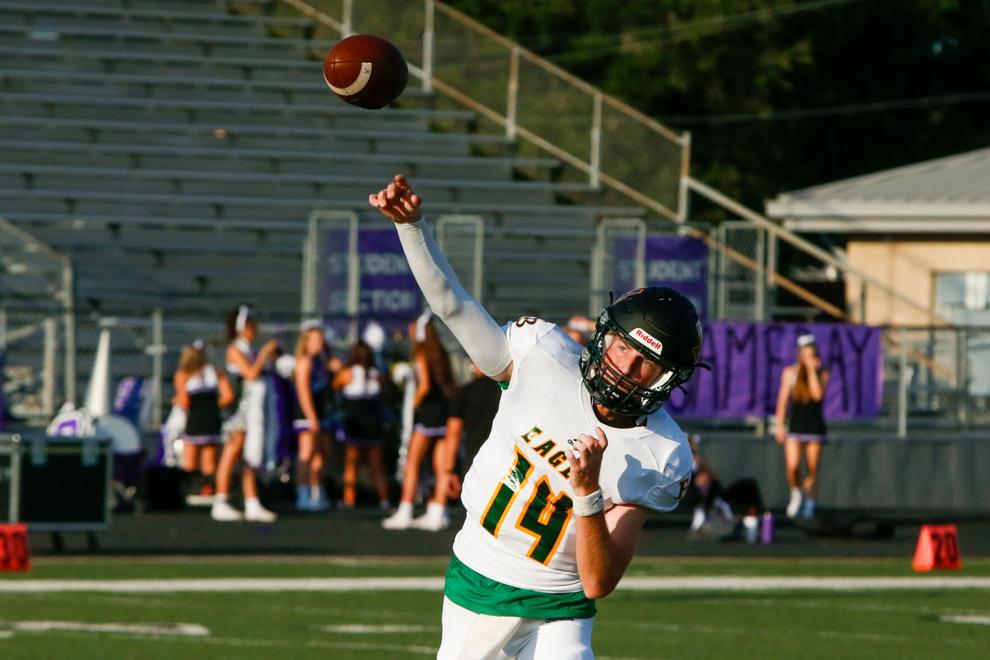 Fort Bend Christian 53, Frassati 0
The Eagles continued their dominant run during the 2021 season Friday night with a 53-0 Homecoming win over Frassati Catholic.
Junior quarterback Brady Dever was 9-of-12 passing for 320 yards and five touchdowns. Dever's top targets were senior Marcus Chretien and junior Bryan Domino. Chretien caught four passes for 137 yards and Domino caught three passes for 121 yards. Junior Braylon Gardoni added a 27-yard touchdown reception.
Senior Sam LeBlue had seven carries for 135 yards and three touchdowns.