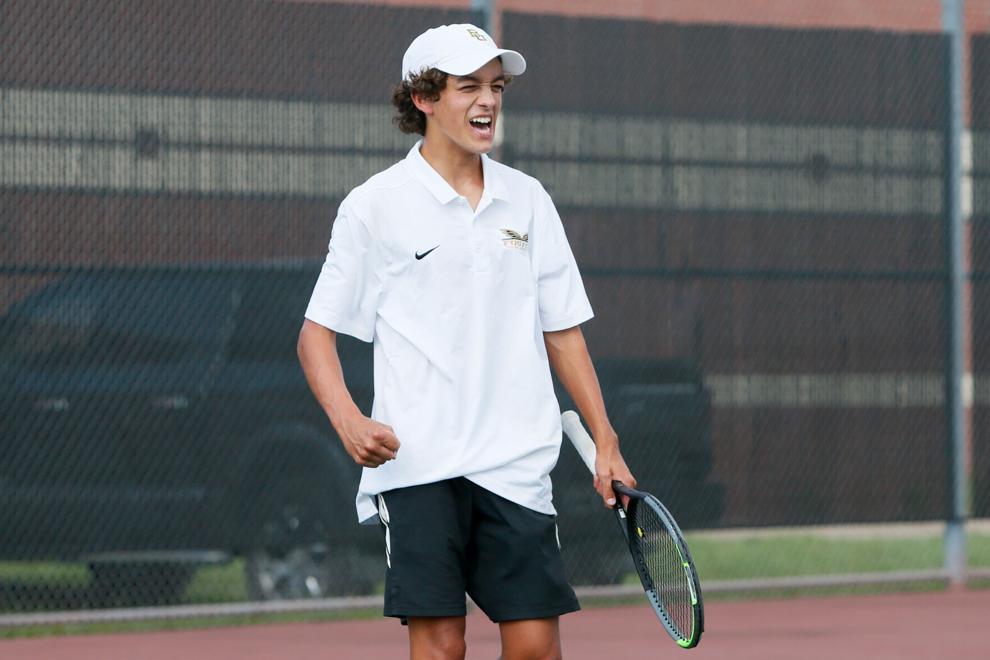 An all-too-familiar face was at the top of District 20-6A team tennis standings for the 2021 season: Clements. The No. 8-state-ranked Rangers secured their 34th-straight team tennis district title at the end of September with a win over George Ranch.
Rangers head coach Brett Bernstein is still wrapping his head around a staggering streak for Clements tennis.
"It's a little unreal," Bernstein said. "(Long-time head coach John Furlow) had a long streak of excellence here at Clements, and adding to that long run is a special feeling.
"The district title is always our main goal for the year, and the team definitely works hard to put ourselves in a position every year to be a contender for the title."
Clements (16-2, 7-0) has been preparing for playoffs with a stout non-district schedule that included the San Antonio Invitational.
"When coming up with this year's schedule, we knew we would have some potential to do well; we needed to get out and play against some of the best competition in the state before the regional tournament," Bernstein said. "Our main focus was getting tough matches."
The Rangers played 6A No. 1 Westlake, No. 7 The Woodlands, No. 9 San Antonio Reagan, No. 11 Seven Lakes, No. 10 Tompkins and No. 22 San Antonio Johnson and No. 5 Borne Champion in 5A.
"These matches have made us a better team overall and will give us the best shot at the Regional tournament," Bernstein said.
Senior Nathan Bucases and junior Sammi Guse have stood out this fall season for Clements.
"Nathan is one of our boys has come up with some really big wins for the program when we really needed someone to come through for us in some close matches," Bernstein said. "Sammi has not lost a singles match all year and has only dropped one doubles match. She is great for the team not only on the court but off the court as well as she is always laughing with the team and having a good time."
In the final week of district play, Dulles (6-1) secured the District 20-6A second seed with a win over George Ranch.
Despite the tough finish against Clements and Dulles, it was a banner year for the George Ranch Longhorns.
Head coach Alyssa Noonan's squad finished fifth in team tennis in 2020, and a year later, the Longhorns were in striking distance of the No. 2 seed.
"At the beginning of our season, the team sat down and discussed short and long-term goals: As a group, the team unanimously decided that qualifying for playoffs was the top priority," Noonan said. "Our players are excited and eager for the challenge of playing the top-rated Seven Lakes team next Tuesday."
George Ranch (8-7, 5-2) has enjoyed improved performances across the roster, but a pair of doubles teams significantly impacted the Longhorns.
"Juniors Charlize Wilson and Zia Osman have put in the hard work to make a name for themselves within the district (in girls doubles)," Noonan said. "This dynamic duo upset the No.1 girls doubles team from Dulles in straight sets in the last district match of the season.
In boys doubles, we have seen incredible court chemistry from brothers Cristian and Sebastian Johnson. Cristian is a senior team captain with extensive experience playing doubles and has helped his brother develop his skill set."
Austin (8-5, 4-3) rounded out the playoff field from DIstrict 20-6A. The Bulldogs have maintained a high standard of tennis despite the changing landscape in FBISD.
"It's always our goal to make playoffs," Austin head coach Shaun Moore said. "We've made the playoffs in 17 of the last 18 years.
"As our neighborhoods get older, and new schools are built, it does get tougher. Plus we're the smallest 6A school in Houston. But we pride ourselves on the standard that has been set. So we're very proud of making it to the playoffs.
"That's kind of our Super Bowl. Getting to play in the playoffs is just a bonus."
The Bulldogs' captains have led the way this season for Austin: Gautam Musale and Raina Parikh.
"I've been blessed with two of the best captains I've ever had," Moore said. "Not the best players, but the best captains.
"Their leadership is off the charts. Always do the right thing, the right way. Big-time winners.
Gautam is a fiery leader. Raina Parikh is a damn near-perfect human. And very good at tennis to boot."
The playoff field is set between District 20-6A and District 19-6A on Tuesday. The 20-6A champion Clements will take on Cinco Ranch, followed by Dulles-Katy Taylor, George Ranch-Seven Lakes and Austin-Tompkins.
Team tennis playoffs begin Tuesday
District 24-5A
After losing out on the District 24-5A champion last year to Fulshear, the Foster Falcons regained the 24-5A crown in 2021 with a perfect record through district play.
The Falcons (10-3, 7-0) secured the district with a win over Kempner in the final week of district play. It was worth the wait for Foster head coach Arron Ario.
"This is our first district championship in four years," said Ario. "It is awesome to have the title back. I couldn't be prouder of these kids and the effort they have put in day in and day out.
"The motivation these kids have had since we started back at the beginning of August is incredible.
"This is the first District Championship for these kids, and I am so glad they earned it, especially for our seniors. I am honored to be able to coach them."
The Falcons have leaned on a solid group of veteran players and a handful of young players that have grown from a unique 2020-21 season.
"We have great senior leadership in Spencer Hornbeck and Tabitha Webster," Ario said. "I think a lot of our success has been the addition of Andrea Delgado on the girl's side. She has not lost a match in girls' singles for district play in the last year and a half.
"Andrea won 3rd in the region last year, and having her leading the girls' lineup has added depth that we were sorely missing. Additionally, she has the willingness to help others improve their game."
Kempner finished second in 24-5A with a 5-2 record and a 17-3 record overall. The Cougars flipped the script early in the season with a win over Fulshear.
Speaking of the Chargers, Fulshear has played varsity tennis for five seasons, and the Chargers have made the postseason every time.
Fulshear (5-2) will enter the playoffs with the No. 3 seed from District 24-5A.
"It means a great deal to us that our tennis program is continuing to have success this year," Fulshear head coach Kadie Paul said. "Our athletes continue to work hard and bring this tennis program the recognition that it deserves."
Among the many members of the Chargers' roster, coach Paul pointed out Reed Kelly for a standout performance this season.
"Reed has shown a lot of growth and discipline this past year," Paul said. "He continues to pursue his goal of playing tennis at the collegiate level and excelling as a tennis player."
Two area teams couldn't make the playoffs in 24-5A, but both Terry and Lamar Consolidated continued to make strides on the tennis court.
Terry (5-5, 3-4) was the first team on the outside looking in at the playoffs. The Rangers had a solid finish to the season in the Battle of the 'Berg.
"Our big win over cross-town rival Lamar was the high point in 2021," Terry head coach Robert Escamilla said. "We won the match 10-0, and 15-4 overall. What impressed the coaching staff the most was sweeping the doubles portion of that match, 7-0."
Coach Escamilla extending on two of his players on the boys' side: Cody White and Greg Miller.
Miller was 4-3 in singles play, picking up wins over Fulshear, Hightower and Lamar, while in doubles, he was 4-3 with wins over Marshall, Hightower, Angleton and Lamar.
"With his partner, Greg Miller, he had a big win against an outstanding Angleton team," Escamilla said. "With his other partner this fall, Kevin Aceituno, he battled an excellent Fulshear team but eventually fell 8-5."
Miller's season was cut short due to injury. "Greg played at the line position in both singles and doubles," Escamilla said. "In his three singles matches, he finished 2-1, and in doubles with Colby White, he finished a perfect 3-0. He picked up a big win in our Angleton match with Colby 8-5.
"Greg and Colby turned out to be a great doubles team together."
Lamar Consolidated finished 2-5 during the 24-5A season, and the Mustangs picked up wins over Marshall (12-7) and Hightower (19-0).
Head coach Brandon Strother pointed out the standout play of Holly Lock, Hope Lock and Heaven Shorter.
Holly Lock was 4-3 in singles, while she was 3-4 in doubles. Hope Lock was 4-3 in singles matches, while she was 2-5 in doubles.
Heaven Shorter was 5-2 in girls singles, while she was 3-4 in doubles matches.
For the playoffs, all four teams from District 24-5A will have a bye. The Houston ISD teams from District 23-5A do not field fall tennis teams. Foster will play the winner of the Nederland-Galveston Ball in the area round, and Kempner will face the winner of Barbers Hill-Goose Creek Memorial.
Fulshear is slated for an area-round match against either Friendswood and Port Neches Groves.
District 25-4A
Needville tennis had a short schedule to secure the District 25-4A team tennis title, but the Blue Jays took care of business against Port Lavaca Calhoun and Brazosport, both road contests.
The Blue Jays won the district champion under head coach Allison Rouse and assistant coach Michael Gazaway.
In the match against Calhoun, Needville 13-6. In boys' doubles: Jaden Watson/Clay Nesvadba lost 0-6, 3-6. Jared Taylor/Tyler Wleczyk won 6-0, 6-1. Luke Slawinsky/Lane Nicely lost a close one 6-1, 4-6 (STB 6-10). In girls' doubles: Sofia Orellana/Devany Garza won a close one 6-7 (TB 2-7), 6-1, (STB 10-4). Bailey Malone/Lilly Slawinski won 6-2, 6-0. Eileen Ramirez/Giselle Garcia won 6-0, 6-1. In mixed doubles: Hunter Wright/Liz Rosales won 6-1, 6-0. In boys' singles: Watson lost 1-6, 4-6. Taylor lost 5-7, 0-6. Wleczyk won 6-1, 6-4. Nesvadba won 6-4, 6-0. Slawinski lost 5-8. Wright won 8-6. In girls' singles: Orellana won 6-0, 6-0. Garza lost 5-8. Malone won 6-0, 6-1. Slawinski won 6-3, 6-0. Rosales won 6-1, 6-2. Ramirez won 6-0, 6-0.
In the match against Brazosport, Needville won 15-1. In boys' doubles: Jaden Watson/Clay Nesvadba won 6-4, 6-3. Jared Taylor/Tyler Wleczyk won 6-1, 6-2. Luke Slawinsky/Lane Nicely won 6-1, 6-1. In girls' doubles: Sofia Orellana/Devany Garza won 6-2, 6-1. Bailey Malone/Lilly Slawinski won a close won 7-6 (TB 7-5), 6-4. Eileen Ramirez/Giselle Garcia also won with a close first set 7-6 (TB 10-8), 6-1. In mixed doubles: Hunter Wright/Liz Rosales won 6-3, 6-2. In boys' singles: Watson won 6-0, 6-4. Taylor lost 3-6, 2-6. Wleczyk won 6-2, 6-1. Nesvadba won 6-2, 6-2. Slawinski won 8-4. Wright did not have to play. In girls' singles: Orellana won 8-1. Garza won 8-3. Malone and Slawinski did not have to play. Rosales won 6-0, 6-1. Ramirez won 8-1.
Needville will open the 2021 playoffs against Corpus Christi Miller, while Calhoun has Beeville Jones, Brazosport has West Oso and Rockport-Fulton will have bye with District 25-4A fielding only three teams.