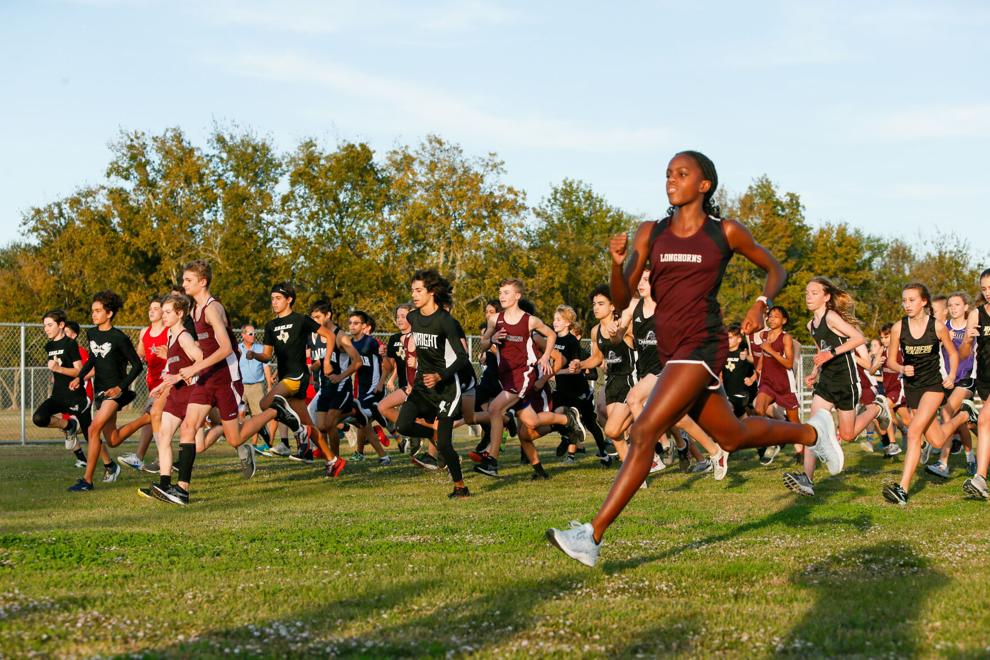 Six junior high schools competed for Wednesday's 2021 Lamar Consolidated Cross Country Championships at Jones Creek Ranch Park in Richmond. Briscoe, George, Lamar, Leaman, Reading and Wright runners hit the course, looping around a lake.
The Briscoe Eagles were first in the team standings for the eighth-grade boys, eighth-grade girls and seventh-grade boys events, while the Reading Longhorns won the seventh-grade girls title.
In the eighth-grade boys' race, Briscoe's Gabriel Silva finished first with a time of 11 minutes and 31.34 seconds. Jeremiah Moynihan from Leaman was second at 11:34.09 followed by Briscoe's Cohen Amos (11:50.62), Briscoe's Tristan Bouska (11:57.72), Shane Metcalf of Briscoe (12:07.44), Conner Myer of Briscoe (12:16.31), Reading's Anthony Iannelo (12:21.72), Bradyn Lindley of Briscoe (12:28.18), Jeromy McColom of Wright (12:30.84) and Briscoe's Luke Henke (12:37.78).
In the girls' eighth grade race, Reading had the top finisher with Layla McWalters (12:53.72) and Adebola Iyiola (13:13.84). Lauren Comstock of Leaman (13:15.59) was third, followed by a Briscoe trio Jayden Roach (13:38.97), Gace Roe (13:44.34) and Reese Williams (13:48.18). Reading's Brooklyn Donaghy (13:49.37) was seventh, followed by Briscoe's Claire Buckridge (14:00.84), Leaman's Siena Msukivitch (14:03.75) and Briscoe's Charley Holt (14:05.43).
In the boys' seventh-grade race, Wright's Jaeden Humprhey became the first Lion to win an individual district title with a time of 11:55.31. Leaman's Shepherd Steen was second with a time of 12:38.88 and five runners from Briscoe: Mason Lamothe (12:43.50), Felix Hernandez (13:04.50), Berkeley Everett (13:25.62), Randall Collum (13:11.81) and Jude Hartman (13:21.25). Reading's Brayden Pilcik (13:25.02) was ninth, and Wright's Juwan Guillory (13:41.59) was 10th.
Reading took six of the first nine spots in the girls' seventh-grade race, including Caylin Smith (13:30.84) in first, followed by Madyson Harper (13:51.91) and Kodi Kint (13:57.53). Ava Smith was seventh (14:12.24), Viet Trinh-Audrey Dieu (14:14.65) was eighth and Madelyn Neel (14:23.09) was ninth.
Layla Medrano of Leman was fourth (13:59.96), George's Janiyah Johnson was fifth (14:09.34) and Leaman's Isabella Vallone was sixth (14:11.12). Briscoe's Nicole Aguilar was 10th (14:31.03).
Lamar Conlsidated ISD hosts annual cross country championships