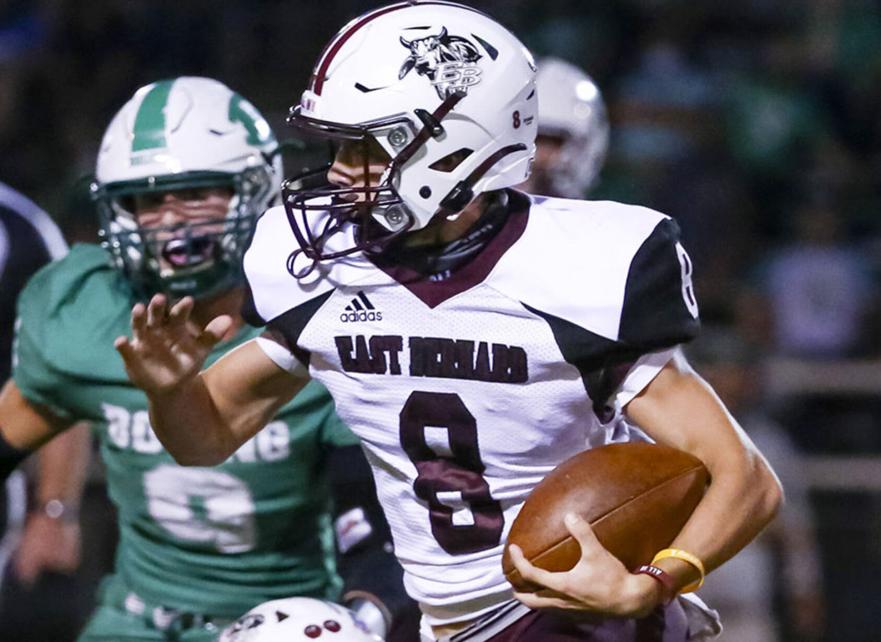 The East Bernard High School football team's season ended far earlier than the Brahmas expected, but the Brahmas still finished the regular season strong.
East Bernard's efforts were rewarded with over 20 selections to the District 14-3A Division II all-district team after the Brahmas won their third-straight district title.
The 2020 season marked the ninth district title in 10 seasons.
At the front of the large group of Brahma award winners was senior running back/ defensive back Andrew Dirba, who was unanimously named the all-district MVP. Dirba stepped into the leading running back position after multiple injuries shuffled East Bernard's backfield; the senior finished with 881 yards rushing and 12 touchdowns on 103 carries.
Junior Braydon Lemos was named the Brahma's utility player of the year. Lemos had 26 tackles, three fumbles forced, and two fumble recoveries.
Dirba and Lemos were joined on the first-team offense by junior quarterback Dallas Novicke, senior running back Niklas Schatz, senior tight end/kicker Grant Prazak, senior wide receiver Andrew Schmidt, senior center Dylan Baird, senior offensive lineman Blake Walters and junior offensive lineman Mark Glover.
Novick completed 51% of his passes for 727 yards and 10 touchdowns. Schatz had 98 carries for 447 yards and eight touchdowns. Prazak converted 40-of-45 extra-point attempts, and six of his 12 field goal attempts with the longest at 39 yards. Schmidt caught nine passes for 241 yards and three touchdowns.
Schmidt, Baird and Prazak were unanimous selections.
Senior running back Kaleb Marek, senior wide receiver Brody Reinecke and senior offensive lineman Casen Ivy were named to the second-team offense.
Marek had 65 carries for 388 yards and five touchdowns. Reinecke caught four passes for 77 yards. The Brahmas' linebackers were well represented on the all-district first team. Junior Blake Jedlicka and senior Brennan Peloquin were on the list at inside linebacker, while seniors Andrew Schmidt and Kaleb Marek were on the first team at outside linebacker.
Jedlicka had 126 tackles, including 58 solo tackles, seven tackles for loss, three interceptions and one fumble recovery. Peloquin collected 93 tackles and 51 solo tackles. Schmidt had 81 tackles, including 30 solo efforts and two interceptions. Marek had 64 tackles, including 44 solo tackles.
The defensive line had three selections with junior end Mark Glover, senior end Grant Prazak and senior Casen Ivy. Glover had 35 tackles, 18 solo tackles, one sack and one fumble recovery. Prazak had 50 tackles, four tackles for loss, two sacks and three fumble recoveries. Ivy had 26 tackles and seven tackles for loss.
Junior Bryan Olvera earned a spot on the first-team defense at cornerback. Olvera had 72 tackles, five interceptions and a fumble recovery. Jedicka, Peloquin, Schmidt, Marek and Olvera were unanimous selections. East Bernard had two players on the second-team defense: senior defensive back Darious Lemos and senior punter Grant Prazak.
Lemos had 30 tackles, one interception and two passes defended. Prazak averaged 35.3 yards per punt. He punted 22 times for 777 yards.
Senior offensive lineman Riley Moseley and senior defensive end Caydan Hall earned honorable mention.
East Bernard had 30 players named to the academic all-district team, including Darious Lemos, Dylan Baird, Caleb Magness, Blake Walters, Kaleb Marek, Korbyn Hudgins, Andrew Dirba, Jesus Galvan, Luke Minks, Miguel Rendon, Dallas Novicke, David Zavala, Blake Jedlicka, Raul Contreras, Andrew Schmidt, Bryce Somer, Grant Prazak, Riley Moseley, Mason Crist, Austin Norton, Braydon Lemos, Kolby Townsend, Cole Polak, Boone Lee, Brody Reinecke, Caroline Kunz, Niklas Schatz Brooklyn Boyle, Brennan Peloquin and Morgan Gasch.
East Bernard finished the season with an 8-2 record overall and a 5-0 mark in district play. The Brahmas lost to Lexington in the bi-district round of the playoffs.