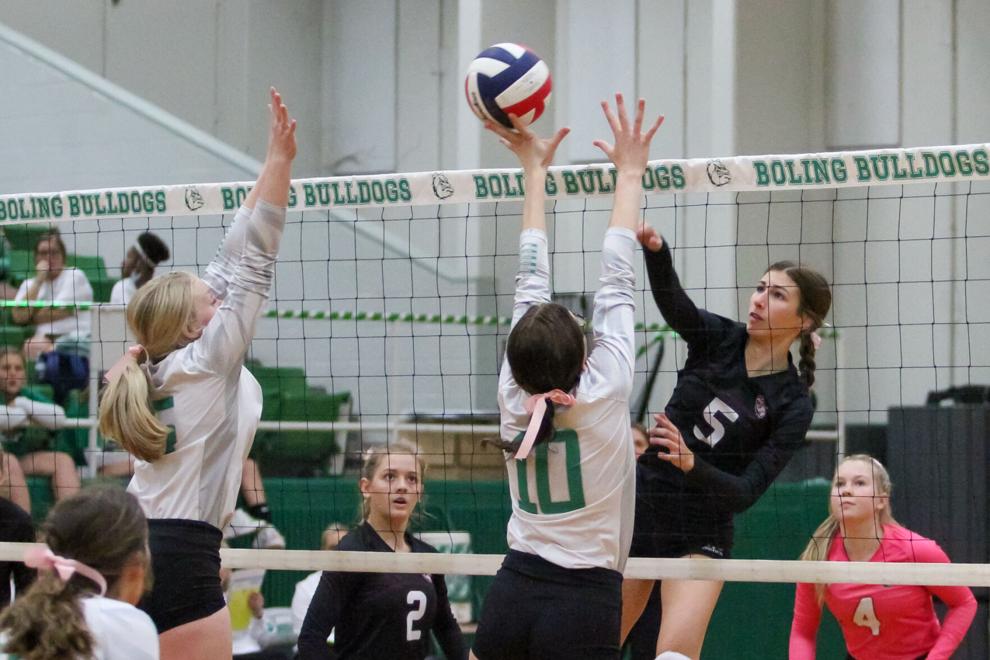 BOLING — The Boling Lady Bulldogs gave the East Bernard Brahmarettes their best punch in the first set, but it wasn't enough as they fell in three in Boling Tuesday night.
The Brahmarettes defense allowed more than 10 points in a set once, beating Boling 25-14, 25-9, 25-8.
"We were communicating a lot and our sets were amazing," Brahmarettes senior libero Reagan Goudeau said. "We weren't making a lot of hitting errors at all. We were just putting the ball down and they didn't have a chance."
Brahmarettes take down Boling
East Bernard jumped out to large leads in all three sets.
Boling took advantage of a few East Bernard unforced errors to stay close in the first set. A Boling unforced error broke the serve and gave East Bernard the ball back, leading 13-8. Brahmarette sophomore Bella Dujka landed an ace and junior Bailey Leopold fired a kill past Boling's defense as they started increasing the lead.
The Lady Bulldogs had a rough time landing kills, hitting them out of bounds or long, helping add to East Bernard's score, closing out the set on a 10-5 run.
Boling sophomore Savannah Savage led the team with seven kills.
East Bernard senior Samantha Rabius had a big night with offense throughout all three sets.
In the third set, Boling led 4-2, Rabius combined with a few Boling unforced errors 8-0 run to put them fully in control. Rabius, during the run, had three aces and two kills.
The Brahmarettes closed the set on 8-0 run with sophomore Charlsie Atteberry landing four aces, including three straight to end the game.
East Bernard currently leads district with a 12-0 record. They have two final district games remaining against Van Vleck and Hempstead, both at home. They will play Needville in a playoff warmup next Friday at home.
"We just talked about coming out strong and putting that first ball down and setting the stage for how we want the playoffs to be," East Bernard coach Breanna Lolley said. "So that means to come out fast and with a lot more energy than we've been coming out lately. So that's our focus in the final two district games and with our warm-up game."
East Bernard's middle blockers have taken a leap forward this season. Leopold and Sarah Devine played well, picking up points on kills and combining on double blocks, Tuesday night.
Leopold has been a factor at the top of the net getting to volleyball's quickly and on sets firing blasts right through a defense.
"Our middles work really hard," Lolley said. "They don't get a lot of glory because our pins get a lot of glory. But they know their job is block and they do a great job of closing that block. Whenever they're given an opportunity to hit, they do something for us."