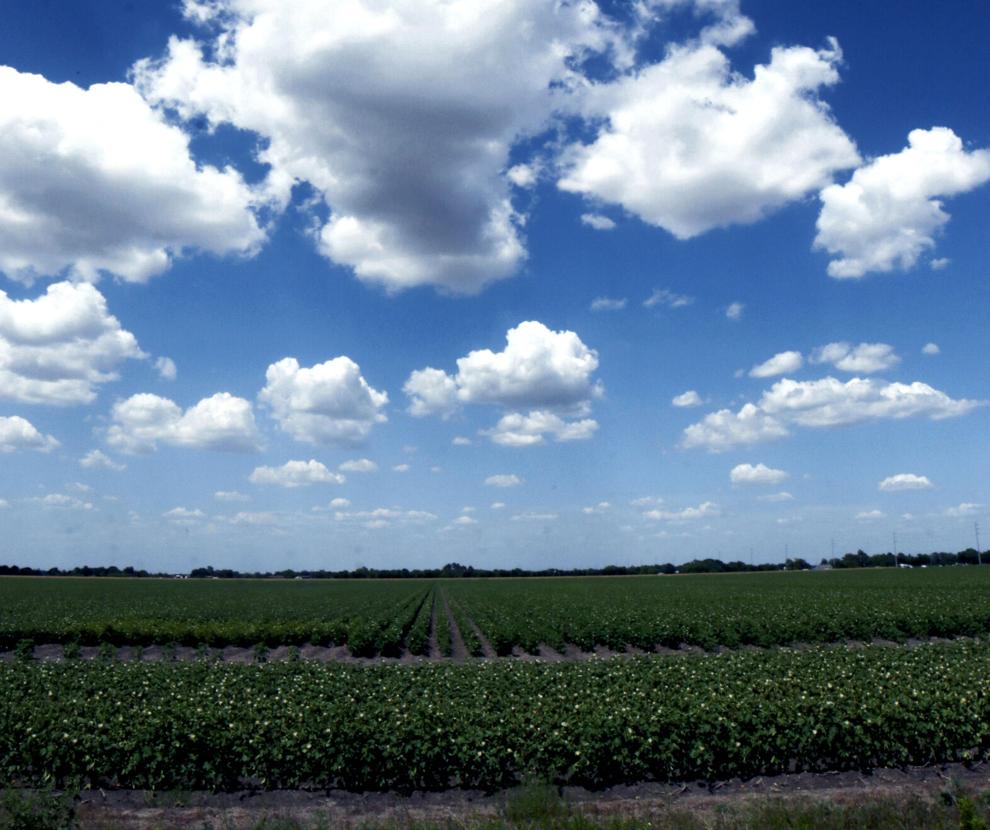 Fort Bend County typically receives about 5 inches of rain each June, but this time it has received less than half an inch. And agriculture experts say the lack of rainfall has all but ruined most crops in the fields.
"At this time, most farmers will be seeking insurance assistance," said Boone Holladay, ag agent with the Texas AgriLife Extension Service in Fort Bend County.
He said temperatures are way above normal and rainfall well below normal for this time of year.
"We've only had between one-tenth of one inch to less than half an inch of rain so far this June when we usually have about 5 inches," Holladay said, adding that Harris County to the northeast typically gets 6 inches of rain in June and Victoria to the southwest gets about 4 inches.
Last year, Fort Bend County received 9-1/2 inches of rain in June and Fort Bend County farmers reaped bumper crops in corn, sorghum and cotton. Five field crops are grown in Fort Bend County, as well as pecans. The field crops are grain sorghum, field corn, rice, cotton and soybeans. Traditionally, corn and grain sorghum are planted in April and reaped in July or August and soybeans and cotton go into the ground in late May and are harvested at the end of summer or early September.
Some farmers are harvesting sorghum this week.Farmers will begin shelling corn in mid-summer.
Most likely, the sorghum crop won't be of the highest quality, Holladay explained. Even though it's probably not going to be the highest quality, "the grain sorghum crop will probably pull through," Holladay said, adding the crop may make a slight profit or be viable enough to allow the farmers to seek insurance assistance.
Corn also will not be of the highest quality, said John Few, who is also an ag agent with Texas AgriLife based in Fort Bend County.
"Usually, you'll have a full ear of corn 98% of the time, but if you open up an ear of corn now it's, maybe, three-quarters full. But the tip is not making kernels," he explained.
"The grade and yield quality will be at the point (corn farmers) will probably request insurance assistance on their crops," Holladay expects.
Still, market forces may help corn farmers, ag agent Few noted.
"The high price for corn and cotton production would lead to corn and cotton prices increasing which could lead to some profit," he said, adding that corn prices are expected to be as high as $6 per bushel.
Cotton projected prices for December: Between $1.15 to $1.35 per pound if Fort Bend producers can get a harvest, which might not happen, ag agent Few said. However, Holladay said cotton crops also will suffer because of the lack of rainfall.
"By now the cotton plants should be full and tall and have dark green leaves. You shouldn't be able to see soil between the rows, but if you drive past a cotton field you see lots of soil between the rows," he said.
"It looks like the cotton and soybean (crops) are a loss." He said most cotton plants are stunted and their bolls are small.
Agent Few agrees the bolls are poorly developed. Soybean fields he has visited are "pretty patchy," he added. Fortunately, Fort Bend County has already been declared a Drought Disaster Zone, which means farmers will have less hassle seeking insurance assistance on their crops, Holladay explained.
Pecan growers in Fort Bend County are also suffering because of the drought, Holladay said. He said Pecan growers in Fort Bend County typically see as much as 46 inches of rain annually, but the drought is so bad that the pecan harvest will be light this year, at best, he said.
According to Holladay, the water needs of pecans per warm season month are: May: 4 inches June: 4 inches July: 10 inches August: 10 inches September: 10 inches
"So, with minimal natural rainfall, that equals a lot of irrigation, with a hefty price tag to apply," he explained. Unlike pecan growers in west Texas, Fort Bend County pecan growers don't irrigate their trees and rely on rain, he said.
"We typically harvest 100-250 acres of commercial pecans each year," he said. "Annual averages are 110,000 pounds of in-shell pecans with wholesale value of $260,000, and "Direct to Market" value of well over $1 million dollars."
Yet, early field data suggests Fort Bend County pecan growers will only see about 10% of normal yield this season, he added. "Because of poor pollination and fruit set in April and due to lack of warm season rainfall, young nutlets that are on trees just haven't developed."