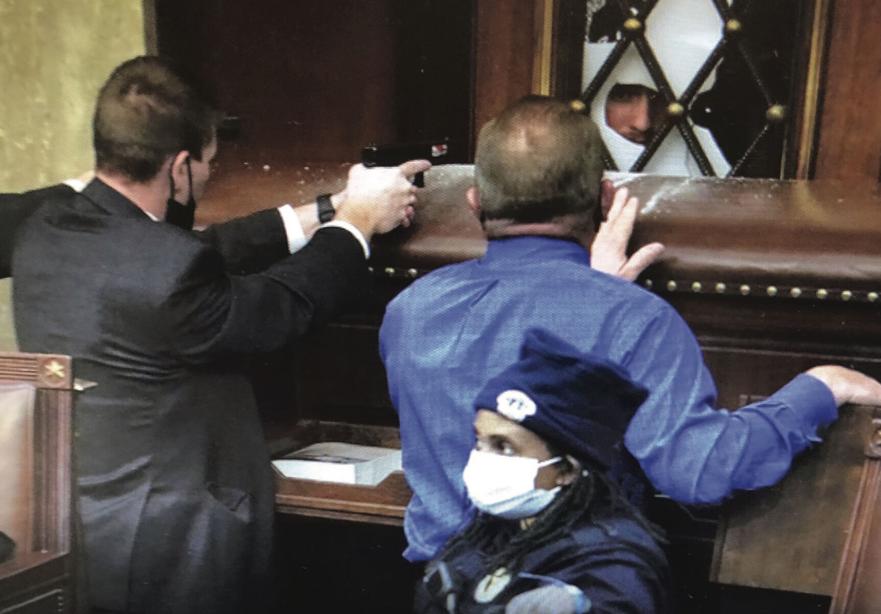 WASHINGTON (AP) — Capitol Police Chief Steven Sund on Thursday defended his department's response to the violent breach at the Capitol, saying…
WASHINGTON (AP) — Violent protesters loyal to President Donald Trump stormed the U.S. Capitol on Wednesday and forced lawmakers into hiding, in a stunning attempt to overturn America's presidential election, undercut the nation's democracy and keep Democrat Joe Biden from replacing Trump in the White House.
New Congressman Troy Nehls of Fort Bend County was caught in the melee.
He was in the House chamber debating the electoral vote count when demonstrators attempted to break in. A photograph shows Nehls helping to block the door with furniture.
"I was proud to stand shoulder to shoulder with Capitol police trying to barricade entrance to our sacred House chamber while trying to calm the situation by talking to protesters," he said on his Twitter account. "What I'm witnessing is a disgrace. We're better than this. Violence is never the answer!"
WASHINGTON, D.C. – Congressman Nehls after much personal deliberation and counsel from const…
He immediately came under attack by other Twitter members who accused him of fueling the spectacle by pushing Trump's unproven allegations of election fraud.
The National Guard and state and federal police were called in for control, and the mayor of Washington imposed a rare evening curfew.
One person was reported to have been shot.
The protesters were egged on by Trump and his false attacks on the integrity of the November presidential election.
While rallying his supporters outside the White House Wednesday morning, he urged them to march to the Capitol. But later — hours after they fought police and breached the building — he told them that although they were "very special people" and he backed their cause, they should "go home in peace."