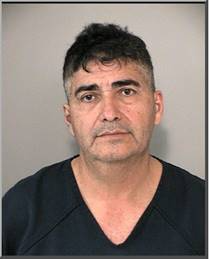 Fort Bend County Sheriff's deputies with the assistance of the Gulf Coast Violent Offenders Task Force have arrested Hector Ivan Portillo Rodriguez, 55, for aggravated assault.
On February 28, 2023, at approximately 9:00 am, Sheriff's deputies responded to a call at the 7700 block of Merchant Drive in Needville, Texas. Upon arrival, deputies found a male victim wounded by a suspect with a machete.
The victim was transported to Memorial Hermann-Sugar Land where he was treated for his injuries.
After further investigation, deputies identified the suspect as Hector Rodriguez.
Rodriguez was arrested by the GCVOTF on March 1, 2023, on an aggravated assault with a deadly weapon arrest warrant without bond.
He is currently in custody at the Fort Bend County Jail.
"I'd like to thank the Gulf Coast Violent Offenders Task Force for their quick response in getting this violent suspect off our streets," said Sheriff Eric Fagan. "Any crime, big or small, will not be tolerated and those responsible will be held accountable for their actions."