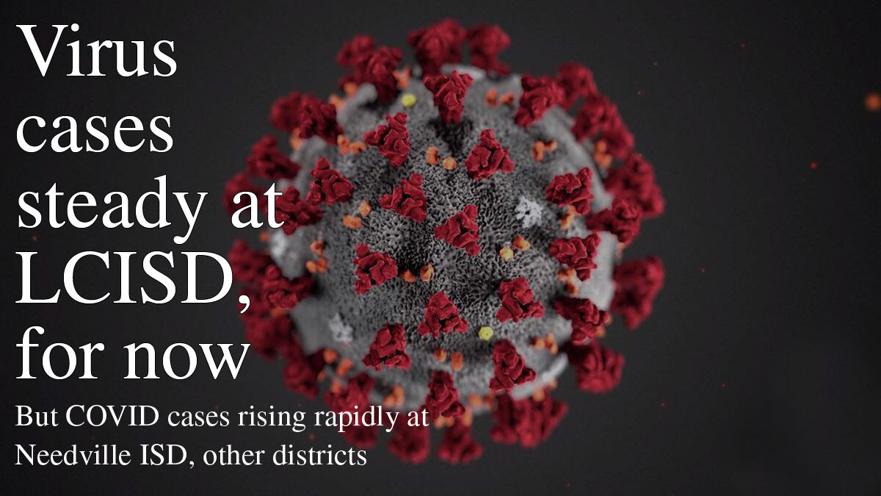 Lamar Consolidated ISD has remained steady, but still has a high number of COVID-19 cases at its schools.
The district reports on Monday that Foster has eight cases of the coronavirus are among students and two are employees. It is s decrease from the 13 cases reported last week.
In total, LCISD has 91 total active COVID-19 cases, a decrease of only seven from last week. Student cases have dropped from 80 to 67, but staff cases have risen from 18 last week to 24 this week.
The majority of the cases has shifted from elementary schools to high schools. As of Monday, 22 high school students have tested positive at the six LCISD schools. George Ranch High School reports six student cases, while Fulshear reports four.
Terry High School reports three student cases and one staff case.
Elementary schools have seen its positive cases drop to 20 this week after reporting 30 last week. Sixteen cases are reported at LCISD junior high schools, while nine are at its middle schools.
Reading Junior High School currently has nine student cases of the coronavirus, while Adolphus Elementary School has four student cases and two staff cases.
The district is expected to give a report on how it is dealing with COVID-19 at Thursday's board meeting.
Needville ISD is seeing an increase in cases just in the last week. Since Monday, 26 student cases and three staff cases were reported. Sixteen of those cases are from Needville High School, and five student cases and two staff cases were reported at Needville Middle School.
Fort Bend ISD has also seen an increase of COVID-19 cases in its schools. The district reports 95 student cases, which is an increase of 40 cases in just one week. There are 51 staff cases, down by four from last week.
Travis High School reports five student cases, while Bowie Middle School reports two student cases and one employee case.
Katy ISD reports 353 cases of the coronavirus, with 244 of them from students that attend their schools.