Truck collides with LCISD bus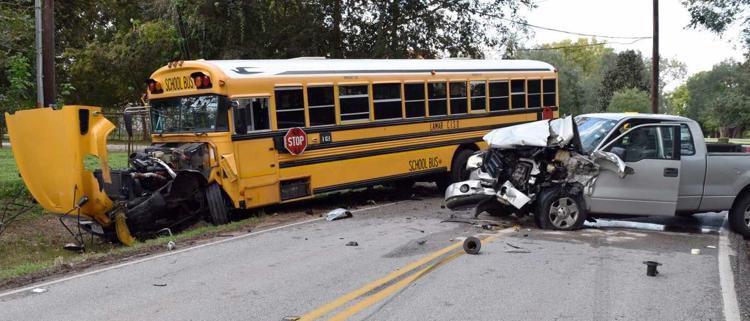 As featured on
Fort Bend County sheriff's deputies continue to search for the driver of a pickup truck who …
Thank you for Reading!
Please log in, or sign up for a new account and purchase a subscription to read or post comments.
Thank you for Reading!
Please log in, or sign up for a new account and purchase a subscription to continue reading.
Current Print Subscribers
If you already subscribe to our print edition, sign up for FREE access to our online edition. Thanks for reading the Fort Bend Herald.
Free access for current print subscribers
Online Access (Includes e-Edition)
Please sign up to subscribe to the Fort Bend Herald online edition.
Starting at
$1.00 for 1 day
| Rate | Price | Duration |
| --- | --- | --- |
| 1 Day | $1.00 | for 1 day |
| 1 Week | $5.00 | for 6 days |
| 1 Month | $9.00 | for 30 days |
| 3 Months | $27.00 | for 90 days |
| 6 Months | $52.00 | for 180 days |
| 1 Year | $100.00 | for 365 days |
National Entertainment News
DUBAI, United Arab Emirates (AP) — Airbus nailed down $30 billion in new plane orders on the second day of the Dubai Airshow after previous rounds of the biennial showcase saw its competitor Boeing take the lion's share of deals.
VATICAN CITY (AP) — Pope Francis on Monday replaced the head of the Vatican's financial watchdog agency amid continuing fallout from a controversial Vatican police raid on the agency's offices that jeopardized the Holy See's international financial reputation.
NEW YORK (AP) — At just 7, Blue Ivy Carter is an award-winning songwriter.
MEMPHIS, Tenn. (AP) — Sedley Alley was strapped to a gurney and put to death in Tennessee in 2006, convicted of killing a 19-year-old Marine two decades earlier. Alley had confessed to the slaying of Lance Cpl. Suzanne Collins, but later said his confession was coerced. Now, a nonprofit lega…
TOKYO (AP) — Global markets were subdued Monday as investors look for developments in the U.S.-China trade war and the outlook for stocks after Wall Street indexes hit record highs last week.
MASON CITY, Iowa (AP) — Pete Buttigieg strides past an oversized photograph of himself dressed in fatigues, the Afghan horizon behind him, as he enters a Des Moines arena for an Iowa Democratic Party gala.
PLANO, Texas (AP) — Officials say a 16-year-old high school football player was fatally shot in suburban Dallas when someone fired into a home after several people were kicked out of a party there.
WASHINGTON (AP) — Democratic House Speaker Nancy Pelosi invited President Donald Trump to testify in front of investigators in the House impeachment inquiry ahead of a week that will see several key witnesses appear publicly.
WASHINGTON (AP) — At least 60% of U.S. Superfund sites are in areas vulnerable to flooding or other worsening disasters of climate change, and the Trump administration's reluctance to directly acknowledge global warming is deterring efforts to safeguard them, a congressional watchdog agency says.
CONCORD, N.H. (AP) — The number of Democrats running for president is growing as the first votes of the primary approach. And voters have a clear message: stop.