Backed by the support of county, state and federal leaders, members of the "Not our Heroes" movement met in Richmond on Saturday to demand the removal of a divisive memorial in the public square. The great-grandnephew of H.H. Frost, whose name is inscribed on the obelisk next to Richmond City Hall, also attended the rally to ask for the monument's removal.
"This monument is a hateful reminder of a shameful moment in our community's past," said Philip Bartholomew, a member of the Concerned Citizens Collaboration, which organized the #NotOurHeroes rally at Wessendorff Park.
"The Jaybirds were a local faction in the southern Democratic Party after reconstruction dedicated to the idea of government of whites only. After a free and fair election where the Jaybirds candidates lost overwhelmingly, these Jaybirds engaged in a criminal conspiracy to commit acts of terrorism in the name of white supremacy."
On Aug. 16, 1889,  a gun battle between the two factions erupted in downtown Richmond, and three Jaybirds were killed. The Jaybirds monument was erected in their honor on county-owned property at the site of the battle.
Over the next five decades, the Jaybirds ruled politics in Fort Bend County and blacks were not allowed to vote or hold public office.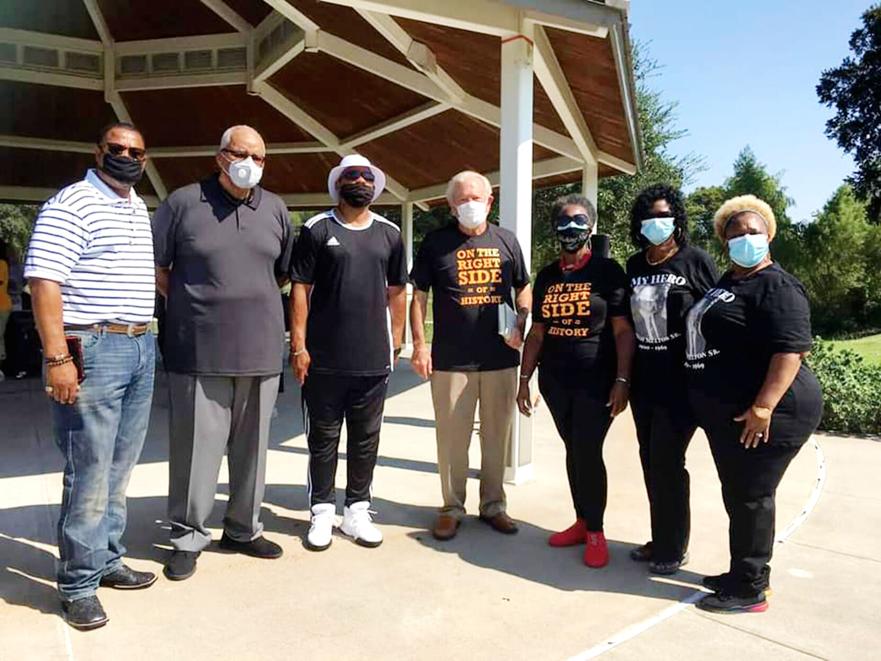 In the 1950s, a black farmer in Kendleton challenged the Jaybirds by casting a ballot in an election.
Willie Melton's vote was not counted and he took the Jaybirds Democratic Association to court. His battle ended at the Supreme Court, which ruled in his favor. Afterward, the Jaybirds association was disbanded. But the "Our Heroes" monument still remained. The monument is now located on city property.
However, neither the city nor the Fort Bend County Historical Association claim the statue. 
City leaders surveyed residents on the issue last month and the majority of them, over 3,000, called for the monument to be removed or demolished. The Richmond City Commission discussed the matter behind closed doors shortly after results of the survey were announced, but they did not take action.
The commissions' inaction led to Saturday's rally, organizers said. 
"How many times are we going to say enough is enough?" State Rep. Ron Reynolds, D-Missouri City asked the small but vocal audience. "We are tired of saying 'We are tired of saying.'"
Community activist Anna Lykoudis-Zafiris, one of the guest speakers, reminded city leaders that they are not being blamed for erecting the monument and so should have no reason to  remain where it has stood since 1889.
U.S. Congressman Pete Olson, Fort Bend County Judge KP Georg and Precinct 1 Commissioner Vincent Morales Jr.  sent statements in support of the memorial's removal.
"The Jaybird monument reflects a dark part of Fort Bend County's history," said Olson, R-District 22. "In the aftermath of a local, armed conflict, community leaders built a monument that in today's world must be viewed through a different lens.
"While previous efforts to correct these injustices fell short, I am encouraged that Richmond has formed a committee seeking to appropriately close the door our painful past and address the issue in a manner that remembers our history without celebrating racial injustice."
Morales said he appreciated "the respectful way that so many in our community have come forward to ask me to hear their opinions."
"Our community has been working on this for many months now. Our community deserves the matter to be peacefully resolved."
Melton's grandchildren attended Saturday's rally.
Granddaughter Veronica Melton Harris said Melton's grandchildren will not stop fighting until the statue is removed and systemic racism is no more.
Robert Frost, the great-great nephew of H.H. Frost, thanked the group for not tearing down the statue. 
He said he wants to see the statue removed to a different location where it can be used as an educational tool.
He said his great-great-uncle is perhaps misjudged and was battling an entrenched and unfair political system that prevented whites from holding office.
Among the speakers, Saturday was fifth-grader Callie Davis, 10, of Richmond, who encouraged children to be more vocal on divisive issues. 
"The Jaybird Monument is a symbol of racism that needs to be moved either to a museum or somewhere else so that people that didn't want it to be moved can go and honor it," she said. 
"Everybody wants the monument to be moved, not destroyed but moved. You can come to take a stand with me, my dad, and everyone that is standing up for justice. Anyone that has a speech should come and say it. 
"When you say it, say it proudly. I know that I'm a kid and some people think kids can't stand up for anything. But guess what, we are human, we are people, and we kids will be heard. 
"There is nothing, and I mean nothing, you can do about it. I'm Calleigh Davis, and we will be heard. I have a message for all the kids that are watching: "don't let adults tell you that you are wrong if you are standing up for something that is right. 
"Adults, we will stand up for and we will be heard in the name of justice."