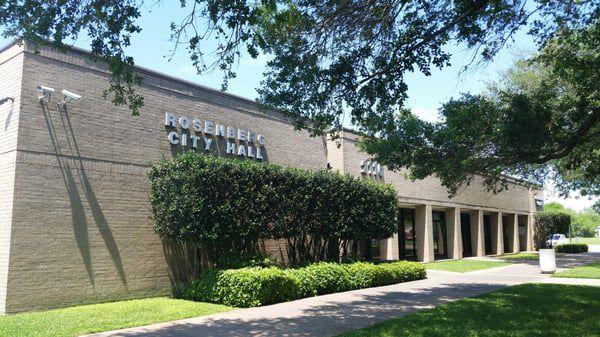 The tax rate in the city of Rosenberg could drop to 40 cents.
But in order to comfortably do that, Mayor Bill Benton wants to take upwards of $150,000 from the general fund balance to make the proposed tax rate work.
Although no action was taken at the Rosenberg City Council workshop meeting this week, Benton and the rest of council agreed to look into cutting the tax rate by at least 1.5 cents.
The fiscal year 2021 budget was initially prepared using a 40.5 cents per $100 valuation tax rate applied to the certified taxable property values.
The current tax rate is 41.5 cents.
"The current budget includes a tax rate of 40.5 cents, which is one cent below the current tax rate," Assistant City Manager Joyce Vasut explained to council.
"The proposed tax rate with new value will generate more revenue than last year."
Benton, who has been advocating for tax cuts since he got on council 10 years ago, said the city's tax rate is almost where he wants it.
"I'd like it to be an even 40 cents," he suggested.
However, by cutting the tax rate another half-cent, the city would lose $145,000 in the FY2021 budget, Vasit said.
Benton suggested taking the $145,000 needed to fund the FY2021 budget from the general fund balance, which currently holds $17 million.
Council members Jacob Balderas, Richard Olson, Steven DeGregorio and Tim Anders said they would be amenable to a 40-cent tax rate, but council members Kevin Raines and Isaac Davila were against the 1.5 cent tax cut.
"In these uncertain times, I would be wary to do any more (cuts than proposed)," Raines said. "I'm in favor of 40.5 (cents)."
Davila agreed, adding that the city has no idea what financial position it could be in by the end of the year.
However, the two were outnumbered.
"Anyway, I think it's the consensus of the council for a 40 cent tax rate," Benton finished.
On Aug. 11, council will attend a budget workshop.
And on Sept. 1, council is slated to adopt the 2020 budget and tax rate.
The 2020 fiscal year will begin Oct. 1 and the new tax rate goes into effect Jan. 1.
The next regular Rosenberg City Council meeting will be held via Zoom teleconference on Aug. 4.
Citizens will not be allowed to attend council meetings, but can still ask questions via letters, telephone or email.
Meetings can be watched live on the city's YouTube Channel "RosenbergTXGov," on the city's website at www.rosenbergtx.gov/tv, and on Comcast Channel 16 for residents within the city limits.