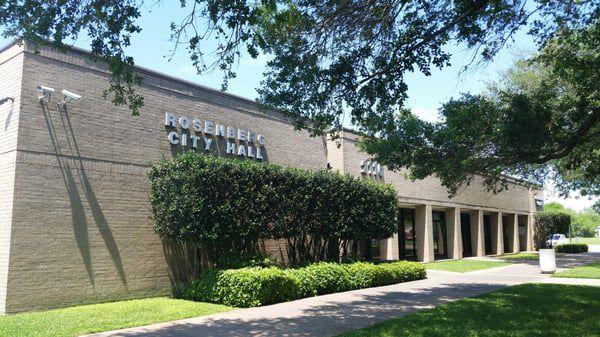 AT&T phone subscribers in Rosenberg know that getting signal on First Street is difficult.
But it may take time before AT&T users see some relief.
At the Rosenberg City Council meeting Tuesday, Community Development director Travis Tanner presented a variance request for a telecommunications tower placement permit.
Diamond Communications with AT&T submitted the permit for the tower to be located behind West Gethsemane Cemetery off of SH36 between Rice Street, Mons, and Chupik streets.
"We're asking to cover the south side of the city of Rosenberg," Tom Waniewski with Diamond Communications told council. "There is a gap in coverage right above U.S. 59 and right along First Street. If the site is able to be built, that would fill in the space between the existing AT&T sites.
"Right on the north side of town, there are two existing towers. There is coverage coming from those towers. As people stay in those homes and aren't moving, coverage shrinks and there isn't a full range of service."
The proposed tower would be approximately 536 feet from a residential lot and a total of 170 feet in height.
"When you're mayor of the town, (you) get input from area residents," Mayor Bill Benton responded. "That's how we get (on the council).
"This already does not meet the requirements that the city has. We have to think of the future requests after this if we approve this.
"We're kind of setting precedent. As much as I am for technology, I'm a little on the fence."
Council member Isaac Davila noted that the nearest residence from the proposed tower has half an acre of land.
"It's not a real tight group of houses," Davila continued. "I would be inclined to give the variance."
Council member Tim Anders asked if the nearby homeowners were made aware of this.
"I want to make sure the citizens have a fair shake," Anders said. "They'll have this obstructive thing in their backyard."
Tanner replied that a public hearing wasn't required for a request such as this.
"I understand it's a very sensitive issue," council member Jacob Balderas said. "On the flip side of that, I'm in favor of it just because that whole area where the tower (would be) is going to be developed."
Benton made a motion to table the item to give citizens the opportunity to weigh in on the matter.
The motion was seconded by council member Richard Olson. Balderas voted against the motion, but it passed 4-1.
Council members Kevin Raines and Steven DeGregorio were not present for the motion.
"Guys, stay tuned," Benton said. "We will address this again very shortly."