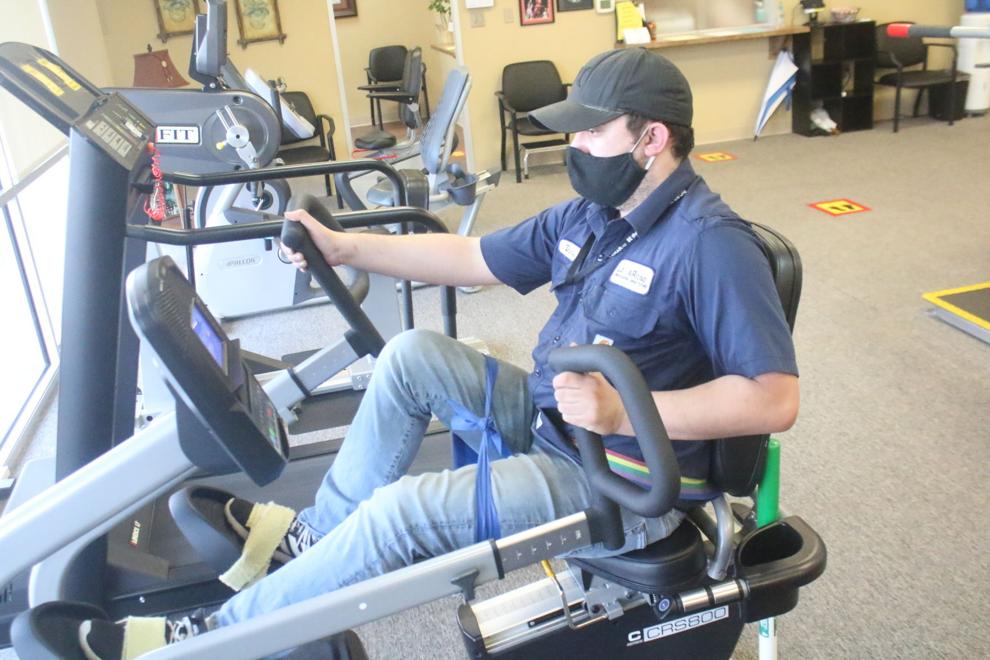 David Remy takes a breath while he rests after walking in his metal leg braces. While he takes a quick drink of water after walking about 60 feet, he hopes that one day he can get a chance to walk normally again.
Remy, 35, is a parts manager at the Lamar Consolidated ISD transportation department. He had to work to prove to his employers that he can do his job despite his condition.
"I proved them wrong," the Richmond resident said confidently.
And that has been his stance throughout his whole ordeal.
But now, David is hoping to continue his fight to regain his ability to walk on his own after dealing with a disorder that prevents him from moving his legs. And that is getting an exoskeleton that allows him to move freely.
The only catch is that the exoskeleton costs about $100,000, with no insurance help.
That's why David started an online fundraiser to help him to purchase the exoskeleton.
Three years ago, Remy discovered that he was losing function of his legs. "I was falling down frequently and I broke my ankle three times that year," he said.
Doctors found a tumor on David's spinal cord and he was diagnosed with thoracic spondolosis with myelopathy, which is wear and tear in the spine, which caused a compression of the spinal cord, named myelopathy.
The disorder caused Remy to have trouble walking with constant numbness in his legs, which led him to use a wheelchair to get around.
During his personal training at Physical Therapy Care and Aquatic Rehab of Fort Bend in Richmond — where he has been going to three times a week in the last two years — Remy said his doctors and therapists recommended a new kind of technology.
He saw an exoskeleton made by Indego that could help him walk and move more comfortably than the regular leg braces that he had been using.
"At first, I brushed it off like it was science fiction," David said. "But (my physical therapist Dr., Rebecca Peacock) brought it up to me last year that I should try it out."
After watching the trial of the exoskeleton, David then was allowed by the company to try out the device in Austin, and it had a profound impact on him.
"It was like night and day," he said. "It's hard to describe walking again when you haven't done it for almost two years. It's a little overwhelming, but (feels like) freedom."
Because the exoskeleton is programmed to move with just a bit of a nudge, it allows David to move more freely, Dr. Peacock said. That allows David to do more basic things, such as stand up on his own, reach for items on top shelves and turning around.
David is just $31,000 away from his goal in his online fundraiser to purchase his own exoskeleton, which will be tailored to him and can also be operated by an app on his phone. Dr. Peacock said that she and David will have to go through some training to learn all the functions of the exoskeleton.
"I would start using it around the house and put a little time into it," David said. "But best case scenario, I can see myself walking without it several years down the line. No one will co-sign on that, but I see that as a possibility."
But in the meantime, David continues to work hard at Physical Therapy Care to getting in proper strength to work the exoskeleton.
"The goal is getting to a normal life, or as close as possible," he said.