A retired Marine is the latest person to run in a crowded field for the U.S. House District 22 seat.
Major Jonathan "Jon" Camarillo announced his campaign to run in the Republican primary for the Congressional seat, becoming the 17th person to run for the seat in 2020.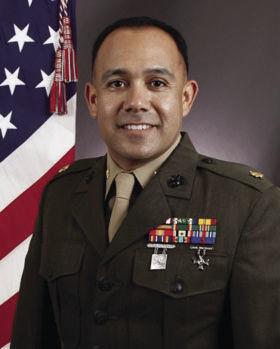 Camarillo is from Houston and was raised in Houston's East End, his statement said. He attended Stephen F. Austin High School in Houston and Texas Southern University on a golf scholarship. He graduated with a bachelor's degree in history.
Camarillo then joined the U.S. Marine Corps and for the next 20 years, he served as an officer and deployed to the Middle East, Asia, and Latin America.
Camarillo's actions during Operation Iraqi Freedom earned him the Combat Action Ribbon and the Navy-Marine Corps Commendation Medal with combat V device, an individual award highlighting actions during combat with valor.
"We need to fight for pro-life policies, lower taxes, less spending, a strong military, secure borders, and pro-growth economic policies," Camarillo said.
"As a representative for the 22nd district, I will fight for these values and will apply my two decades of leadership and service to the challenges and tasks at hand."
Camarillo has been married to his wife Bertha for 17 years, and they have two children, Levi and Emmelyn, ages 13 and nine.
The 22nd Congressional District is currently held by Pete Olsen, who recently announced he will not seek re-election. The Republican primary election will be held March 3, 2020.
Camarillo is the 14th person to run in the GOP primary, joining Sugar Land businesswoman Diana Miller; Katy resident Matt Hinton, a finance manager; former Pearland city council woman and attorney Felicia Harris Hoss; former Brazoria County Court Judge Greg Hill, Houston attorney Shandon Phan and businessman Bangar Reddy Aaloori.
Also in the Republican primary are Houston attorney Howard Lynn Steele Jr.; GOP mega-donor Kathaleen Wall, who spent $6 million in a failed bid to replace Congressman Ted Poe in 2018; Army veteran and charter helicopter pilot Joe Walz; and disabled Army veteran Keli Chevalier. Houston attorney Carl Douglas Haggard, vaping lobbyist Michelle "Schell" Hammel and Stafford chemical engineer Dan Mathews have also filed for the primary.
On the Democratic side, Sugar Land businessman and former Foreign Service Officer Sri Preston Kulkarni, Pearland native and talk show panelist Nyanza Moore, and Pearland City Council member and former Harris County assistant district attorney Derrick Reed are also running for the District 22 seat.