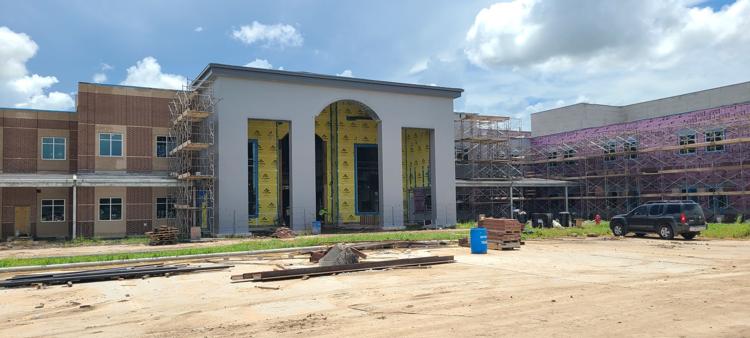 Lamar Consolidated ISD's sixth high school and junior high school is already taking shape.
Dr. Thomas E. Randle High School and Harry Wright Junior High School are both under construction near the intersection of Minonite Road and Koeblen Road.
Both schools are expected to open in August of 2021 for the 2021-22 school year.
Randle HS has a budget of over $127.6 million, with over $115 million already committed. Wright JHS has a operating budget of $62 million and has over $55.4 million committed.
The roofing and framing of the schools are in progress, as well as construction of extending Koeblen Road, which will be the road that leads to the two schools off of Minonite Road.
Randle and Wright are expected to take students from the areas that are zoned to George Ranch High School and Terry High School. An Attendance Boundary Committee – made up of parents from across the district – will make its zoning recommendation to the LCISD board of trustees for new attendance boundaries.
At Monday's public input meeting, parents in the community provided input to the ABC. The public's input will help the ABC finalize its recommendation to the LCISD board.
The recommendation will be based on the latest demographic projections, enrollment, facility capacity and the best utilization of existing facilities. The ABC also looked closely at current and projected growth trends, trying to alleviate overcrowding while minimizing the movement of students to new schools.
The ABC will have at least two more meetings on Aug. 3 and Aug. 10 to finalize the zoning lines before presenting them to the LCISD board in mid-August or September.
The first effort in zoning the new school projects that Randle will hold 921 students when the school opens next August, and will reach 2,017 students for the 2023-24 school year.
Also, John Montelongo has been named Randle High School's first principal.
A graduate of Stephen F. Austin University, Montelongo holds a master's degree from the Texas Southern University. Montelongo is set to complete his doctoral degree this year from Lamar University.
Lamar Consolidated ISD announced two new hires for two secondary schools, including the prin…
Montelongo joins LCISD with over 25 years of experience in education, 10 of which he spent serving as principal. He most recently served as principal of Hightower High School in Fort Bend ISD, but has also served as an Assistant Superintendent of School Support Services, Executive Director of Secondary Schools and Director of High School Initiatives.
Montelongo will also be tasked in selecting the school's mascot and school colors.