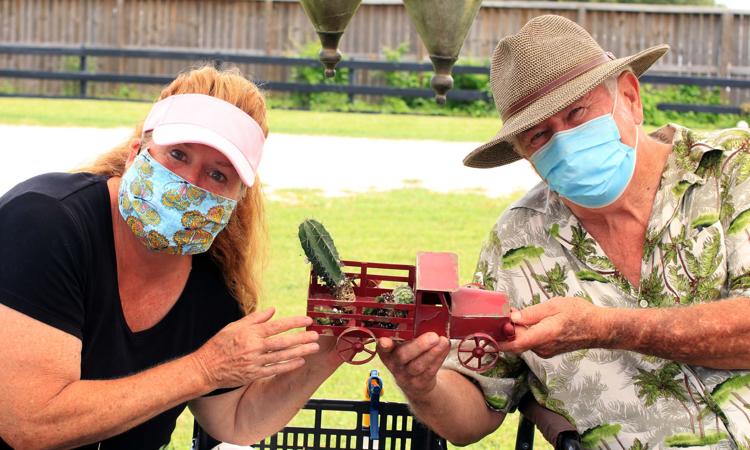 Gordon and Lee Rowell of Fairchilds know a thing or two about plants. They ran a successful orchid shop in downtown Houston for years. They also rented or leased plants to businesses and homeowners. When they sold the shop, they launched "Exotic Plants & Treasures," a home-based business that offers unique plants and plant-craft creations.
"We are a niche market," said Gordon. "We sell items the big box stores don't or won't. We have to stand out in the crowd if we want to survive."
Lee has the green thumb and comes up with all kinds of crafts creations, and Gordon is the plant wrangler, who heads to town to purchase whatever Lee needs when she's in her creative state of mind.
"We always have to come up with something fun and different," Lee explained. "Our customers are always asking us, 'What do you have different this time?' So we are always having to show up with new stuff."
By showing up, she's talking about area farmers markets.
On Sunday, the Rowells were selling their plants and crafts at the Pecan Grove Farmers & Artisan Market, located at 729 FM 356.
"We've been selling here since it first opened," Lee said, "And we couldn't be happier. There's always a nice-sized crowd and everyone's always in a good mood. We do all right."
The Rowells are among some 35-40 vendors who sell fruits, vegetables, eggs, honey, bread, candy and other edibles, as well as arts and crafts at the market each Sunday between 11 a.m. and 3 p.m.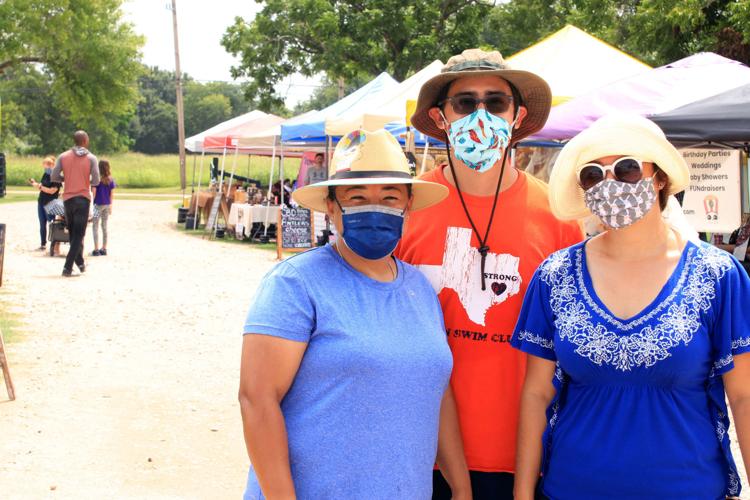 Michelle Medina owns the property that the market sits on and her niece, Monica Gonzalez, is the project manager, meaning she runs the operation each Sunday.
Staff member Mason Lacsamana helps the vendors load and unload and performs other chores.
Monica said she tries to have a local entertainer sing and perform if possible. A food truck and other vendors are available each week for those who are hungry and thirsty, she added.
Mariya Andriyashina, who owns and operates "Bread Artistry" out of her Katy home, said she looks forward to making the short drive to the market in Pecan Grove each week.
On Sunday she filled a table with fresh loaves of bread she baked that very morning and the night before. Mariya's sourdough, banana nut and banana walnut breads didn't last long.
Mary Flurkey of Pecan Grove visited Mariya's stall in search of some croissants.
"She makes fabulous croissants," said Mary, who attended the market with husband Andy in tow. "We'll definitely try again next week."
The Flurkeys are among many loyal customers, Mariya said.
Mariya used to work in the oil industry but decided to go into business for herself to avoid the long daily commute to work. She calls her home business "monetizing your hobby."
Chelsea Hunes and husband Sean own and operate Cast Iron Winery out of Sealy. They sell their wines at farmers markets throughout the week. Sunday was the first opportunity the Hunes had to sell their homemade wine at the Pecan Grove market.
"It's looking good so far," Sean said.
He said he's hoping to pick up some new customers and hopes that once customers taste their wine that business will pick up through word of mouth.
Next to the Hunes' stall was MC Chocolatier, owned and operated by Marla Bartus. As the name suggests, Marla doesn't sell vegetables, fruit, bread or anything else she grows in her backyard. But she does a lucrative business selling sweets.
She creates the mouth-watering sweets right in her home.
Among those delicacies are chocolate-covered truffles, chocolate-covered strawberries, chocolate covered cookies, chocolate-covered cherries and chocolate lollipops packaged and ready for birthdays, anniversaries, weddings or simply a treat after a night on the town.
David and Tracey Grimme added the Pecan Grove market to their growing list of markets soon after it opened nine weeks ago.
They sell jars of honey they collect from the 150 or so beehives on their property just north of Fulshear. They also sell bees at their business: Hepplewhite Farms.
A 12-ounce jar of cinnamon honey will set a customer back $12 while a 5-pound jar goes for $40.
"This market has been good to us," David said. "We've picked up a lot of loyal customers. We couldn't be happier."
Kmiec Farms also sells its own honey in a stall just down from the David and Tracey.
Phillip, Rachel, Raegen and Kennedy Kmiec, along with Cassidy Hale, grow fruits and vegetables year-round for sale at various farmers markets throughout the area.
Phillip was manning the stall on Sunday. Besides honey, Kmiec Farms sells yellow squash, zucchini, onions, tomatoes, eggplant, homemade salsa, duck and goose eggs, and various other vegetables.
Phillip said he and his family grow winter crops as well, such as cabbage, kale, spinach, lettuce, for sale at area farmers markets.
To help make ends meet, the family is also a supplier to Consumer Supported Agriculture, better known by its acronym CSA.
"When they need some extra produce they'll give us a call and we supply them what they need," he explained.
Like most of the other vendors, Phillip and his family sell at various farmers markets in the area.
"This (market) is pretty good," he said. "We get lots of return customers and there's usually a pretty good crowd. The community really comes out to support us."
Vendors who typically sell items at the market include: ■ Kmiec Farm-fresh produce & far…
---
Pecan Grove Farmers & Artisan Market is open from 11 a.m. to 3 p.m. each Sunday. To get there from Rosenberg or Richmond, take U.S. 90 east toward Pecan Grove. Take the FM 359 overpass north toward Pecan Grove. The market will be on the left at 729 FM 359.
---