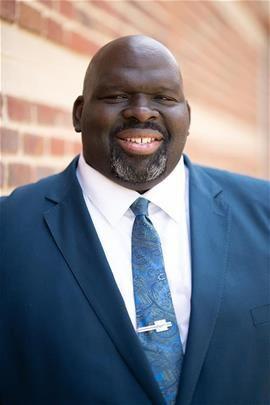 At a Special Board Meeting on April 27, the Lamar CISD Board of Trustees unanimously approved Dr. Roosevelt Nivens as the next superintendent for the district, effective June 1.
"Lamar CISD is known across the state for excellence and I'm honored to lead the district as the next superintendent," said Dr. Nivens. "I'm proud to join a community that values quality education for all students and I look forward to working collaboratively to build on the district's success."
Dr. Nivens has served as the superintendent for Community ISD since 2015, a school district encompassing four communities located in the southeast corner of fast-growth Collin County in the Dallas-Fort Worth metroplex. His public education career is centered around advocating and supporting the very best educational opportunities for all students.
During his 24-year career, Dr. Nivens has also served as a teacher, assistant principal, principal and assistant superintendent.
He began as a teacher in Dallas ISD, assistant principal and principal of Lancaster Junior High and Lancaster High School, and Assistant Superintendent of Achievement and Organizational Management in Lancaster ISD. 
He holds a Bachelor of Science degree from Liberty University in Lynchburg, Virginia, and a Master of Education and Doctor of Education from Texas A&M – Commerce.
The Lamar Consolidated ISD School Board at a special meeting held on Tuesday, April 6 announced Dr. Roosevelt Nivens as the "lone finalist" to serve as the district's next superintendent.
The board's announcement follows an extensive, nationwide search lasting several months. The search process included gathering input from community stakeholders which was used to develop a candidate profile that was nationally advertised.
More than 47 candidates applied for the position. The board initially narrowed the field of candidates to five candidates and then two finalists who participated in several comprehensive interviews and visited the district and the surrounding community.
Lamar CISD Board President Joy Williams believes Dr. Nivens is a great fit to serve the district as its next leader.
"Our board is excited to welcome Dr. Nivens to our community," said President Williams. "We were fortunate that many quality candidates wanted to come to our district. After an exhaustive process, our trustees became convinced that Dr. Nivens is the right leader for our rapidly growing district and that he will promote a high level of success for all our students."
Through his leadership in Community ISD, student safety, high academic achievement and student social-emotional wellbeing were the priorities.
Under his administration, the district earned an A-rating in 2018-2019, realized a 20 percent increase in the number of Advanced Placement students receiving a three or higher on the AP exam, and strengthened student participation in dual credit classes with 98 percent earning college and high school credit, and 10 percent of the graduating class earned an associate degree upon high school graduation.
Understanding that each student's path to success is different, he also expanded Career & Technical Education (CTE) programs and CTE professional certifications, which students can use in the workforce upon graduation.
Dr. Nivens looks forward to working with the school board, parents, staff, students and the Lamar CISD community on a shared vision of providing the very best educational experiences for all students.
"Lamar Consolidated ISD is a distinguished school district with a long history of educational excellence. I am honored to be named as lone finalist for superintendent. I look forward to meeting students, teachers, staff, and families soon. Together I believe we can continue and build upon the excellence of Lamar CISD as one family," said Nivens.
State law requires a 21-day waiting period after a school board names a superintendent "lone finalist" before the future school superintendent can sign a contract.