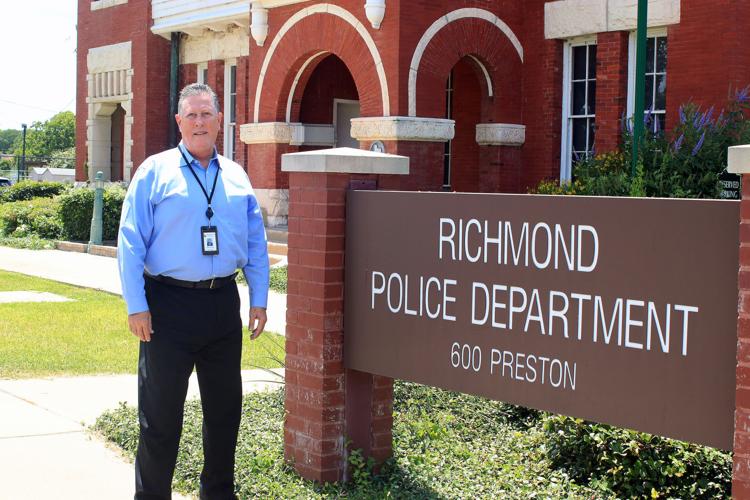 The dictionary describes "empathy" as "entering fully, through imagination, into another's feelings or motives."
Richmond's new police Chief J.J. Craig learned the meaning of the word on the gritty streets of Long Beach following the Rodney King verdict in 1992.
Craig was among the LAPD and Long Beach officers who helped bring order to the chaos after several fellow officers were acquitted in the King's brutal beating.
The officers' ferocious assault was captured on a video camera and shared with the world before the internet and social media made such posts on a daily occurrence.
Riots erupted and many buildings were set afire before the civil disturbance ended.
"One of the things I learned from working the Rodney King riots was empathy," Craig recalled. "The people in the community let us know how they felt, where they were coming from. They told us directly what they thought about the police and how they were being policed."
Craig, 58, said the lesson he took away from the uprising was to listen to the community.
"You'd be surprised what you can learn by just listening to the people you are serving," he said. "They'll let you know what they like and don't like about the way you police. And that's a good thing, because police can then adjust their methods to be more fair and still protect and defend people and property."
The nuances of policing are often subtle, he explained.
Small things — the tone of voice, an expression, the way officers look at people — can make big differences, he noted.
Craig said he plans to listen a lot as chief of Richmond PD.
Hitting the ground running
In the first three days of assuming command, he met with chiefs of other law enforcement agencies in the area.
"It was clear to me that they work well together, that they have a good working relationship," he said. "I think we'll get along great."
Before even decorating his office with his framed law enforcement degrees or pictures of his kids and mementos he's accumulated over his 37-years as a peace officer, he studied the department's policy handbook.
With protests erupting across the country following the death of George Floyd, Craig wanted to read up on the department "use of force" policy.
"So far, I'm pleased with what I've seen," he said. "Richmond PD doesn't put up with abuse of use of force by its officers."
Rising from the ranks
Craig began his law enforcement career in 1982 with the city of Long Beach, Calif., a part of the Los Angeles metropolitan area.
He served at Long Beach PD as a patrol officer, SWAT member, sergeant, lieutenant, commander and deputy chief for 29 years before accepting a position of chief of police in Victoria, Texas in 2011.
During his tenure at Long Beach, he earned a certificate in senior executive state and local program leadership from the Harvard Kennedy School and a Master of Arts Degree from the University of Phoenix in organizational management.
He is also a graduate of the FBI National Academy Class 196.
Craig served in Long Beach until accepting the job in Victoria.
Victoria city leaders praised Craig's leadership during his nine years in that city.
"I'm sure he'll say it's bittersweet for him, and it's bittersweet for us, too," City Manager Jesús Garza told The Victoria Advocate, a daily newspaper that covers 13 counties in South Texas.
"He's been a very active and involved police chief, and we're definitely going to miss that."
Craig told the newspaper he enjoyed his tenure as Victoria police chief.
"I haven't worked for a better police organization than Victoria's," he said. "Being a part of this community is something I am very proud of."
Solving vexing problems
During his tenure in Victoria, he re-introduced a motorcycle patrol to help combat a rash of vehicle accidents.
"We were having way too many fatal car accidents and I thought motorcycle patrol would help cut down that rate. It did. We saw a lot of success with the program. It has saved a lot of lives."
He told The Herald on Friday he looks forward to being part of Richmond and Fort Bend County and bring new ideas to the police department.
"Victoria PD had good community support, and I'm coming to another community that obviously supports its police department," he said.
Richmond's attraction
So why would Craig leave a police department in a city with 67,015 citizens for Richmond with 12,033?
Richmond's good fortune to land such a qualified candidate is due in part to Craig's children. He has twins, a boy and girl, who live in nearby Katy with their mother.
The move to Richmond puts him that much closer to his 13-year-old twins, he confessed.
It also helped that Craig's girlfriend recently relocated to the Richmond area.
'A good fit'
Craig also had some insider information about the position in Richmond, how the department operated, and the professionalism of the officers and staff, he confided.
As a member of the Texas Police Chiefs Association's Best Practices Program, Craig was among the officers who visited Richmond PD last year to oversee its accreditation process, he said.
"I knew from the accreditation process and from visiting the department that it was an exceptional policing organization," he said. "When I saw the city was looking for a new police chief, I knew I wanted the job. I knew it would be a good fit for me."
He said he made the right decision.
"Everything worked out perfectly, as far as I am concerned," he said. "The timing was right. Everything seemed to fall into place. I feel fortunate to be a part of this organization and this community at this time in my life."
Richmond Mayor Evalyn Moore said she's pleased to see Craig come aboard.
"Chief Craig brings leadership, a core value of community involvement, and unyielding outreach experience to the Richmond Police Department," she said.
"We are thankful for his open-door policy."
Community policing
Craig said citizens can expect to see him out and about at festivals and other events.
"I very much believe in community policing, and that means getting out in the community and meeting with the citizens and getting to know their needs and concerns," he said. "Policing is a partnership between the police department and the community, and I know for certain we will continue to have a great partnership in Richmond for decades to come."
Building relationships
Craig said the police need the help of the community.
"The citizens know what is going on in their community," he explained. "They know what's happening in neighborhoods and parks. They know where the crime is, who is selling drugs, when and where. That's useful information to a cop."
He recalls an instance in which families simply stopped using a neighborhood park because of the drug dealers had claimed it as their territory.
Tips from concerned citizens helped police return the park to the families.
"Once we got rid of the drug dealers, the kids started using the park again," he said.
He said he plans to enact outreach programs in Richmond to engage citizens and officers.
"The citizens should know every officer patrolling their neighborhood and the officer should get to know as many of the people in the neighborhood as he or she can," Craig said.
"The police department can't solve every crime. We need the neighborhood's help. It's all about building relationships."