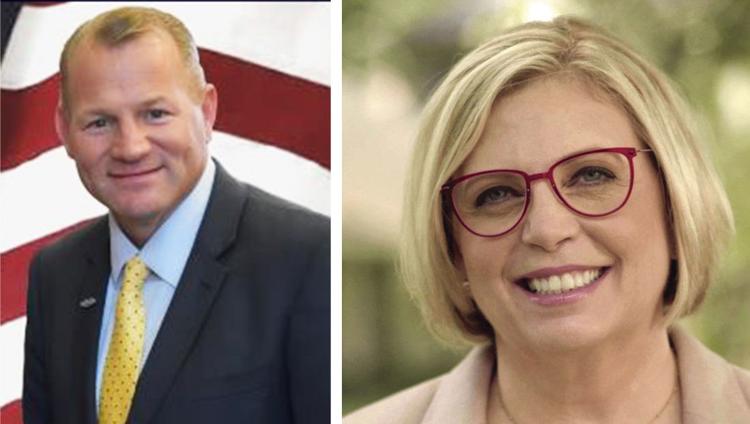 The Republican runoff election for the U.S. House District 22 seat continues to get nastier, as the race has turned into a political brawl as well as put a spotlight on how Fort Bend County handles human trafficking and its victims.
GOP mega donor Kathaleen Wall's television ad blasting Fort Bend County Sheriff Troy Nehls on his treatment of human trafficking victims has led to Nehls threatening to sue Wall over the ads, claiming that they are "false and defamatory."
Adding to the controversy, Nehls failed to show up to a virtual town hall on human trafficking Thursday that angered several viewers who wanted to confront Nehls about his actions of dealing with victims of sex trafficking.
This all comes as Election Day comes closer as Nehls and Wall battle for the GOP nomination in a runoff election on Tuesday. The winner will face Democratic nominee Sri Preston Kulkarni in the November general election.
Wall's campaign released a letter sent to them by Todd Graves, an attorney from a Kansas City, Mo., law firm dated June 25, claiming that they had received three draft advertisements and will sue for defamation if the ads run on Houston broadcast and cable stations.
"If you publish these ads in their current form, we will seek emergency injunctive relief and damages," Graves wrote in the letter, and threatened to use immediate discovery to spark an investigation.
The ads mentioned in the letter include Courtney Litvak – a sex trafficking victim – and her family, claiming that Nehls told her that "being raped and abused is a lifestyle choice." Graves claims that there is no proof that Nehls ever said that.
"…There's no record of the Litvaks ever having made such statements about Sheriff Nehls, just as there is no record of Sheriff Nehls having actually making such to or about the Litvaks," Graves wrote.
Wall said in a statement that the letter is being used to "silence" a victim of human trafficking.
Meanwhile, Nehls was scheduled to join a human trafficking virtual roundtable on Thursday, held by County Judge KP George. But George said at the beginning of the roundtable that Nehls pulled out. "I'm very disappointed that he at the last minute he decided not to attend," George said.
Instead, Lt. Bradley Whichard, who heads the human trafficking unit for the Fort Bend County Sheriff's Office, participated in Nehls' place.
George asked Whichard about the Litvak case, which Whichard claimed that the conversation was turning into "a political issue." He then said that the case was more of a Harris County issue.
"I'm not going to go into details of the case, just know that everything was followed up by the sheriff's office," Whichard said.
However, an account named Alan Litvak, who is Courtney's father, wrote in the chat during the roundtable that Whichard was lying and was protecting Nehls.
"Brad called me and asked to talk to Courtney after I reported her TRAFFICKED...All Brad wanted to do was talk to my trafficked daughter...he has NEVER tried to do a single thing to help out family and has in fact spread public lies about our family-YOU ARE AN EMBARRASSMENT to REAL Law Enforcement Brad," Alan wrote. "We are DONE letting you and Troy Nehls lie and re-victimize our family."
An account named Kelly Litvak, who is Courtney's mother, said, "Wow! Troy Nehls is a no show and sends in an officer to lie. Total fake comments."
Nehls told KHOU-TV that the investigation into Courtney Litvak was handled by Harris County authorities and her parents contacted the Fort Bend County Sheriff's Office because she went to a high school in the county.
"We did have a detective visit with Mr. and Mrs. Litvak and have a conversation and request access to their daughter," Nehls said. "We have tried numerous times to interview Courtney Litvak, but to no avail."