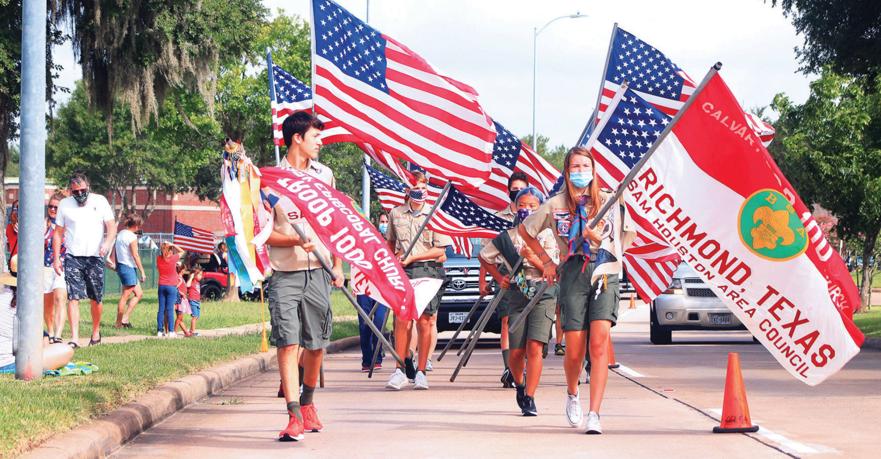 Needville High School senior Maddeline Boss, 17, remembers when she first heard Boy Scouts USA was opening its ranks to girls. It was January 2019 and Maddeline, then a high school junior, knew she wanted to join.
"I've always believed girls should be learning the same things boys are learning," she said. "Why weren't we learning how to camp outdoors and use knives and learning gun safety? Why didn't we go camping and hiking and exploring? In Girl Scouts, we learned sewing and arts and crafts. Those sorts of skills."
But before she could learn what the boys were learning, she needed a troop to join.
Her mom suggested she talk to Father Paul at Calvary Episcopal Church about sponsoring a troop. He was receptive to the idea but Maddeline's "gentle" nudges helped persuade him to sponsor a troop for girls, she recalled.
"I told him it's important that girls get the same opportunities as boys," she recalled. "I told him girls needed to learn more about the world around us than we were being taught in Girl Scouts. And he agreed."
Scout Troop 100 met for the first time one month later. Between her January meeting with Father Paul and the first meeting in February, Maddeline began recruiting other girls to join.
"Once I told them what it was about and how much fun it would be, they were ready to join," she said.
The troop now has 15-16 girls. And Maddeline and the other older girls are busy recruiting more scouts.
She said they regularly meet with grade school girls who will shortly be old enough to join Scouts.
"The high school girls are already too old to start the process and they're not really interested in what Scouts has to offer," she said.
Angie Gardner is the Scout Master. Many of the scouts were the sisters of boys in Scouting, she said.
"They hung around their brothers and watched them have all the fun and they wanted to do it, too," Gardner recalled, adding, "Maddeline and the other girls also were able to recruit their friends to get the troop up and going."
Six girls are expected to earn their Eagle Scout award this year, Gardner said. One of those is Maddeline, who plans to team up with the Star of Hope Mission in Houston and create a community cabinet for the homeless and hungry.
Ideally, the cabinet will be stocked with food and beverages, she said.
"When they're hungry, they can just drop by and grab some food," she said. "And people can drop off CARE packages at the community cabinet anytime."
Maddeline, now a Life Scout — the last rank before Eagle — said she plans to attend college after high school. She wants to learn to fly or study medicine, or both.
"I'd like to take mission trips to places and help people in need," she explained. "Maybe I could be the pilot and the doctor."