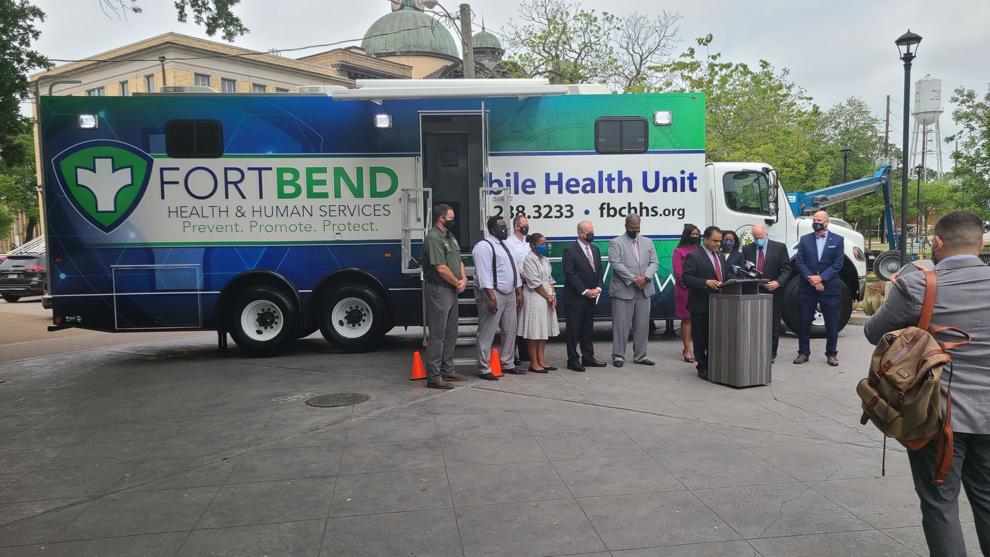 Fort Bend County announced their new tool to help get the county to herd immunity to defeat COVID-19.
County officials were eager to show its new Mobile Health Unit truck that will be used by the county to give out vaccines to residents in places that are hard to get to, or where there are a lot of homeward residents.
The unveiling of the MHU took place outside the county courthouse on Tuesday, as County Judge KP George and county commissioners posed with something George called "an added tool to what we're doing already."
"We're putting our trust in the community and putting people first," George continued.
The funds to purchase the mobile unit were approved by the commissioners' court through federal funding from the CARES Act. "Thanks to thee dedication and hard work (of county health and emergency workers), we would not be in the top part of the state in testing and giving out the vaccine," Precinct 3 Commissioner Andy Meyers said.
Fort Bend County health director Dr. Jacquelyn Minter said the unit could also be used later when it is time for children under 16 to get the vaccine.
"Everybody can't come to where we are, and we do have some communities that are in need," Minter said.
The mobile vehicle will be mostly used by request, not demand, according to Minter. Community leaders and others will decide where the vehicle will be used. There could also be future use for the unit after the pandemic is over, George said.
Fort Bend County EMS has also worked to give out vaccines to seniors unable to make it to a vaccine distribution center by working with Fort Bend Seniors Meals on Wheels to give out 70 vaccines per day.
Also, George announced that he has lowered Fort Bend's threat level of the virus from orange, or significant threat, down to yellow, or a low moderate threat.
At the commissioner's court meeting later at the courthouse, Minter said that the county might be "in a good place," as daily cases have dropped under 100 per day in the last few days. Hospitalizations are also declining, Minter said.
"I don't know how things will look in the future, but any increase in new cases should be blunted by so many people in our county that are vaccinated," she said.
To get registered to get the vaccine, or for more information on the vaccination process and to get tested for COVID-19, go to www.fbchealth.org, or call the vaccination hotline at 832-471-1373 for questions on the process.