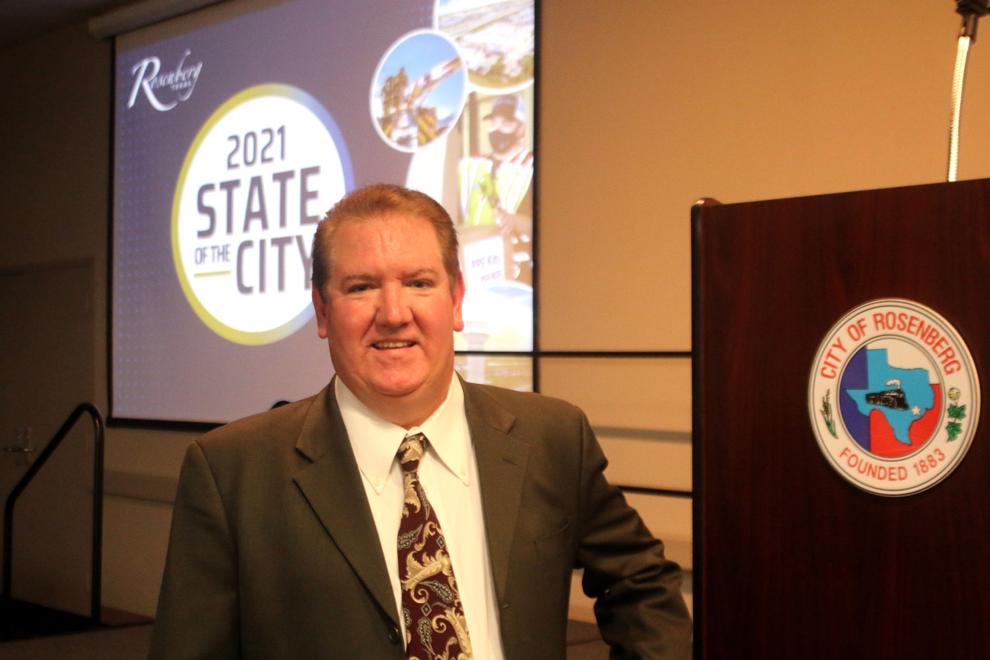 And one final state of the city.
Rosenberg Mayor Bill Benton spoke to a crowd of 60 at the Civic Center Thursday, where he gave his last ever state of the city address.
Benton recognized the city's public works department, the Rosenberg Development Corp., the city's communications team, Rosenberg Animal Control, the parks department, the Rosenberg fire and police departments and the finance department.
Benton was elected mayor in June 2017.
"I feel wonderful," he told The Herald before the event. "I feel better than I have in years.
"I thought (holding this event) was important. I think it's important to show the citizens that COVID can slow us down, but it's not going to stop the function of the city."
Benton explained that the council has an obligation to the citizens of Rosenberg to give an annual review of how the resources are spent.
"We're reviewing the last 12-15 months," Benton said. "It's not just COVID. There's more to what the city did than just endure COVID."
"But the COVID kind of freed the city staff up to provide more services."
Benton ran his campaign on a promise to keep taxes low. And he said while doing so, the city has continued to provide municipal services to his citizens.
"We decreased property taxes, increased the homestead exemption and we paid down our debt," Benton revealed. "We're going to save millions."
According to city staff, the event was recorded and will be posted online as soon as Monday for those who were unable to attend the state of the city.