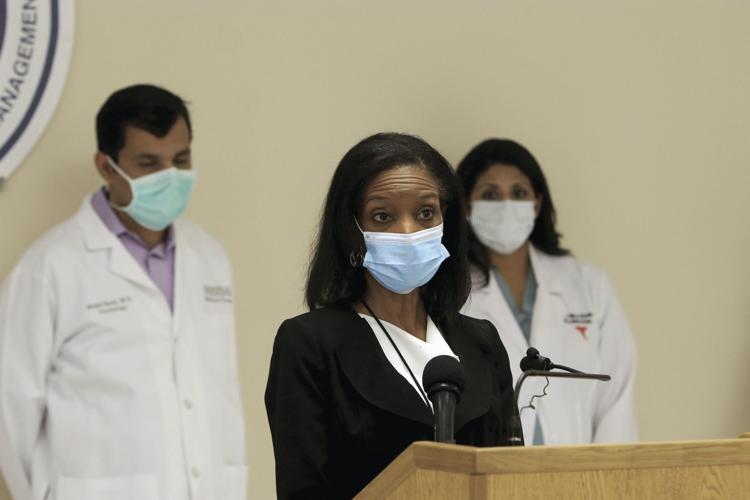 Saying they are responding to the requests of health care leaders, business owners and citizens, Fort Bend County officials announced Tuesday they would impose an ordinance requiring customers and employees to wear masks inside of commercial establishments.
The ordinance goes into effect at midnight Thursday and will remain in place for two weeks unless extended by the commissioners court.
"This is not a punishment," Fort Bend County Judge KP George said during a hastily-called news conference Tuesday.
"We are not looking to punish our citizens. We are not looking to punish our businesses. We simply want to be safe."
George said his decision to impose the order comes after the number of coronavirus cases in the county doubled in less than a month.
A total of 3,267 residents have tested positive for the virus, according to the Fort Bend County Health and Human Services Department, which is tracking the impact of the virus countywide.
Fifty-one residents have perished from the virus, health authorities reported Wednesday.
County Attorney Roy Cordes Jr., whose staff helped prepare the ordinance, said the mandate holds commercial businesses responsible for enforcing the order.
"It holds commercial businesses accountable, not the public, but the businesses," he explained.
Businesses that violate the order may be fined up to $500 per infraction, he said.
Fort Bend County District Attorney Brian Middleton said he didn't expect citizens or businesses to object to the mask order.
He said he didn't see any objections to the stay home ordinance or the ordinance closing bars, hair salons or prohibiting dining in at restaurants in March and April.
"I don't believe this is a confrontation we are going to have," he said, adding "It will be a sad state of affairs if law enforcement has to force someone to do what is right and what is in the best interest of the community."
Dr. Jacqueline Minter, director of the Fort Bend County Health Authority, said it's crucial the county take steps to halt the rise in virus cases.
She said 2-3% percent of the county's population was testing positive for the virus in mid-May and by mid-June 9-10% were testing positive.
She attributes the steep increase to the reopening of the county and state to business in May.
She said her office watched the cases rise countywide after the second phase of Reopening Texas was launched May 18.
After the Memorial Day holiday, the number of cases skyrocketed, she noted.
George said an online survey of citizens revealed that 77.5% of the 17,500 who responded were in favor of the mask order. He did not provide the results of the survey to the members of the press gathered at the news conference.
The online survey ended after about 40 hours, he conceded.
Fort Bend County has a population of about 820,000.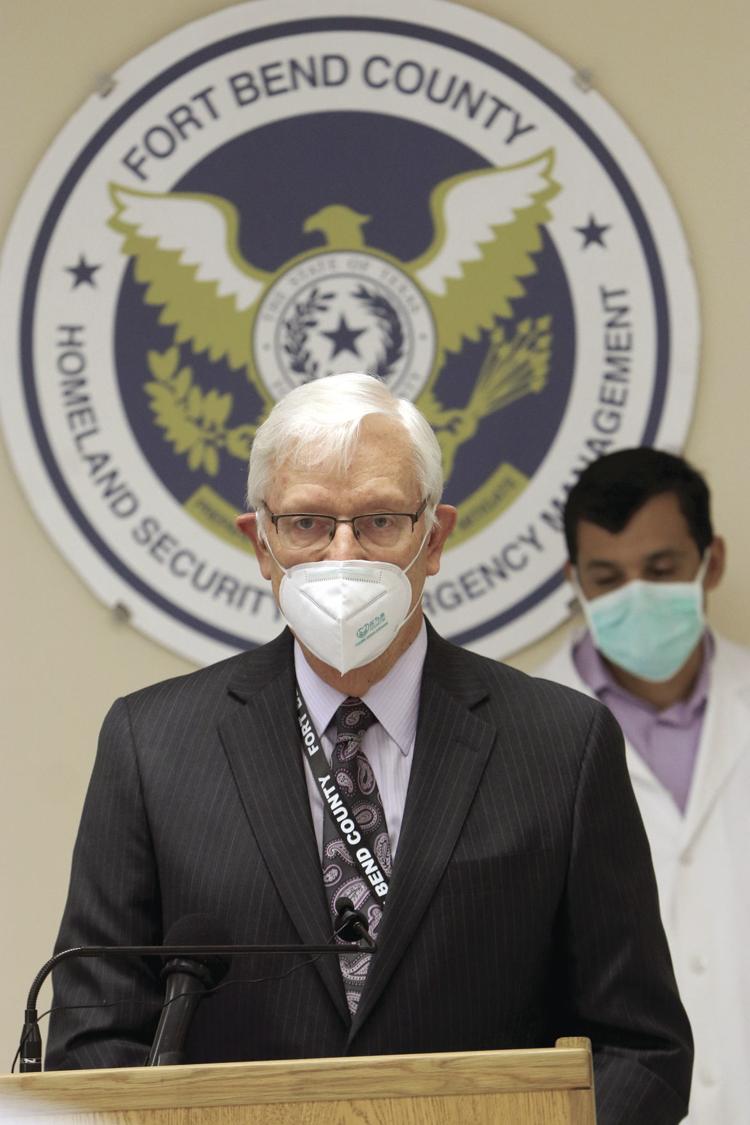 George said his decision to issue the mask order was also influenced by requests from local business owners who were looking for an excuse to order customers and employees to wear masks.
"The request came from many of our retailers in our area," he explained. "They wanted this order. They wanted to tell their customers there is a local ordinance in place and they are just (following the ordinance)."
A spokeswoman from Kroger's said the company also asked for the mask ordinance to protect its employees and customers.
She said her company would provide masks for those shoppers who arrived without one.
Cordes asked George to consider adding a request to the ordinance encouraging businesses to offer face coverings to those without.
George said health care leaders in the area also asked for the order.
Dr. Majid Basit, a cardiology specialist affiliated with Houston Methodist Sugar Land Hospital and Memorial Hermann-Texas Medical Center, was one of the health care professionals calling for a mask ordinance.
"I work in a hospital and I see our numbers growing and it's getting to the point its reminiscent of our first peak," Basit said during the news conference.
"And why is that so important? Because we only have so many beds. And these COVID patients stay in the hospital for days if not weeks and they get really sick and they need a lot of resources."
Besides, if the medical staff taking care of COVID patients fall ill, who will take care of the patients, he asked.
"So it's important that you don't get sick so we don't get sick."
Basit, president of the Fort Bend County Medical Society, said people need to continue to take COVID seriously.
"I run in (and out) of hospitals every day and I can assure you, the hospitals are full. There are no beds available," he said. "If we don't slow the spread now, we will overwhelm our health care system."
He reminded those watching a video of the press conference that many hospital beds are filled with people who have had heart attacks, strokes, broke bones or other ailments besides COVID.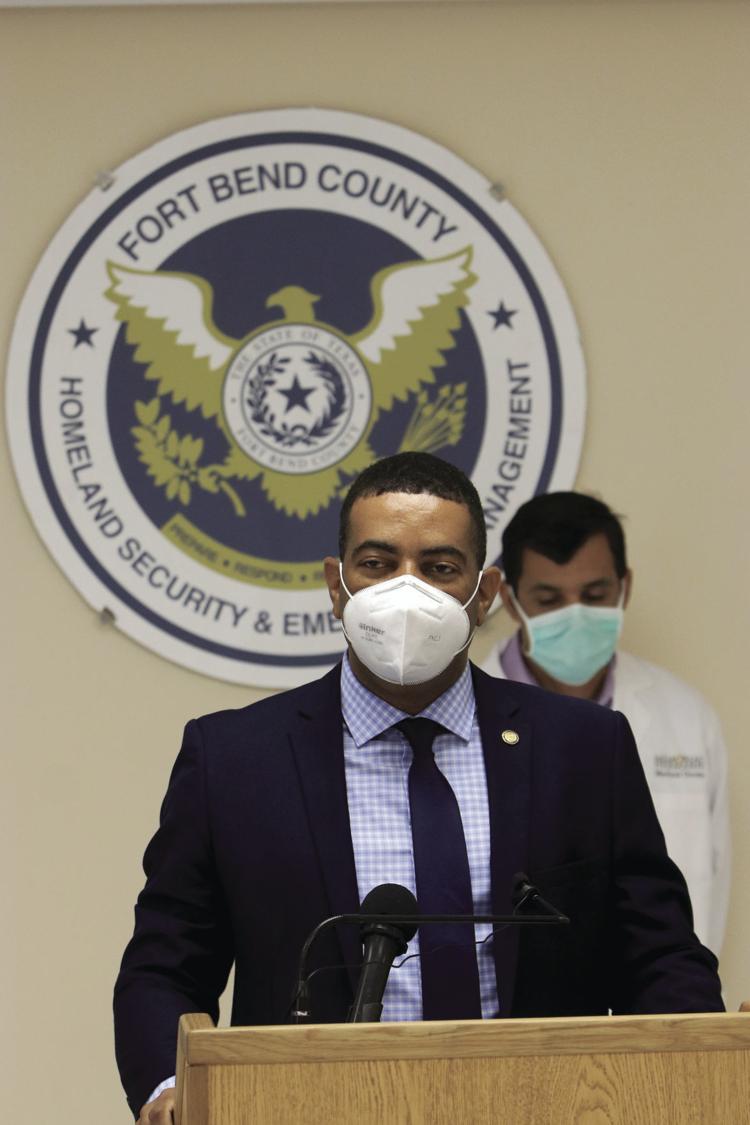 Dr. Minter said her research shows that many of those now coming down with COVID are younger in age.
She didn't explain the reason behind the statistic. In some communities, COVID spikes among the young are attributed to mass gatherings at beaches and other outdoor venues.
Of the 3,267 residents who have tested positive for the virus in Fort Bend County, 1,220 have completely recovered. As of Tuesday, 23 of those infected were hospitalized.
The county did not report the number hospitalized or recuperating in home quarantine as of Wednesday.
The county had been posting those statistics on its online Community Impact Dashboard daily.
County officials offered no explanation for taking the information off the webpage.
To be considered completely recovered, a resident must test negative twice within a 14-day period.
So far, 22,851 residents have been tested at the county's five test sites in Rosenberg, Richmond, Missouri City, Stafford and Sugar Land.
About 80% of people who catch COVID experience mild symptoms.
People with underlying health conditions can become seriously ill or die if they catch the virus, health care professionals say.
The 51st death from coronavirus in the county was reported on the county's website on Tuesday, June 23.
That death was likely the husband of a woman who died last week from COVID. Their 55-year-old son also died from the virus.
Dr. Minter said the deaths reported on the county's webpage may not have occurred on the day they were reported on the county's website.
Likewise, she said, the daily cases reported on the Community Impact Dashboard does not necessarily mean people tested positive on that day or even within the same week.
She attributed the disparity in positive case numbers day to day to a delay in reporting.
She said the county gets some results days or weeks after someone tested positive.
Nevertheless, the Community Impact Dashboard shows how many cases the county reported each day so visitors to the webpage should have no problem understanding how many people have tested positive, she explained.
"Prior to the stay at home order that was issued in our county in late March, we were witnessing a rapid increase in cases of COVID-19," she recalled.
"Our regional health care system was not prepared to appropriately care for the numerous people who might need a high level of care if we did not act swiftly to slow the spread of COVID-19 transmission."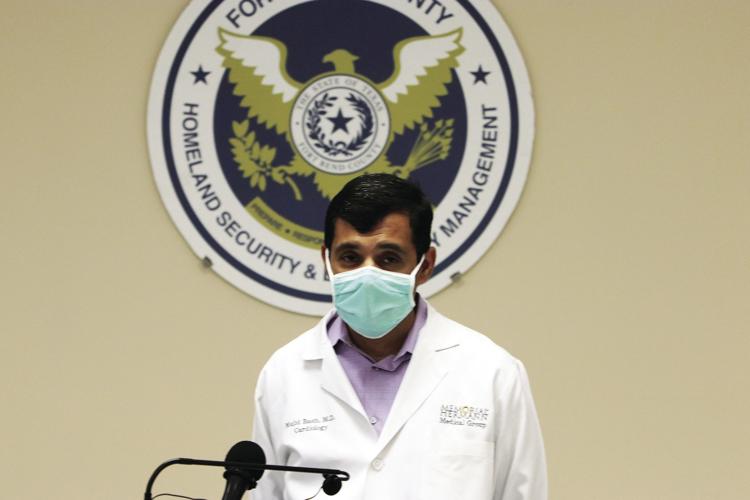 So the county judge issued a stay home order and ordered bars, taverns, nail salons, barbershops, tattoo parlors, gyms and fitness facilities to close their doors.
He also ordered restaurants to cease indoor dining but allowed them to continue to serve meals via drive-thru, pick up or delivery.
"Fort Bend County residents complied with this order, and we saw the benefits of our patients in the decrease in the growth of disease and death," Dr. Minter said.
"This decrease did not come without a cost. We suffered economically, socially and mentally, and those costs are not to be ignored, and they are still being felt."
"The desire to minimize the additional devastating (economic) impact of COVID-19 is absolutely understandable."
However, she said, "because this disease is transmitted by close by contact, we anticipated that there would be an increase in cases as our cities and state reopened."
"The level of the increase was dependent on many factors, that could only be estimated. so we can't anticipate every situation which might cause an increase in disease transmission."
But there is a lot the medical community has learned about the virus, she noted.
"What we do know, is that the virus spreads rapidly when people are within close contact through droplets that come from coughing, from sneezing, from talking, from laughing, from singing. And we do know that avoiding large and mass gatherings, wearing face coverings when distancing is not possible, staying home when you are ill, and washing your hands frequently will all reduce the spread of COVID-19."
"We have watched in recent weeks as the number of younger people with COVID has risen, and some of these have resulted in hospitalization and it's greatly impacting our health care system. Many businesses that were beginning to reopen have had to close again due to the number of workplace infections and exposures.
"It's time again to institute measures that will protect our community's health and well-being. It's no secret that there are consequences to every action we take. Some of these consequences are pleasant and positive and others are not. We ask for your patient participation with these measures to ensure that we can slow the disease transmission."
Cordes said the ordinance does not require face covering when outside of facilities, imposes greater mental or physical health or security risk, while pumping gas or operating outdoor equipment, or while in a building or activity that requires security surveillance or screening, such as a bank or when consuming food or drink.
Also, churches and other places of religious gatherings are exempt from the ordinance, he said.
However, George said religious leaders in the area are near unanimous in support of the ordinance.
Mark Flathouse, Fort Bend County Emergency Management coordinator, said the face mask ordinance may prevent the county from ordering another stay home order and closing businesses for a second time.
"The kicker is that if we don't control this, we could go back to the way it was or anything along those lines," he said.