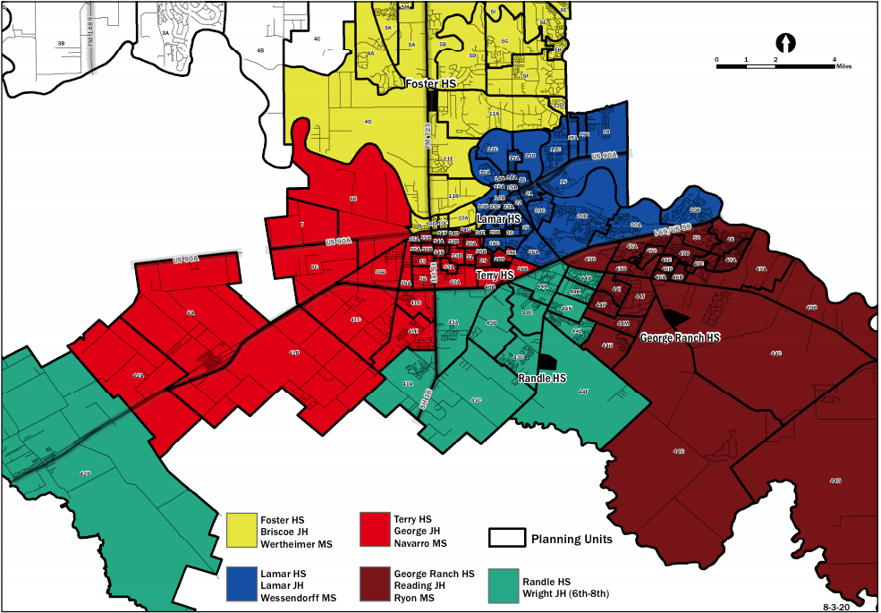 Lamar Consolidated ISD approved attendance zones for its new high school and junior high school, as its board of trustees weighed on several factors.
The board unanimously approved a modified map at Thursday's monthly meeting that will relieve overcrowding at George Ranch High School and Terry High School, but will also alter the ethnicity and economic makeup of several schools.
The map is a modified version of an earlier map in the process, with one change of a neighborhood near Brazos Town Center staying in the Lamar Consolidated High School zone after it was zoned to Terry.
Randle High School and Wright Junior High School, both scheduled to open next August, will open taking in students from the mid-southeast corner of the district, taking students that mostly live in the Arredondo and Meyer Elementary zones, along with a small part of the Culver Elementary zone. The part of the district that is in Kendleton that goes to Beasley Elementary will also be zoned to Randle.
Also, all of the Culver Elementary and Williams Elementary zones will be zoned to George Ranch, along with Reading Junior High and Poly Ryon Middle School.
The biggest demographic change would happen at Terry High School. Even though the school's enrollment will drop to under 1,700 in 2023, Terry will become a majority Hispanic school at 81%, while Black and White students would be a combined 18%.
Also, 78% of Terry students would be economically disadvantaged, the most out of the six LCISD high schools.
Randle will open with only freshmen and sophomore students next August, while Wright will have students from the sixth grade to the eighth grade.
High school students in the Randle High School zone can stay at their current campus if they have a sibling at that high school that is either a junior or sophomore; or a freshman who is participating in UIL competition this school year.
As with every discussion with zoning new schools, parents were passionate about which map the district should approve. Most wanted the Map 2 that did get a lot of votes in the Attendance Boundary Committee meetings, but was not selected as the recommended map.
Other parents wanted the original map that the area demographer submitted to be used, but board members did not consider the map because the ABC eliminated it early in their process.
The fast growth in the district will put three of the high schools over 2,000 by 2024, meaning that there will be future decisions on building more schools.
"We're adding 2,300 kids per year, so the growth is going to come," Supt. Dr. Thomas Randle said. "Our challenge is taking the numbers that we have and making a decision."
Trustees also are holding out hope for a new bond that will be on the ballot in November that would approve funds to build the district's seventh high school and help alleviate more overcrowding that will be at Fulshear, Foster and Lamar high schools.
"I'm hoping our bond passes, but I down want to hurt school now because we want to do other things later," trustee Kay Danziger said.
All six trustees voted for the map, with board president Joy Williams absent from the meeting due to a death in the family.