Lamar Consolidated ISD officially launched its dashboard to help track their schools of the spread of COVID-19.
The dashboard, which is at the district's website, helps parents and the community track by school and by detail the number of coronavirus cases that are in the district.
As of Tuesday afternoon, the district is reporting 23 overall cases, with 15 of them involving students and eight more involving staff members. Eight of the cases are still active.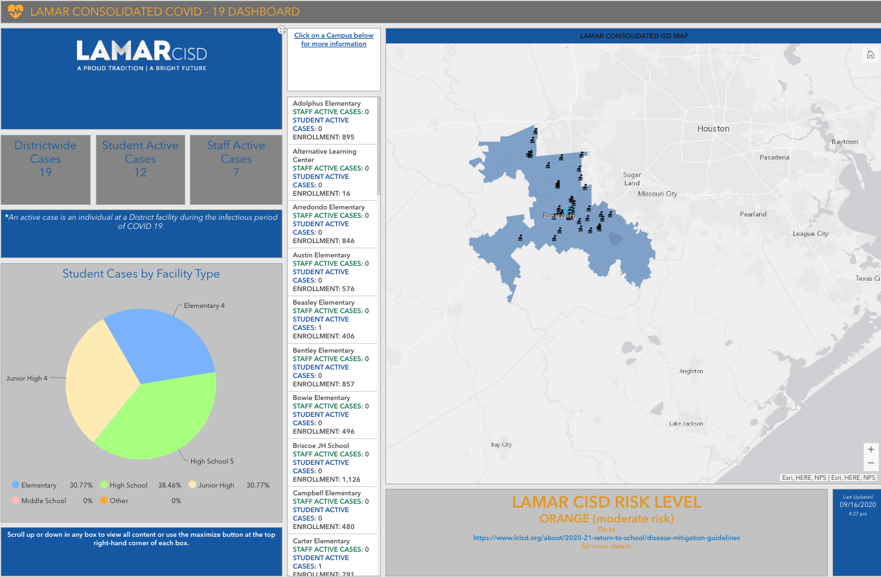 Six of the cases are at elementary schools (Arredondo, Hubenak, Meyer and Smith), with five at the high schools (Foster, Fulshear and Terry) and three at the junior high schools (Lamar, George and Leaman). Two of the staff cases were at the Rosenberg Transportation Center and at the Maintenance and Operations building.
According to LCISD, the dashboard is updated twice a day to provide the current number of active COVID-19 cases in the district. Data is displayed by district-wide active cases, as well as cases by staff, students and campus.
A link to the dashboard is available at the district's website, www.lcisd.org.
Countywide, 174 residents have perished from COVID-19, health authorities reported.
A total of 15,499 residents are confirmed to have contracted the virus since March 5. Of those, 14,318 have fully recovered, meaning they have tested negative for the virus twice within a 14-day period.
According to the county health and human services website, 60,332 residents have been tested at the county's free test sites since testing was first offered in the spring. However, residents may also be tested out of the county or at private clinics and hospitals, and those results may not be shared with the county.