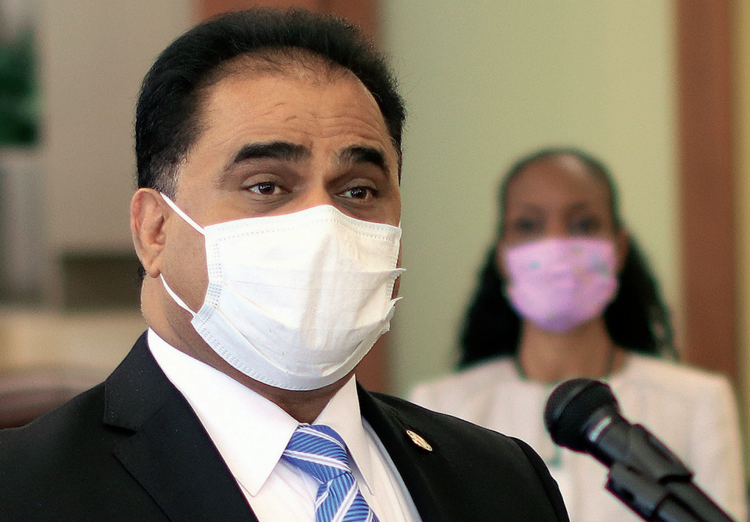 Fort Bend County Judge KP George is asking citizens to help do their part in preventing a second economic shutdown by continuing to wear masks, social distance and practice good hygiene.
The best course of action, he said, is for citizens to simply stay home and avoid public gatherings whenever possible.
George said he has no plans to order businesses closed a second time, but says Texas Gov. Greg Abbott may do so to halt the skyrocketing increase in COVID-19 cases statewide.
"In these past few weeks we have been seeing kind of an exponential increase in coronavirus positive cases (statewide)," George said during a news conference on Tuesday morning.
He said the number of Fort Bend County residents testing positive for the deadly virus has climbed to over 5,025— up 2,613 from the 2,402 reported one month ago.
On Wednesday the number of confirmed cases had increased to 5,211 and deaths had climbed to 65.
"(Those figures), in my opinion, are alarming," he told reporters. He said the increase in the number of positive cases state, led Abbott to issue a controversial mask order last week. But George said wearing a mask in public will help prevent the spread of the virus and prevent the healthcare system from being overwhelmed.
George said hospitals in the Houston Medical Center are nearing capacity, which will affect patients and hospitals in Fort Bend County. He said COVID patients in Fort Bend County are often sent to the Medical Center for treatment.
Once the Medical Center hospitals can no longer accept patients, hospitals in Fort Bend County will reach capacity and no longer be able to treat patients.
"The capacity (at the Medical Center) is at an alarming level, and they are looking for alternative care sites," George said.
He said Fort Bend County health authorities are also looking at alternative healthcare sites should local hospitals reach capacity. The county elevated its readiness level to level red on Monday evening, the highest level, in order to cope with the crisis, he said.
George called the news conference on Tuesday to reiterate the importance of following safety guidelines — wearing face coverings, practicing social distancing and good hygiene — to help avoid a second economic shutdown threatened by Abbott last week.
"As Gov. Abbott mentioned a few days ago, if we don't wear our masks, it's possible we are going toward a shutdown," George said. "And I just want our citizens to know that, that is the last thing I want to do in Fort Bend County."
However, George said, if the governor orders a second economic shutdown, Fort Bend County will comply with that order.
"If our citizens are not participating in this process in a positive way...we may run into a situation ...where it's possible we can go into (an economic) shutdown."
"We can't at this point continue to increase these numbers (of positive cases) and we want to manage (the crisis) to avoid a second shutdown."
Dr. Jacqueline Minter attributes much of the steep rise in positive cases to the public letting down its guard in May and June after two months of staying at home and practicing social distancing.
George issued a mask order in late June to combat the rise in COVID cases countywide, which he attributed at the time to the Memorial Day weekend, a phased reopening of businesses statewide and George Floyd protests. Abbott issued a similar order the following week and said he would consider shutting down some businesses a second time if the death rate from coronavirus continues to climb.