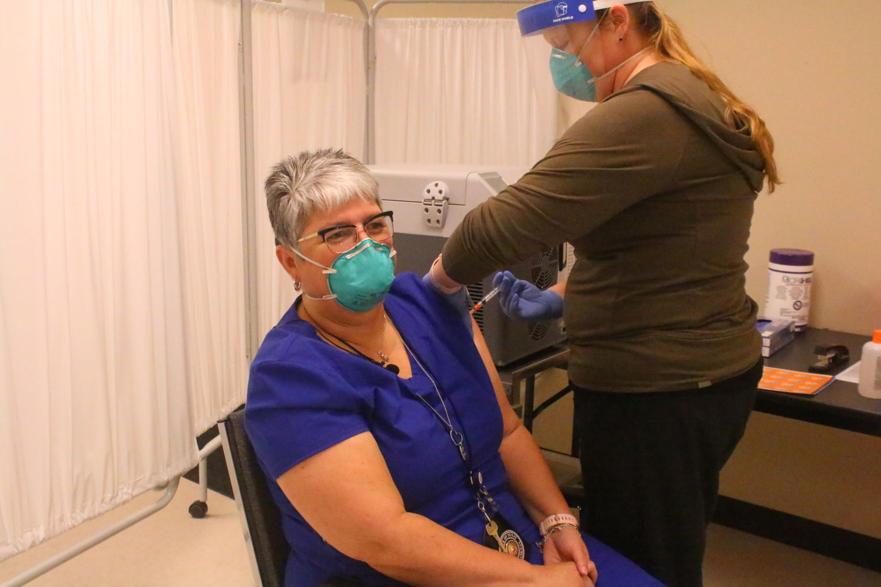 Fort Bend County began distributing its share of the COVID-19 vaccine to its health workers, as County Judge KP George promised residents that they will get access to the vaccine in the coming months.
Fort Bend's Health and Human Service workers will receive the first of 1,000 doses of the Pfizer vaccine and have enough to give 500 people the two-shot vaccine.
Barbarah Martinez, the clinical health services director of Fort Bend County, was the first person to take the shot on Tuesday.
"We're so excited to see a little light at the end of the tunnel," Martinez said. "We're hoping that the vaccine will bring us back to a sense of normalcy. I'm excited."
George did not take the vaccine shot, saying that he wants frontline medical workers and first responders to receive their doses first before he does.
"I'm not going to get in front of others who are on the frontlines," George said.
Right now, Fort Bend County is waiting for more vaccines from the Texas Department of State Health Services to be given out. George said that the doses remaining from the 1,000 it receives will be given out to those in the Phase 1B category, which are those who are 65 years and older and those 16 and older with preexisting conditions.
But George said that he doesn't know when the next shipment of the vaccine will get to Fort Bend County, nor how many doses.
"I will do everything possible to bring the vaccine to our county," George said. "All I can say (to county residents) is to be patient. We are working hard to get the vaccine to you."
Preregistration for the vaccines have been paused until the county gets more doses. Over 5,000 residents have already signed up to get the vaccine. But residents are urged to keep checking the FBC HHS website, www.fbchealth.org, to check when it opens up.
"I would encourage anyone who is eligible to get the vaccine, or anyone who qualifies to get it later, to please get your vaccine," Martinez said.
Fort Bend County health authorities said they do not know when vaccinations will be available for members of the general public.