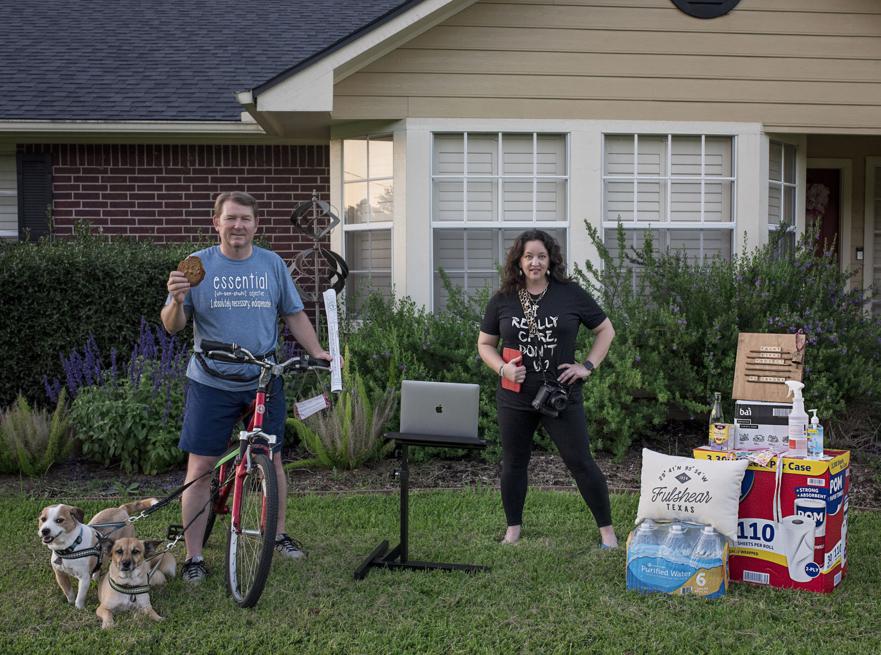 For 30 days Rhonda Kuykendall, assisted by her husband Tommy Kuykendall, drove through Fort Bend communities photographing families in their front yards in what became her version of the Front Steps Project, an effort she first read about in USA Today.
The project, which began on March 17 in Needham, Massachusetts, was an idea developed by Boston photographer Cara Soulia and marketing consultant Kristen Collins, who wanted to photograph the faces of the Needham community on their front steps due to the isolation caused by COVID-19.
The project, which requested the photographed people donate to a Needham charity, raised several thousand dollars.
A photographer in her own right, Kuykendall wanted to initiate something similar in Fort Bend.
"I read that article on April 3 and started taking photos on April 5," Kuykendall said.
Her husband, a civil engineer, was classified as an essential worker so he went to work every day. Her daughter was finishing out her first year as a teacher and her son was wrapping up his senior year in college.
Even Kuykendall's ability to serve in her roles as chair for the Fort Bend County DA Human Trafficking Team and member of the board of directors for Child Advocates of Fort Bend was put on hold.
"I was stuck at home and I didn't know what I was going to do with my time," Kuykendall said. "This project gave me something important to do."
From April 5 through May 5, Kuykendall traveled to communities throughout Fort Bend like Fulshear, Richmond, Rosenberg, Pleak, Cinco Ranch and Weston Lakes, to capture photographs of folks in front of their homes during the strange times that seemed to be holding the world hostage.
Kuykendall was one of many photographers around the nation creating their own version of the Front Steps Project, and their efforts are being cleverly called "porchtraits."
Of the 30 days Kuykendall took these so-called porchtraits, she missed only one day due to rain.
"Most of the time it was tremendous fun," Kuykendall said, sharing memories of one woman who had her photo taken in an evening gown. It happened to be the dress she planned on wearing to a gala that was canceled because of the pandemic.
Kuykendall said was there was no lack of creativity among the hundreds of people she photographed. While some families simply stood, smiling and embracing for the camera, others set up witty or funny props to enhance their porchtrait.
A sign in one photo reads "Government Mandated Family Time." In another, a family poses with two stacks of toilet paper, while a few show dads wearing business jackets with swimming trunks or pajama bottoms.
"And it was clear Fort Bend families love their dogs," Kuykendall added with a laugh explaining she photographed 121 dogs during this project.
"But, some of the photos were tough," she said.
Like the one she captured of her mother-in-law in Pleak who was sitting on the front steps of her home.
"It was so surreal. She is a woman who never stops moving and doing, and to not be able to walk up to her and hug her? That sensation ..."
Kuykendall's voice wavers a bit at the memory, as well as the one of Cynthia Balzen of Rosenberg.
When contacted by a person who was interested in having their photo taken, Kuykendall would then request that person recruit nine neighbors, so she could capture multiple homes in one visit.
After securing shoots, Kuykendall would schedule a day and time for the shoot, spending two to three minutes with each house — always respecting social distancing.
But Balzen, a sanitation employee at a local hospital, did not have the time to recruit other neighbors. Still, Kuykendall didn't hesitate to set her appointment.
Upon arriving at Balzen's home that day, Kuykendall expected a large family complete with some sort of funny scene, as she experienced at other shoots.
"But it was just her, her mom and her [hospital] badge."
The Front Steps Project reminded Kuykendall of not only how people kept their spirits up during the pandemic, but also of "the people we don't think about who are making a difference, and the people who are going through this alone."
"Most photos I could hardly take because I was laughing so hard," Kuykendall said. "But some I had to hold back tears as I drove away."
BENEFITTING CHILD ADVOCATES OF FORT BEND
"The Front Steps Project of Fort Bend County" is available on Amazon.com for $39.95. 100 percent of the proceeds benefit Child Advocates of Fo…
At the end of her project, Kuykendall photographed 185 homes, 738 people, a two-week-old baby, 121 dogs, three rabbits, three chickens, one tortoise and one guinea pig.
It's an experience Kuykendall personally enjoyed, learned from and hopes will benefit the children of Fort Bend.
Kuykendall said her Front Steps Project is different from the one in Massachusetts in a key way.
Instead of asking for her photographed families to provide payment upfront that would then be donated to a charity, Kuykendall uploaded all high-resolution photos for the families to download for free.
Kuykendall isn't selling this book as payment for her time; 100 percent of the proceeds will be donated to Child Advocates of Fort Bend, a nonprofit devoted to protecting and advocating for children.
The organization, she said, is particularly "near and dear" to her because as a child she was abused by a four-time convicted child sex offender, an offender who never stood trial in her case because the statute of limitations ran out.
For five years Kuykendall lobbied the Texas Legislature to abolish the statute of limitations on child sexual assault and has continually has fought the release of the convicted sex offender every year.
So when Kuykendall praises the works of Child Advocates, her appreciation for the nonprofit is intense. As is her drive to support it any way she can.
When she encourages people to purchase her book, she explains that while "Front Steps Project of Fort Bend" is a unique reminder of the strange times of 2020, it is also about helping "to provide a voice, to heal the hurt and to break the cycle of child abuse," she said, echoing the nonprofit's mission statement.
"We serve 2,500 children every year," she said, explaining the children the nonprofit advocates for are victims of physical and sexual abuse as well as neglect. "And child abuse is increasing because they're socially isolated and have no one to tell."
"As a society, we may be separated for a time, but we will forever be one community," she said. "That is what this book will show."