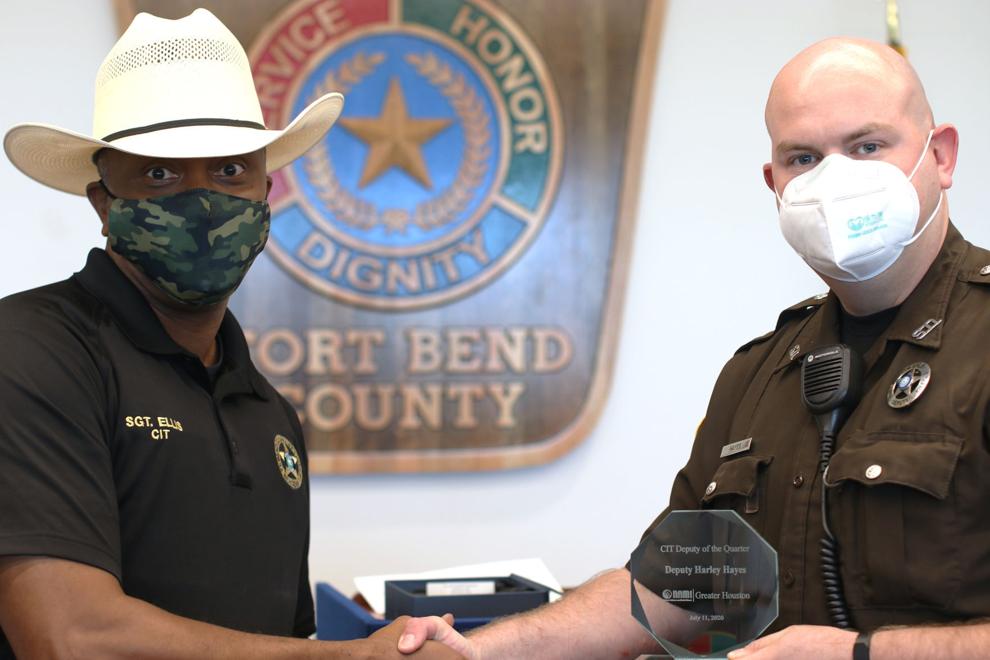 March 27 wasn't just another day for Fort Bend County Sheriff's Deputy Harley Hayes. It was the day he decided to save someone's life.
Hayes responded to a disturbance where an individual, with known mental illness, was aggressive and armed. With his training, Hayes was able to de-escalate the situation and unarm the individual.
On Friday, Hayes received the National Alliance of Mental Health award for his bravery in the situation.
"Saving a life is a hindsight thing," Hayes said. "I was focused on ending the situation."
He recalled that disarming the individual was the safest thing for everyone involved.
"If we do nothing, it gets worse," he continued. "You can't be (fearful)."
Sgt. Jerome Ellis said the sheriff's department partners with a lot of community organizations that put an emphasis on reducing the stigma of mental illness and removing the stigma between those with mental illness and the police.
"Every time you initiate a case number for (the Crisis Intervention Team), I read it and I decide whether or not it gets closed out," Ellis explained. And this one grabbed his attention.
"I wanted to highlight and recognize Hayes for (his work)," Ellis said.
"It's the expertise and talent you have that brings the community outcome that you get. It was a call that had a known consumer with a history of substance abuse and there were talks of firearms (at the scene). Deputy Hayes was dispatched.
"He came face to face with an armed subject. I don't know what went through his mind. All I know is this man took it upon himself to disarm, calm and usher him into care.
"A life was saved that day. We appreciate what you did. The community appreciates what you did."
Ellis said it's easy to forget the pressure that police officers face every day.