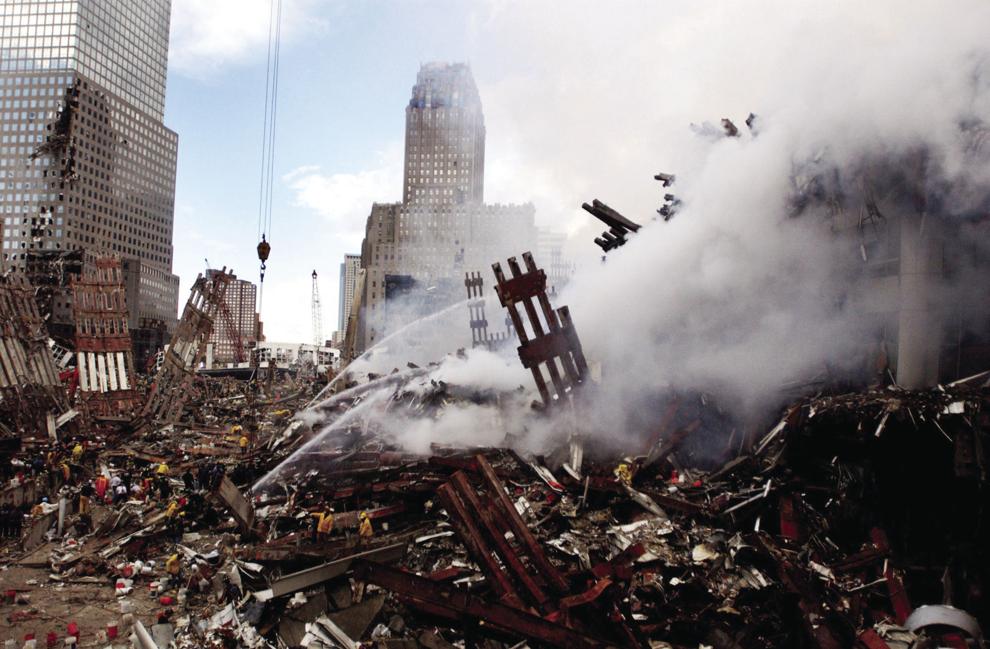 Teri Mathis of Rosenberg was attending a National Parliamentarian conference in Washington, D.C., on Sept. 11, 2001, when she learned terrorists had attacked America.
Mathis had just gotten off the underground metro at the stop known as Pentagon City Mall and had walked upstairs to the street when she spotted a woman sobbing.
"I asked her what was wrong and she pointed behind me to the Pentagon, where thick black smoke was just starting to billow," Mathis remembered 20 years later. "She said, 'The Pentagon just exploded.' We stood for a few seconds and she asked me, 'Do you know about the twin towers?' I did not, having spent the past 30 minutes or so in the subway. That's how I learned about 9/11."
The bombing of Pearl Harbor. The day Elvis Presley and John Lennon died. Now Sept. 11, 2001.
Most Fort Bend County residents over the age of 25, can recall exactly what they were doing and where they were when they learned about the terrorist attacks on the World Trade Center and Pentagon that fateful September morning.
Mathis and 36 others shared their memories of that day with The Herald.
"Immediately after the Pentagon was hit, I tried hailing a cab," Mathis recalled. "No luck. I ran for what would probably be the last transit bus to my hotel in Alexandria, seven miles away. Again, no luck."
Stores and government offices shut down quickly and Pentagon employees/began to flood the streets, she recalled.
"Stores and restaurants were closed and because I had a breakfast meeting near the White House earlier that morning, I really needed a restroom," she said. "I took off my heels and started walking."
Fortunately, a guy with a coffee mug in shorts offered her and a Pentagon worker a ride.
"It took forever and sirens were screaming everywhere and traffic was going the wrong way on the freeway. When I got to the hotel, I sat in a chair in the large lobby and wept."
Her hose was ruined from walking without shoes but that was the least of her concerns at the time, she remembers.
Sheryl Lawrence Slot recalls being in complete disbelief on Sept. 11, 2001.
"My husband, a Sugar Land police officer at the time, called me and asked me if I had the TV on," she recalled. "He told me to put the kids in another room (they were five and two) and turn it on. Even now it's surreal. There could be no way that what I was watching was real."
Her husband spent his day "chasing all kinds of crazy calls" (having to do with the terrorists,) she remembered.
"Needless to say, as a first responder family, it was difficult. I remember thinking about the first responders and knowing they would just keep doing the job."
Slot and her husband found solace in prayer and friends the first opportunity they had.
"We had just moved here and didn't have a church yet so we went back to our previous church the next day just to pray with our friends."
Shayne Stone was installing a computer network at Otis Air Force Base when the attacks took place.
"Some people cried, others argued and suggested we arm up," he recalled.
"A few people went out to purchase more TVs to watch other news stations as we thought this was really not happening.
"But when the first tower went down, we realized it was real and a few friends who for GTE and with us lost friends or family."
Sapana Patel and her husband were at Enron in Houston working. Their boss suggested they stay at the office.
"She said it would be safer to stay in the building," Patel recalled.
Jennifer Cantu was teaching in Guangzhou, China, when she learned of the dastardly attacks on her country of birth.
"I was in class when I found out, and it was definitely mixed feelings. Some felt we deserved it and others didn't. Two of my colleagues returned to the U.S. afterwards."
Tina Thompson was working in a mid-rise office building on Richmond Avenue in Houston when she learned that a plane had crashed into one of the World Trade Center towers.
"I called my children and mother and told them that if this was the last time that I'd get to tell them that I love them in this earthly life, and that we would say 'I love you' once more when we enter into God's heaven prepared for us. That very morning before hearing the awful news, a hymn was on my mind —"Nearer, My God To Thee."
Later that day, she was looking out a large, glass-paned window in one of the offices and noticed the lack of airplanes in the air.
"I thought, 'I wonder if the Houston sky-line will ever be same.' I thought that buildings in Houston might be targeted, too."
Monica Romero Warren had arrived at Foster High School where she worked as a paraprofessional in the attendance office when she watched the first jetliner crash into the World Trade Center tower.
"I watched it unfold on my computer," she recalled.
"I was horrified and in disbelief. I saw the second plane hit and thought it was a replay of the first plane. I still remember the horror of watching that live. It still gives me chills thinking about it."
Foster Principal Gene Tomas was running around letting everyone know what was going on, Warren recalled. "Everyone was in disbelief. Teachers were running back and forth to the office to ask questions, phones were ringing non-stop, parents were coming to pick up their kids not knowing what was going on. It was a very chaotic morning, to say the least, because there was very little to go by on what was actually taking place. Students were in shock, some crying. Emotions ran high at Foster High School that day."
Mark Lopez was working at Hudson Products in Beasley that September morning.
"It was the best day weather-wise I could remember," he said. "Not a cloud in the sky and bright sun was shining and it wasn't hot. It was just right around 85 to 75 degrees with no humidity."
Former Richmond business owner Norma Cavazos had just dropped her daughter Victoria Elizabeth at elementary school in Houston and was traveling on I-10 when she heard about the attack on the radio.
"I pulled over and called my mom to please go pick up my daughter," Cavazos recalled.
"I had a sick feeling in the pit of my stomach. I got to the office and went straight into a sales meeting. I didn't know about the rest of the buildings until two hours later."
Her boss held everyone in the meeting while he was getting updates on his phone.
"As soon as I got to my desk, I had a hundred messages. Mother had called crying because she couldn't reach my brother, who had been in New York at a tennis match," she recalled.
"I later found out he had decided to take the red eye flight home after the last game and he was home in Fort Lauderdale asleep — thank God."
Cavazos said the hotel her brother had been staying at was a block from the towers.
She said she started calling my friends and clients in New York.
One client said he had been in the South Tower, and after the first plane hit the North Tower, he closed his computer took it and started running downstairs he made it several blocks before the North Tower was hit.
"We stayed on the phone comforting one another," she said.
Then she called a work friend named Russel.
"When I called, he had just got on the ferry to Staten Island leaving the city, his office was a few blocks from the building, we cried, prayed, I stayed on the phone with him until he got to his apartment."
Just before she was about to leave the office for the day, her boss told the staff he needed them back at 8 p.m. for a manager's meeting.
"I was shocked that he uttered those words," she recalled. "After everything that had transpired that day, he wanted to talk about sales."
Cavazos remembers weeping when she got home.
"I got to my precious daughter and held her for what seemed like forever. She said, 'Mommy, why are you crying"' I said, 'Because I love you so much.' The next day when I took her to school there were police with long guns at all points of entry to the school. While I was shocked, I was more grateful."
Doris Dahse of Rosenberg was in Las Vegas for a polka fest on Sept. 11, 2001.
All flights in the country were immediately canceled. "I had to pay a very high price to ride a nonstop, crowded van back to Texas," she recalled.
Maria Lopez was working at the Herald-Coaster when the attack occurred. "I felt drained and weak from the news reports," she recalled.
Andrea Salisbury was in Beaverton, Oregon, on 9-11.
"I woke up and turned the TV on and was in shock seeing the news," she recalled.
"My husband now he was living in Vancouver, Washington, but we both were on the phone with each other that morning, not believing what happened. It was truly a sad day for America and it changed so many things for many of us.
Deb Nic Vol was working at OakBend Medical Center that fateful day. "I was trying to keep our senior citizens calm by turning off all the televisions," she recalled. "So many wanted to hop out of bed and get to New York to help out."
Karen Maresh was working at the National Institute of Health in Washington, D.C., on Sept. 11, 2001.
She snuck to the top of the building to look over at the Pentagon, which was burning.
"I remember the absolute silence of a vibrant region and the fighter jets criss-crossing the skies," she recalled.
There were many more casualties of the day that were not included in the death count, she said.
Cindy Kaminski Gifford was at the family day care that September morning.
"It was the first day of our Mother's Day Out program. and parents were telling us (about the attack) but I never comprehended the totality of it all until I went to lunch and saw it on TV. I never ate a thing. I just prayed and cried."
Liz Gerstenberger was working for TxDOT in Houston and was walking into a hotel near the Transco Tower for a meeting when she learned of the devious attack.
"As we walked in to the lobby, they had the TV on and we saw the first plane hit," she recalled.
"It was around 8 a.m. so it was replaying the hit. I remember the absence of planes in the sky the next week or so, which was very unsettling."
Cyndia Rodriguez was at home folding clothing when she saw the twin towers collapse on national TV.
"I was sitting there crying and thinking how in the world could this be happening?"
Laura Dean was in the fifth grade at the time of the attacks.
"I was just getting to school in when they put all of us in the library with the TV on," she recalled.
Deborah DeDe Sullivan was teaching school on 9/11.
"We had no idea anything had happened. I saw our school nurse in the hallway with an index card telling (us what we needed to do.) We were not to tell the kids or talk about it. After the kids went home, we were told to drive straight home. When I finally turned on the TV at home, I couldn't believe my eyes. It was so much worse that I imagined. We all stayed home several days after that. I'll never forget!"
Allan A. Cease was in a jury trial in the former Cotton Exchange Building in Houston.
Joe Benes was driving to Fulshear to do an appraisal and heard about it on his car radio.
Eugene Aufdembrink also heard it on his car radio while traveling back from San Antonio on I-10.
"I got to my office at San Felipe and St. James in Houston and found it closed," he recalled. "I went home and was glued to the TV. If I remember correctly, my wife came home from school. She was teaching at LCHS."
Raymond Rodriguez was working at Kmart in Rosenberg on U.S. 59 when the manager told workers about the attack.
Elly Robinson Prophet was on her way to work when the first place crashed into South Tower.
"I was watching the news at work when the second plane hit (the North Tower)," she recalled. "It was surreal watching it happen. It was Tuesday and pre-trial day. We stood there watching. Then people started jumping (off the burning towers). The world completely stopped."
Laura Knizner was at work that fateful day.
"We heard something had happened in New York City so we tried to get it on internet news. We had to keep refreshing. It was hard to get through. While we were watching, we saw a plane hit the second tower. It was truly gut wrenching."
Knizner's cousin worked at city hall across from World Trade Center and Knizner and her husband had many relatives in New York at that time so they very concerned about everyone.
"It was all so unbelievable," she said.
Leonard N. Chan was a junior in high school when the attacks occurred.
He was in a student council district meeting, waiting for a keynote speaker, Mattress Mack.
"He was the one that broke the news officially since most of the teachers kept us in the dark and cell phones were a rarity," Chan recalled.
"All schoolwide and class officers were in attendance for Clements. We ended up going to Wings N Things afterwards to just watch the televisions."
First Colony Mall was the students' first choice to get lunch but it was closed because of the day's events, Chan recalled.
"When we arrived back at campus, we discussed what we could do to support the victims and started fundraising the next day."
Amber Leung was in her senior year of high school that fateful morning.
"Many of us went to the JROTC building before classes began each day, and that day was no exception," she recalled.
"I walked in to see everyone watching the news on the TVs. We saw the plane impact the second tower. Many of my friends went on to serve in Afghanistan and Iraq."
Tom Henry knew someone who died in the attack.
Chris Newton is the brother of a lifelong friend of Tom's.
Chris had just accepted a new job on the east coast.
He and his wife and children had just moved everything cross-country by car, but had left their golden retriever behind because of the long drive.
Chris was flying home to get their dog and bring it to be with the kids.
"At 6 a.m.-ish on the West Coast, my wife and I were living in a beach house on Balboa Peninsula (Newport Beach, Calif.) and our roommate got a call from her sister in New York. The sister was frantic and said there was a plane that had flown into the World Trade Tower — not far from where she lived.
"Our roommate woke us and asked if we could put it on the big screen. So we all got ourselves to the living room and watched the early reports of the first plane. At that time, they didn't even know it was a commercial airliner."
Henry said he and the others watched the live reports and saw the second jet hit the second tower, and he distinctly remembers saying at that moment that it was a terrorist attack.
He immediately beginning to call his circle of friends.
Chris' brother was his first call.
"There was a long pause after confirming we both had seen it on TV. My buddy said 'Chris was flying out of Dulles today, and we can't get in touch with him.' Shortly after, American Airlines flight 77 hit The Pentagon."
Henry said he remained in contact with the family for the rest of the day. The family said that there was very little that the airline was sharing with them.
"I told them that we have family who had access to the flight manifest, and I offered to help in any way.
"The flight number and the manifest were confirmed by our family member, as was Chris' presence on the plane," Henry recalled.
"I called to speak with the family, and was met with sobs and confirmation that they had moments before received a call from the Pentagon.
"We would all later learn that Chris was seated directly behind one of the terrorists.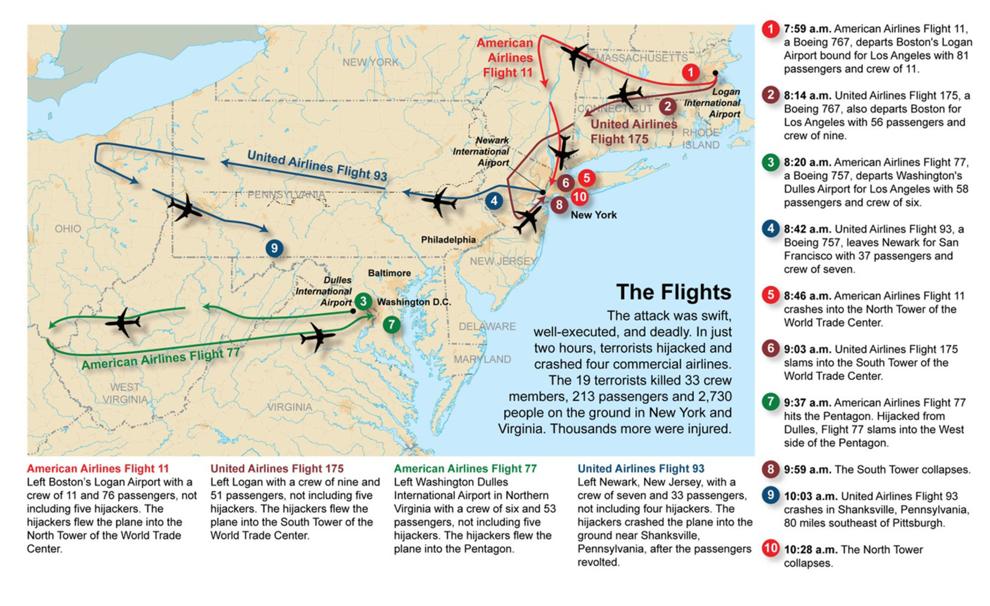 Christa Rollock was living in Iowa at the time.
"I was ready to drive the kids to school," she recalled. "The TV was on and I heard my son yelling. Mommy, Mommy, a plane just flew in this big building. I couldn't believe my eyes. I had to go to work and everyone was in shock."
At the same time, her husband, who had driven from Iowa City to Kansas City, was on a plane to depart for New York City for his sister's funeral.
The plane rolled down the runway, was held in a holding pattern on the tarmac. Then the pilot informed the passengers that apparently a plane had hit the World Trade Center.
The passengers were told to exit the plane on the tarmac.
"He never made it to his sisters funeral," Rollock said.
"We were also so worried about my husband's brother who worked in the World Trade Center at the time and were so incredibly relieved that he was not working that day. I will never forget the anguish and horror I felt on this day."
Evelyn Montalvo was also at home when the attacks took place..
"I was sitting on my living room sofa drinking a cup of coffee, recovering from a 16-hour shift at the VA hospital the night before. The first plane had already hit the building. No one was quite sure yet what was happening but it soon became apparent. Another nurse and I immediately called and volunteered to be sent to assist with survivors as the VA often shares resources — but there were no survivors."
Stacey Gardner Schodek was in her office doing payroll.
"One of my employees came in and said a plane had crashed into the Pentagon, and it was on fire. I replied, 'That's not funny. My uncle is at the Pentagon.' She said she wasn't joking. I went to the TV, and watched as the towers fell."
Fortunately, her uncle was out of town that day.
"I didn't know that at the time, and could not get a hold of them for several hours," she recalled.
Denis LaRoche had just walking out of a college history class and walked down the stairs to the student area just after the first plane hit.
"I watched the second plane hit on live TV," he recalled.
Ken Rychlik was sitting at his desk when he saw something on the internet about a plane crashing into one of the Trade Center towers.
"I called my wife who was at work and told her what was going on," he recalled.
"The the internet almost stopped working as millions logged on. One of my coworkers showed up and we went to his office just in time to see the second plane hit on TV. We received a call from our boss, who had seen it, too. We just stood there shock."
Barb Wagner remembers listening to the radio as she got ready for work on Sept. 11, 2001.
"The DJ said something about a plane hitting the tower," she recalled. "I turned on the TV and as I was listening to what happened when the second plane hit the North Tower. That confirmed it wasn't an accident. Shock is all I can say. We were being attacked. Unbelief. What the heck? Who would do this? Then the Pentagon. Oh my God!"
She went to work and joined her coworkers watching TV.
"I'd say most of us were in shock the rest of the day. Hearing about the bravery of the first responders in the Towers. Watching the towers collapse. The innocent people who were killed!" Senseless! Anger. ANGER. Then Flight 93. Hearing the bravery of those passengers who saved other lives. Wow."
Traci Lynn had just dropped her daughters off at their kindergarten and fifth-grade campus.
"I was exhausted. I crawled back in bed and fell asleep. The phone began ringing. I ignored it. It rang and rang and rang. I was so mad, I finally got up to answer it. I passed my daughters room and the TV was on. I saw the image of a building on fire but I didn't pay attention. I finally picked up the phone, ticked off that I didn't get to sleep. My life changed forever when I answered the phone."
She spent the next minutes trying to process what was happening.
"I jumped in my car and went to school and got my girls and brought them home," she recalled. "And then the horror of it all hit me. I remember hours of being glued to the TV and an endless stream of tears."
Brandon Buell had just graduated college and was planning on getting married later that month. He and his fiancé had just moved into their first apartment in North West Houston.
"I had just started my first job and saw the news breaking on the TV in the conference room," he recalled.
"About then, the first plane hit and I thought to myself this is serious. I was looking around the office to gauge others while I was wondering what I should be doing. Other people were now coming to watch. When the second plane hit, I went home to be with my fiancé. I was devastated. I never knew evil like that."
(Buell's family foundation took lunch to every Sugar Land fire station on Friday in honor of those who ran in when others ran out.)
Robert J. Haas was a Richmond firefighter at the time of the attack.
"We gathered in the dayroom just as the second plane went in. I can't repeat our words.
"Cops, fire, EMS drove around town showing solidarity and calmness. Lots of people would come out and wave at us, just glad to see us. People were frightened. Many thought Pearl Harbor thoughts, wondering when and where the next hit would be.
"We hoped driving around would help. I think it did."